There has been much attention lately on the outperformance by emerging markets over the US. All the pundits talk about is the BRIC countries, China in particular, with an occasional nod to Taiwan or maybe Korea. So I thought I'd look more closely at Asia.
I started comparing regional indexes, going back 18 months to remove the "off the bottom" performance bias, and discovered something unexpected:
Click to enlarge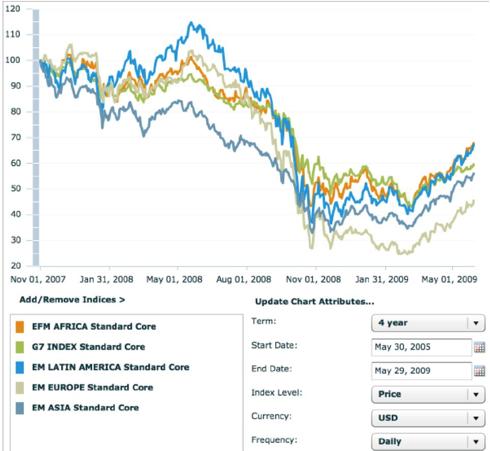 Click to enlarge
Surprise! Emerging Europe and Asia are at the bottom, the big developed markets (G7) are in the middle, and the two leaders are Latin America and Africa.
Africa? No BRIC there! Are we missing something?
(Note: I chose the fall of 2007 to get a picture of the entire bear market trend, and Nov. 1 as the starting point because that is when MSCI launched its Africa index).
So I decided I'd better start digging into what's going on in Africa.
The MSCI EFM Africa Index includes "emerging" markets South Africa, Egypt, and Morocco, and "frontier" markets Kenya, Mauritius, Nigeria, and Tunisia. (MSCI also indexes markets in Ghana and Botswana, but has not yet included them in a broader index).
According to the most recent information I could find on (June 2008), South Africa holds 77% of the total market cap of the index components. The other components might vary a lot due to the volatility of their markets as well as their currencies, but it's safe to say there is a middle tier of Egypt, Nigeria, and Morocco in the range of 5-10% each, and much smaller investments in Kenya, Mauritius, and Tunisia.
All of these combined comprise perhaps 10% of the market cap of the world's Emerging Markets. That said, some analysts would make the case that market cap doesn't represent the economy well in these countries, since the stock market captures very little of the total economic activity. So the countries with small stock markets, everything except South Africa, may have a lot more economic value that has not yet been equitized.
Within the Africa index, the YTD performance has been led by South Africa, +23%. The only down market YTD is Kenya, -19. For the month of May, however, the frontiers saw the biggest action: Nigeria +47, and Mauritius +60. (Mauritius, a small island in the Indian Ocean, has a diversified economy; as far as I can tell, there is no one industry responsible for this remarkable rally.)
There is no ETF that covers the MSCI Africa index, but there are other ways to invest in the region.
The most popular fund is EZA, the iShares South Africa ETF. It's up 69% since the March bottom. There are three big sectors: 27% materials (mining), 24% Financials, 16% Telecom. Trading an average of 300,000 shares a day, it's easily the most liquid way to access the region; and since South Africa has a large majority of the continent's market cap, that could be as good a way to play on the region's prosperity as any.
If you like to pick stocks, there are a good many South African stocks available as ADRs—11 of them on major exchanges, and many more on the OTC boards.
To go beyond South Africa, there are two other funds available. Market Vectors AFK has only about 27% in South Africa, 19% in Nigeria, 15% in Morocco, 13% in Egypt, and 26% "offshore" in companies doing business throughout the continent. This is much better diversification geographically, but the sector breakdown is not so well balanced: 31% of the investments are in banks, 19% in basic resources, 13% in oil and gas.
SPDR has an Emerging Middle East & Africa ETF, GAF. Its country weighting is South Africa 59%, Israel 26%, Morocco 8%, Egypt 5%. The sectors are led by Financials 27%, Materials 19%, Health Care 16%.
Disclosure: No position in any of the funds named. Long HMY, a South African mining stock.