The first half of 2009 has been tough on most momentum-based strategies. After declining 11.0% in the first quarter, the broad market turned around and staged a roaring rally. The S&P 500 is now up 15.7% for the second quarter.
The divergence in performance between the first and second quarters is even more striking at a sector level.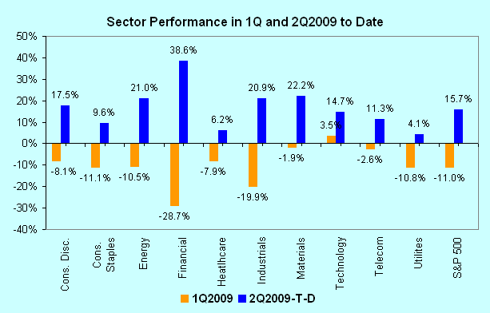 In general, sectors like financials and industrials down the most in Q1 have rallied impressively in Q2. For example, Financial Select SPDR (NYSEARCA:XLF) and Industrial Select SPDR (NYSEARCA:XLI) declined 28.7% and 19.9%, respectively in Q1 to rally 38.6% and 20.9% to date in 2Q. On the other hand, Vanguard Information Technology (NYSEARCA:VGT) that bucked the decimation in Q1 advancing 3.5% has lagged in Q2.
One sector where momentum has continued from Q1 to Q2 is materials. After declining a modest 1.9% in Q1, Materials Select SPDR (NYSEARCA:XLB) has gained a respectable 22.2% in Q2.
The shift in popularity of sectors from Q1 to Q2 highlights the difficultly most momentum-based strategies face in delivering consistent out-performance. The probability of success improves when one looks beyond momentum and considers other factors in sector or security selection. Such factors include news quality, valuation, growth expectations, and the like.
As one looks at Q2 performance, the financial sector stands out as a leader. The $64,000 question is, Will this leadership continue for the remainder of Q2 and into Q3?
Considering news quality, financial institutions are benefiting from positives like a historically steep yield curve, low borrowing costs, shrinking credit spreads, and rising mortgage originations … all of which help profitability of banking operations.
As for negatives, uncertainty on capital adequacy of banks and valuation of distressed assets remain high. Exacerbating the already high levels of non-performing loans, the rate of mortgage foreclosures and loan delinquencies hardly show signs of abating.
While one can make a case for bank stocks trading at attractive prices with respect to their longer-term earnings potential, they hardly appear bargains if one goes by analysts' 1-year forward earnings forecasts. Citigroup (NYSE:C) is expected to lose money over the next 4 quarters. Bank of America (NYSE:BAC) is expected to earn just 14 cents a share and this translates to a forward P/E of over 81 for BAC's shares. Shares of better-positioned banks like JPMorgan Chase (NYSE:JPM) and US Bancorp (NYSE:USB) trade at relatively high forward P/Es of over 21.
Given moderately attractive fundamentals and unattractive valuations, the financial sector taken as a whole is unlikely to maintain its leadership in market returns going forward.
Disclosure: I own less than a 100 shares of RE. I do not have Long or Short positions in any of the other stocks or ETFs discussed.