By Skymist
We have seen the recent economic collapse drive stocks down, way down. Especially in the materials and energy sector. If we believe we are in a recovery, then we can expect stocks to move up substantially, and the greatest potential for gain is in the stocks given up for dead previously, but now back in favor. Let's take a look at the materials and energy stocks which are at least 90% down from their 2008 or 2009 high price, and see if we can find any "sleepers".
I have found 21 stocks in this category, down at least 90%. Today we will look at the first ten.
First let's look at the group in general. With only 21 stocks, we see that this group has shrunk quite a bit already. There used to be many dozens of stocks down at least 90% -- unfortunately, I have not kept a list, but I have done this kind of survey before. Second, the group has quite a few penny stocks. That leads us to suspect a lot of these companies are in or near bankruptcy.
But how is the group doing? Well, as a whole it was up an average of 3.5% on Friday, so if it were an ETF, it would be doing well. So there must be some money to be made in this group. Now let's go down the list and look at the first ten individual stocks.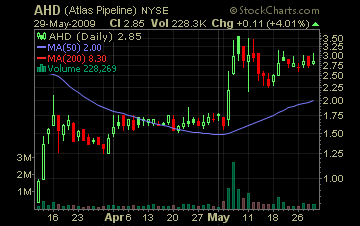 AHD, Atlas Pipeline Holdings closed at $2.85 on Friday, up 4%. This is a natural gas pipeline company. That alone tells part of the story, with the plunge in natural gas prices. The company used to pay a 51 cent dividend, but that fell to 6 cents, then was suspended entirely. The company is in a race -- will an increase in natural gas prices save the company? Perhaps that is all that is needed.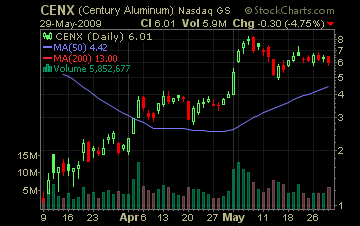 CENX, Century Aluminum, closed Friday at $6.01, down 4.75%. It is amazing to see a former $50 stock here at $6, until you look at where it has been - as low as $2. Gigantic losses, up to $20 a share for 2008, have put the company on the skids. It has one recent "buy" recommendation.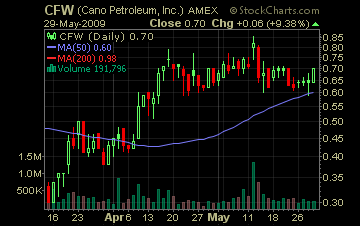 CFW, Cano Petroleum, closed at 70 cents, up 9% on Friday. This company has not only suffered from falling oil, it has had bad luck with developing its reserves - that is, some of the oil it has claimed is underground on its property, has not shown up. That has led to a shareholder lawsuit.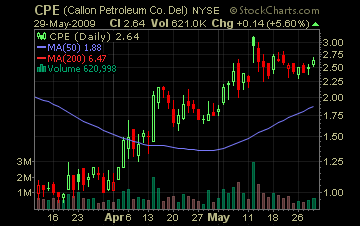 CPE, Callon Petroleum, like CFW has been a victim of a double whammy. Oil price again, but in the CPE case, it has lost facilities due to recent Gulf hurricanes. Its price is above its 20-day moving average, so there has been some movement lately. It closed at $2.64 on Friday, up 5.6%.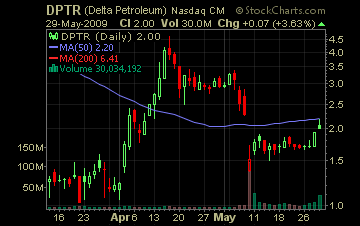 DPTR, Delta Petroleum, closed Friday at $2.00, up 3.63%. The company has been saddled with debt and a falling natural gas price, and has chosen the dilution method of dealing with its woes. The market doesn't like that, and is dumping the stock.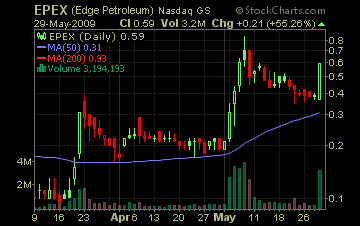 EPEX, Edge Petroleum, closed Friday at $0.59, up 55%, on no news that I can find. This penny stock had losses of $11 per share last year, but is well above its 20 day moving average. It is dependent on natural gas to a large extent, and its price jumped recently based on a jump in natural gas. This one could be worth watching.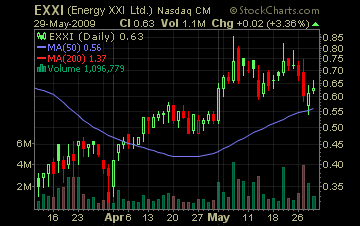 EXXI, Energy XXI of Bermuda, closed Friday at $0.63, up 3.3%. The company explores for gas and oil in the Gulf states. This is a company which was profitable in 2008, but recent losses and a high debt level have clouded the company's prospects. It is in another race to avoid financial disaster, but the company has some cash reserves and may be able to hold out for higher gas-oil prices further.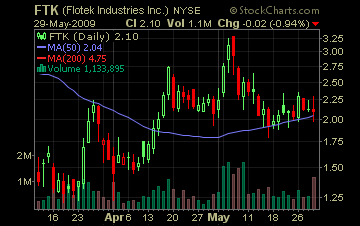 FTK, Flotek Industries, makes equipment and chemicals used in oil wells. It closed at $2.10 on Friday, down 1%. The company lost money in 2008 and carries a lot of debt, but strong sales and the hope of a resumption of rig-building keep this company's prospects alive, if only barely.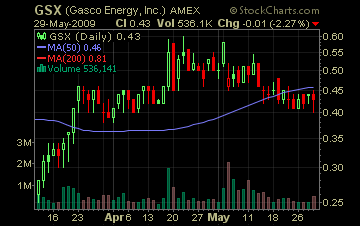 GSX, Gasco Energy, closed Friday at $0.43, down 2.3%. The company does most of its oil and gas exploration in the Rocky Mountains. Its major problem is an enormous debt burden. Even with an improved oil price, recovery for this company looks like a long and difficult process.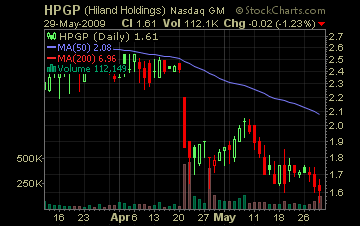 HPGP, Hiland Holdings, closed Friday at $1.60, down 1%. The chart for this company has a familiar "flatline" look. This is a former high-dividend stock, now paying no dividends at all. As is often the case, high debt combined with reduced income is the story. Yet, the company has a positive PE ratio. Heavily held by insiders, the company has been making moves to become a privately held company lately.
So, is there a sleeper here? On the face of it all, it would seem as if AHD would be a fairly OK play on the natural gas sector. When a stock suspends dividends, it is generally a while before it resumes them. However, the stock can easily double or more upon resumption.
EPEX, EXXI, and FTK may be good plays as well. However, it is important to accept, for the moment, the judgment of the market, that there is something seriously wrong with each of these stocks. Be bold, but be cautious as well.