General Electric Company (NYSE:GE) shares have been lagging the market rally and that could be a troubling sign that things might not be as good with the overall economy, as the major indexes seem to indicate. Take a look at the charts of General Electric and the S&P 500 Index (NYSEARCA:SPY) below and the sharp contrast in performance becomes very clear.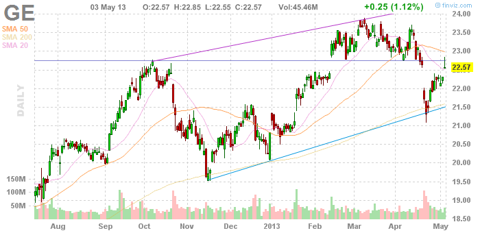 Click to enlarge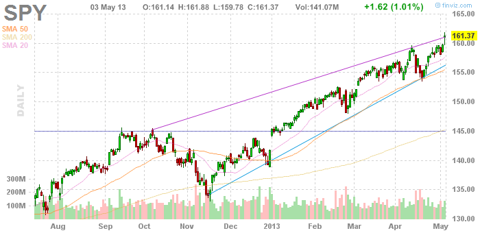 Click to enlarge
General Electric is in a number of economically sensitive businesses and it also has a significant financial services division, "GE Capital". It makes a wide range of products for industry such as locomotives and jet engines, as well as a number of consumer goods. Since it sells to many countries around the world, it has global economic exposure. With much of Europe in a recession, and China showing signs of slower growth, this creates significant headwinds for companies like GE. Recent U.S. economic data is also showing signs of a potential slowdown, as the impact of budget cuts and higher taxes begin to take a toll. The fact that GE shares are lagging the market rally instead of leading it, is a potential warning sign for investors of a possible soft patch or maybe worse, coming in the months ahead. However, disappointing earnings and a recent plunge in the price of many commodities (notably copper), are additional reasons why GE shares might continue to lag the market, or even decline in the coming months. These factors are potential reasons why GE shares recently became one of the most shorted Dow Index (Private:DJI) stocks. In fact, GE is now the 20th most shorted stock in the Dow Index and below we take a closer look at why shorts are probably becoming increasingly active in GE:
Reason #1: General Electric is an industrial company and when you see both GE shares lagging a major market rally and an industrial metal like copper plunging, this could be a sign that the economy is going to decline in the coming months. Copper is used in a wide range of industries including construction, housing, electronics and much more. Because of this, many investors and analysts believe that strength or weakness in copper is a sign of where the economy is heading. Copper has been an accurate indicator in the past, and the fact that the price of copper is down by nearly 20% this year alone, is cause for concern. A recent CNBC article points out that top investors like Dennis Gartman are taking heed of copper's weakness; it states:
Commodities trader Dennis Gartman agreed with the view that downward movements in copper and other base metals are a bad sign for the global economy. "The base metals do speak loudly, and they're speaking very bearishly," Gartman, who edits The Gartman Letter, told CNBC on Wednesday.
Reason #2: General Electric recently reported earnings for the first quarter of 2013 and that confirmed weakness as sales of industrial equipment and services fell 6% and profits fell 11%. Overall, GE reported net income of $3.5 billion, or 34 cents per share, on revenues of $35 billion. During the same period last year, GE earned $3 billion, or 29 cents per share, on revenues of $35.2 billion. The power generation and water treatment equipment division was hit hard by Europe and revenues fell 26% and profits dropped even more, down 39%. The first quarter was impacted by significant weakness in Europe and that could be poised to continue as unemployment in many European countries is now hitting new highs.
Reason #3: Japan could be the next big problem for major industrial exporters like GE and this might not yet be priced in to the stock. New monetary and economic policies from Japan's Prime Minister Shinzo Abe have caused the value of the Japanese Yen to plunge in the past few months. That means Japanese companies that make products that compete with General Electric could suddenly be in a position to undercut an American company. Dollar strength also means that currency translations could also be a negative headwind for GE in the coming quarters.
Reason #4:) General Electric has a significant debt load which is a
major risk factor for investors to consider, especially in the event
of another recession or global crisis. GE has about $147 billion in
annual revenues. On the balance sheet, it has around $138.1
billion in cash, however, it has about $397.3 billion in debt. In a
booming economy some debt can be a smart way for business to leverage additional profits, however, in a recession, debt can create substantial risks and this is one reason why General Electric shares plunged to below $10 during the financial crisis.
While General Electric is still viewed as a blue chip stock by many investors, the heavy debt load, and significant exposure to weak markets such as Europe, and the challenges from a declining yen are likely to keep shorts involved and put downward pressure on this stock. Furthermore, as a major industrial company, investors should probably consider the recent plunge in copper and other base metals as another bearish warning for GE shares.
Here are some key points for GE:
Current share price: $22.57
The 52 week range is $18.02 to $23.90
Earnings estimates for 2013: $1.66 per share
Earnings estimates for 2014: $1.82 per share
Annual dividend: 76 cents per share which yields 3.4%
Data is sourced from Yahoo Finance. No guarantees or representations are made. Hawkinvest is not a registered investment advisor and does not provide specific investment advice. The information is for informational purposes only. You should always consult a financial advisor.
Disclosure: I have no positions in any stocks mentioned, and no plans to initiate any positions within the next 72 hours. I wrote this article myself, and it expresses my own opinions. I am not receiving compensation for it (other than from Seeking Alpha). I have no business relationship with any company whose stock is mentioned in this article.