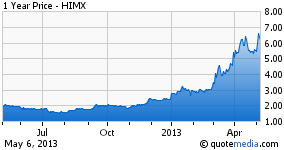 Shares of Himax (NASDAQ:HIMX) have experienced an incredible start to the year. Since we initiated coverage on March 4th, the shares have more than doubled, hitting a fresh 52-week high of 7.10 this morning.
This meteoric rise has occurred because of the excitement regarding HIMX's LCOS technology, which we believe will be featured in Google (NASDAQ:GOOG) Glass, Microsoft's (NASDAQ:MSFT) Xbox goggles, and many other upcoming products.
In other words, the cat is out of the bag. HIMX was a great find, but we are now entering the wait time to see how well these new products will be received in the marketplace. Accordingly, in our latest Stocks To Triple Update (issued last night), we shifted our classification of HIMX from "Great Find" to "Wait Time".
The company will be reporting earnings tomorrow AM. Considering the recent run-up in share price, we believe investors should temper their expectations for this call. Evidence of this could be found in the company's Q4 conference call. Here are the key quotes to focus on as we go into tomorrow's call:
Regarding Q4 Performance
Our revenues this quarter are the highest since the fourth quarter of 2009.
Revenues from large panel display drivers were $77.5 million, up 15.8% from a year ago and up 1.3% sequentially. The sequential increase was attributed to strong TV demand arising from customers' stock preparation for the Chinese New Year sales and China panel customers' further new capacity ramp. (This was) offset by slow demand for notebooks.
Sales for small and medium-sized drivers came in at $85.4 million, up 6% from the same period last year and down 2.2% sequentially. The sequential decline was mainly due to the weak feature phone demands as we switched our focus to smartphones. China's white-box market for both smartphones and tablets also experienced some correction toward the end of the fourth quarter. Still, small and medium-sized driver IC replaced the large panel sector to become our largest source of sales, thanks to the exciting growth in global demand for smartphones and tablets…and our leading position in those key applications.
Revenues from our non-driver businesses were $27.7 million, an increase of 27.6% from the same period last year and up 4.2% sequentially. CMOS image sensors, power management IC, and IP licensing were among the non-driver products which delivered outstanding sequential growth. Also adding to this growth were our pilot shipments of LCOS microdisplays for the new and exciting head-mounted display application. Owing to many new product launches and project wins, we expect our non-driver products to continue to outgrow driver ICs in the years ahead.
As recent as Q4 2009, related party still accounted for 68.8% of total sales. That figure has come down to 31.8% in Q4 2012 mainly because our related party customer that owns 15% of Himax equity undertook to diversify its supply base. The related party sales as a percentage of total revenue may continue to decline as our other businesses now looks to outgrow the related party business.
Regarding Guidance
We are seeing strong fundamentals across many of our product lines and we'll continue to execute our strategy to focus on image processing, related technologies or diversifying our customer base and product portfolio.
The large panel driver business gained some of the share in 2012 and continues to be on the leading edge in key technology trends such as various high-speed interfaces and 4K TV. However, the large panel drivers' short-term prospect looks sluggish. It is likely to experience some sequential decline during the first quarter because of slow monitor demand, high customer inventory, seasonal slowdowns, and reduced large panel driver sales to our related party customer.
The prospect of our small and medium-sized panel driver business remains robust and solid in 2013. We will further expand our smartphone customer base which has already covered first tier international and Chinese brands with the fast-growing China white-box market. We expect the sales for smartphone application to accelerate throughout 2013.
With further design wins and shipments in the pipeline, we expect the tablet market will contribute to noteworthy growth for Himax in 2013 and beyond.
The Q1 prospect for CMOS image sensor looks gloomy as the China market is going through correction. Notwithstanding the short-term downtrend, we do expect the sales of this product line to flourish in 2013 boosted by shipments of our new products, many of which were only launched in the second half of last year. We also expect to break into new and leading smartphone brands and for the penetrated tablet, IC cam, surveillance and automotive application markets. The sales of touch panel controller more than tripled in 2012.
Overall, in the first quarter, we expect a high single-digit to low teens decline in our revenues compared to the last quarter. The first quarter is likely to be the bottom of the year in terms of sales because we have fewer working days due to Chinese New Year.

Our gross margin is expected to be slightly up from the fourth quarter of 2012. We expect small and medium-sized panel drivers sales will contribute to increasing percentage of product mix by revenue in the first quarter.
Net-net, we continue to have great enthusiasm with regard to HIMX's smartphone and non-driver businesses (particularly LCOS). Ultimately, we believe these opportunities will enable shares of HIMX to triple from our initiation point. However, while we are waiting for that potential to be unlocked, investors should keep the balance of risk and reward in perspective.
Disclosure: I am long HIMX. I wrote this article myself, and it expresses my own opinions. I am not receiving compensation for it (other than from Seeking Alpha). I have no business relationship with any company whose stock is mentioned in this article.