By David Russell
Options traders apparently think that Amerigroup (AGP) will climb toward $32 or more and are selling long-dated options to finance a bet on the health care company.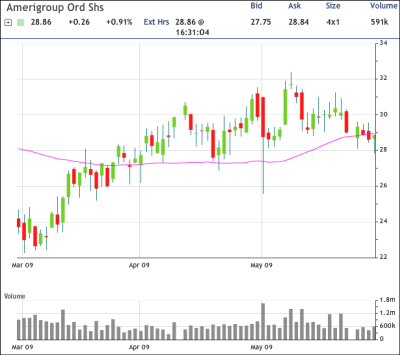 Some 2,500 September 30 calls were purchased Friday for an average price of $2.5275, matched against the sale of 2,500 January 40 calls for $0.8275. Volume in both strikes was greater than open interest, according to optionMONSTER's Heat Seeker monitoring program.
The transactions resulted in a net debit of $1.70 and will be profitable if AGP climbs above $31.70 by the time the contracts expire in September. The stock, which closed Friday up 0.91 percent to $28.86, has risen 15 percent in the last three months.
The strategy, a so-called diagonal spread, lets traders use the greater amount of time value in the long-dated options to generate more income and reduce the cost basis in the calls that are purchased. A traditional September 30-40 call spread, by contrast, would have cost about $2.30 to implement. (See our Education section)

(Chart courtesy of tradeMONSTER)