Walter Energy (NYSE:WLT) is a metallurgical coal producer that has been severely punished this year. The stock is down more than 51% year-to-date. WLT has significantly underperformed its peers in 2013. Alpha Natural Resources (ANR) is down 27% YTD, Arch Coal (ACI) lost 30% YTD, Peabody Energy (BTU) is down only 22% YTD. The difference between WLT and other coal stocks is the fact that WLT is a pure metallurgical coal play. Other coal stocks produce significant amounts of thermal coal.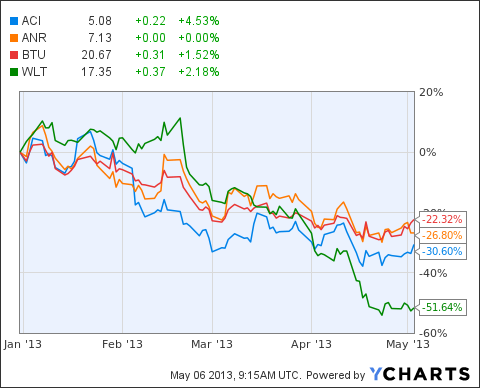 ACI data by YCharts
Walter Energy has recently released its first-quarter results. The company has reported a first-quarter adjusted net loss of $40.1 mln, or $0.64 per share. Analysts (analyst estimates sourced from Yahoo! Finance) were expecting a loss of $0.90 per share. Revenues were $491 mln, an increase of 3% from the fourth quarter of 2012.
Walter Energy showed significant improvement from the results of the fourth quarter of 2012. First-quarter sales volume increased 9% in comparison to the fourth quarter of 2012. Metallurgical coal production has increased 12% in comparison to the fourth quarter of 2012. Pricing has slightly improved. Average metallurgical coal selling prices increased $3 per ton in comparison with the fourth quarter of 2012. These prices are still low. The average first quarter realized selling price of hard coking coal was $154 per metric ton, while it was $225 in the first quarter of 2012.
WLT cannot influence prices. Cost management is what the company could do. Cash cost of sales was $120 per metric ton compared to $124 per metric ton in the fourth quarter of 2012. This is a 3.2% improvement. In its earnings call, WLT states that it will work further to reduce costs. Walter Scheller, CEO of WLT, states that the company expects continued progress on the cost front and should reduce cost by about 15% on a per ton basis for the full year 2013.
WLT believes that short-term met coal pricing outlook remains challenged. In its earnings call it states that demand does not increase enough to offset supply. However, even with the current weakness in the market, WLT expects a slight improvement in average realized met coal prices for the second quarter. The company expects to see a meaningful increase in earnings and cash flow in the second quarter compared to the first quarter.
Given that the environment remains challenging, it's time to look at the company's liquidity and debt. At the end of the first quarter, available liquidity was $560 mln. Cash and cash equivalents were $236 mln. In addition to that, WLT has $324 mln available under the company's revolving credit facility. Long-term debt was $2.6 bln. Interest expenses for the first quarter totaled $52.6 mln. There is no major debt repayment due in the near term. With that in mind, I think that the company does not have significant liquidity issues. WLT's current ratio, a gauge of liquidity, has been recently improving.
ACI Current Ratio data by YCharts
An interesting question was asked to the CEO of WLT during the earnings call. An analyst wondered what the company would do if the prices for met coal would stay on these uncomfortable levels for the next six months. Walter Scheller answered that WLT would continue to be focused on costs and close mines that are cash flow negative. He added that it appears that more than half of the production in Australia is out of the money with these kind of prices. If the prices stay the same, the production would have to be cut. This would lead to the improvement in prices.
In April, the shares of WLT performed like there was an Armageddon around the corner. In my opinion, the first-quarter earnings release clearly shows that Walter Energy is not going to collapse. The company has had a success in cost reduction and continues to work on this front. The company has enough liquidity to go through this year. Met coal prices are low, but they are low for everyone. At some point some supply would have to go out of the market because no one could tolerate losses forever. This would drive the prices higher and would favor companies that have a cost-effective portfolio of assets. In my opinion, it's time to be bullish on Walter Energy.
Disclosure: I have no positions in any stocks mentioned, but may initiate a long position in WLT over the next 72 hours. I wrote this article myself, and it expresses my own opinions. I am not receiving compensation for it (other than from Seeking Alpha). I have no business relationship with any company whose stock is mentioned in this article.