Investing in stocks of gold and silver mining companies is not the same as investing in gold and silver. When you buy gold and silver you are buying a hard asset. When you buy the stock of a mining company you are buying shares of a company that produces the asset. The company holds gold and silver producing properties and the shares generally only increase in value if the company realizes a profit. Like any other company, not only does the mining company need to realize a profit, but it also needs to produce successively higher profits quarter after quarter for the share price to continue to increase.
Investors and analysts anticipate how much money a company will earn in the future. Earnings are estimated for future quarters and when earnings are announced it may have a major impact on the share price of the company. Share prices may increase or decrease by 5%, 10%, or 20% or even more depending on the amount of the "surprise." This is how purchasing and holding gold and silver is very much different from investing in mining companies. With the actual gold or silver, you never have to worry about whether or not your company, or your holding (the metal) will succeed in meeting the earnings estimate.
Physical gold and silver don't have to meet earnings estimates. Stocks are punished if they miss or fall short of earnings estimates. In owning the physical gold and silver you do not participate in earnings and dividends, but then, you also do not participate in negative earnings and declines in stock price. Yes, the immediate market price of gold is a factor if you want to sell it, but if you are holding it long term you are generally not concerned with extreme short-term fluctuations.
Examining the distinction between owning gold and silver and owning the mining company stock is timely in the aftermath of the April 12 and 15 gold sell-off, and also because this week (ended April 3, 2013) at least four major gold mining companies, Newmont Mining (NYSE:NEM), Yamana Gold (NYSE:AUY), Goldcorp (NYSE:GG), and Randgold (NASDAQ:GOLD) reported earnings and fell short of "estimates" due to lower prices for gold realized in the first quarter of 2013.
Tuesday, April 30, Gold mining stocks had a bad day as Newmont Mining missed earnings estimates:
first quarter 2013 adjusted earnings of 71 cents a share were down 38.3% from last year's earnings of $1.15, missing the Zacks Consensus Estimate of 78 cents. (Zacks Equity Research Newmont Misses Estimates in 1Q)
If you were watching the price of gold on Tuesday, and were not aware of this earnings announcement, you would have wondered how the (NYSEARCA:GDX) fund could be down $0.82 at $29.09 (down 2.84% at 12:01 p.m. ET) while gold itself was up $4.50. This announcement of Newmont's earnings negatively affected all mining stocks as NEM fell to a new low and almost all other mining stocks were down 1% or 2%. This shows the focus will continue to be on the earnings of mining stocks, and the earnings will depend on the price of gold-which is now about 10% lower than it was three months ago.
On Wednesday, April 1, 2013, Yamana Gold reported earnings. The estimate was $0.18 per share, but the adjusted earnings per share reported was $0.16. Net earnings (not adjusted) per share for first quarter 2013 were $0.14 compared to $0.23 quarter ending March 31, 2012, a decrease of .09 or about 40% even as gold production increased 4% from first quarter 2012. The stock was down as much as 10% at $11.07 from Monday's close of $12.30. (Yamana Announces First Quarter Results.)
On Thursday, April 2, Goldcorp reported first quarter earnings. Gold was up $23.70 while Goldcorp was down $0.20 (.69%) on the earnings news. Adjusted net earnings per share, basic, decreased from $0.50 first quarter 2012 to $0.31 for the first quarter that ended March 31, 2013. Revenues in the first quarter of 2013 decreased slightly from $1211 to $1015 (millions) from first quarter 2012, even as the amount of gold sales increased in the first quarter to 595,100 ounces from 545,700 first quarter 2012. Even with higher gold production, lower revenues are being reported. That seems to be the earnings challenge for gold and silver mining companies as gold is now trading around $1,470 compared to $1,622 one quarter ago. (Goldcorp Reports 2013 First Quarter Results.)
On Thursday, April 2, Randgold also reported first quarter earnings. Basic EPS reported was $0.76 per share compared to $1.32 for the last quarter ended Dec. 31, 2012, and $0.97 for first quarter 2012. Randgold missed the estimated EPS of .83 by .07 per share. However gold was up $23.70 and the S&P was making a new high and Randgold recovered from early losses to trade higher on the day, up about .5%. (Randgold 2013 First Quarter Results.)
This harsh punishment of course is of great concern to investors holding mining stocks, especially if they were purchased prior to the April 15 price drop. Getting straight to the questions: Can mining stocks recover? What would have to happen and under what scenario would mining stocks be able to recover? Let's look at the possibilities, both negative and positive.
The price of a stock can do three things:
Go up

Go down

Trade sideways, with an upward bias or with a downward bias
Possibility 1 -- "Go up." Can mining stocks regain their pre- April 12 price levels? Answer; not without gold or silver strongly rebounding back to the pre-April 12 price levels. It is possible if we see the cash or physical market demand overcome the futures paper-derivative market. If the futures exchanges and bullion banks are drained of physical reserves and unable to meet delivery obligations, then the credibility of the derivative market crumbles. "Discovery" -- real market prices -- would mean, "What price would buyers actually pay for physical gold or silver from producers in a cash market?" A strong surge in price could occur due to some unanticipated event such as the dissolution of the euro (considered a "doomsday" event) or a "race to inflate" under the guise of economic stimulus, but as of this time we do not see actual consumer price inflation occurring.
But remember, after gold peaked in September 2011 it traded in a 19-month tentative "consolidation" pattern from which gold investors (myself included) hoped it would launch to new highs beyond $2000. For 19 months it found support at $1,550 and $150 for (NYSEARCA:GLD). Now these price levels constitute an iron ceiling of resistance. Even if the fall through these levels was the result of "manipulation" -- and it does appear that coordinated selling took place to drive gold through critical support levels -- it would take a very strong surge of buying and short covering to propel prices back above $1550. I'm not saying it can't be done, just that there is strong overhead resistance. Also, the further in time we move away from the huge price drops of April 12 and 15, the likelihood of a sharp snap-back is diminished as the "naked" short positions are closed out (the snakes slither back into the weeds) and a big short-covering rally becomes less likely.
Possibility 2 -- "Go down." Mining stocks produce gold. silver, or other metals. If the price of the underlying asset that is produced goes down, then the mining companies' earnings go down and the stock price goes down. Is it possible for further price declines in gold and silver? And under what circumstances?
The European economy, which is stagnant and faltering, could be a factor for further declines for gold. It seems with every EU economic crisis, the stock market goes down, US Treasuries and the US Dollar rallies, and gold declines. Other possible events could be Chinese economic weakness, negative US economic numbers in employment, incomes or home sales that create a deflationary perception. A big stock market decline would take gold lower. One of these events could lead to the other "leg down." What do I mean by this? Large declines may have a half-way point where there is consolidation and buying support that may take the shape of a flag, pennant or triangle on a chart where there is uncertainty whether the decline is bottoming or has ended. Then some event will trigger another sharp decline that is similar in magnitude to the first decline, which may then end up being a measuring stick for the second decline. This is the worst case scenario that would possibly take gold to the $1,200 to $1,000 level. I am only mentioning this worst case as it is possible from a technical standpoint, but some major deflationary event would likely have to trigger it, which I will not attempt to predict.
I was going to mention possible EU member country sovereign gold sales, such as the threatened sale of Cyprus's gold. But that was a fable spun by Goldman Sachs financial psyops analysts to postmortemize the big sell-off April 15 that they predicted/facilitated. (See "Gold Sell-Off Sparked By Cyprus Sale Concern.") The EU countries have no intention of selling their gold: this was pure disinformation. As discussed by Ansgar Belke in a white paper for the World Gold Council, the gold held by the weakest EU member countries, the PIGS countries (Portugal, Italy, Greece, Spain), is not going to be sold to pay down their debt. Their gold holdings are only about 3.3% of their sovereign debt and wouldn't make any difference. To sell it would drag down the price of gold even more, hurting the value of the gold reserves of Germany, the IMF (has the third largest reserves among all countries in the world, and they are not a country), Italy, and France. They plan on keeping their gold as sovereign reserve collateral or reserve asset, and may also use it to back their bonds. They wish they had more gold, not less.
Because the IMF and Central Banks (the FED) hold gold, maybe they don't want it to go very much lower. Maybe they only wanted to shake some of it loose so they can increase their reserves. Wouldn't sellers of gold be infuriated if the Fed or the EU Central Bank, which can print money, were buying gold April 12 through 16? Under the scenario of further significant declines, gold and silver mining stocks could only continue to sell down as earnings are hit hard by lower realized sale prices, lower revenues and EPS.
Possibility 3 -- "Trade sideways with a sometimes upward, sometimes downward bias." If trading volatility decreases, and enough time passes -- perhaps six to eight weeks from April 15, gold and silver may move into a sideways direction if there are no significant events to trigger large moves. Under this scenario, the supply and demand fundamentals should come into play and lift gold and silver. The large drop of April 12 and 15 though a negative price event, apparently has triggered massive buying of gold and silver bullion and coins. It may also result in demand for delivery of gold and silver on the COMEX and from bullion banks. The inability to cover demand would lift gold and silver higher and discredit the psychology of the "gold bubble" notion. Gold is already about $140 higher from its April 15 and 16 lows. It was at $1,465 as of May 3 and only has to go up $86 to close above $1,550, which was the existing support level. If the immediate snap or whip back to the $1,550-plus level does not occur, and gold backs off from where it is now, this "sideways to upward" is the more probable scenario due to the demand factor.
If one is holding mining stocks such as Newport, Goldcorp, American Barrick and possibly others, you could consider writing covered calls on your positions as gold approaches the $1,490 level. As I mentioned above the $1,500 level now is a major resistance level. Selling would be expected to be encountered at this level. Covered calls would provide option income to offset paper losses if you had bought your shares higher. Of course you could have the stock "called away" if gold kept going up and your stock increases above your option strike price. The same strategy would work and would make even more sense in a "trade sideways to downward" scenario. There would be less chance of your covered call being exercised and your stock being "called."
Here is how the gold stocks performed after gold peaked in September 2011. Mining stocks lost greater percentage value relative to gold after gold peaked. As long as gold is down or declining in price the gold mining stocks may be expected to continue to weaken. It is not so much the analogy of "catching a falling knife" as it is buying into decaying earnings, similar to purchasing a very long-term option and watching its premium decay over time. Only a reversal in the price of gold will allow mining stock to turn around on stronger earnings. This chart shows that mining stocks lost at least 30% more than gold since the gold peak in September 2011 until now, April 3, 2013.
Click to enlarge image.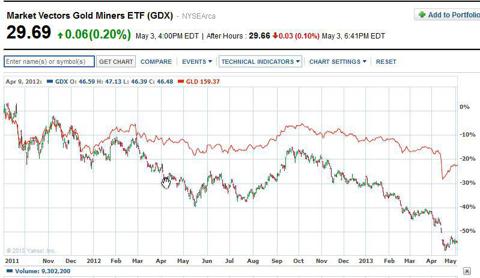 Source: Yahoo charts, GDX compared to GLD September 2011 to April 3, 2013.
Gold and silver may have bottomed, or they may be 10% from a bottom, but the physical metals and coins will hold their value better than mining stocks if gold and silver continue to languish. And there is not the worry about earnings disappointments that result in stock prices going south. This chart shows the whole picture from the 2008 gold bottom to the present date.
Conclusion

What is the most likely scenario? Less than three weeks from the April 12-16 sell-off, all three of the possibilities are possible. But we are about to find out if gold can accomplish the "go back up" recovery scenario, as it approaches $1,500 -- if there is still adequate short-covering of "trapped" shorts, and buyers who want to get back in under $1,500. Or selling at the $1,500 level will cause gold to back off again. The longer we go from the April gold sell-off, the more likely a sideways scenario is.
My guess is that if gold does not recover soon to above the $1,500 level that it will back off, perhaps with a drop possibly to $1,400, and then work on going up in a sideways manner as demand for physical gold and silver remains good. Be watchful for signs of deepening weakness in the world economy. The price of precious metals will be pulled between the forces of demand (upward) and deflationary (downward) forces due to weak or deteriorating economic conditions.
I would not say that the mining sector is a "buy" at this point: if gold stays under $1,500 then lower earnings for mining companies are a foregone conclusion. Miners were selling their gold for $1,600 per ounce or more in the first quarter. It's now about 10% lower, and that is not good for future earnings. Miners would rebound sharply if gold shot back up to $1,550 to $1,600. So I am not calling for anyone to sell their gold or silver mining shares, but I do not currently see inflation unfolding, and I do not trust the economic recovery story. Surprises to come could be those of economic weakness.
Right now I am defensive and cautious and may buy back some Goldcorp on a short-term buy indication using nine- and 18-day moving averages. But I am also watching for any deflationary surprises that may come along and do not want to ride the "next leg" down if it comes. I would roll with purchasing gold and silver coins or bullion. My next purchase may be some Morgan silver dollars or Liberty or Franklin silver half dollars if I can find them at my local coin store. They aren't making any more of these, and I won't have to worry if they will be meeting earnings estimates. The earnings basics cannot be ignored. Miners are companies and have earnings expectations. Gold and silver do not.
Disclosure: I am long GG, GGN, SIL. I wrote this article myself, and it expresses my own opinions. I am not receiving compensation for it (other than from Seeking Alpha). I have no business relationship with any company whose stock is mentioned in this article.