Allergan's (NYSE:AGN) 1Q13 earnings of $0.89/share fell short of market expectations. This among other reasons resulted in the stock falling over 13%. It has recovered over the past week and probably will do so going forward.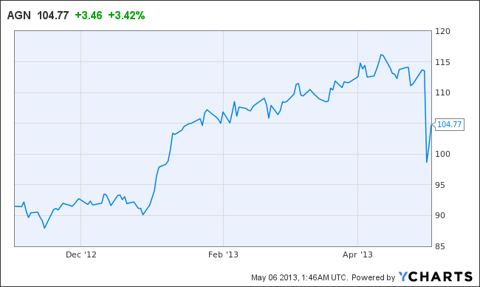 Build-up of Pressure
AGN stock price peaked on April 11th at $116.45 and has slowly been normalizing. Future earnings expectations were overoptimistic and were hit hard on May 1st when management had to explain the disappointing drug trial results. Below is the excerpt from the call that explains the problems with both drugs.
Regarding DARPin, Allergan has completed the initial analysis for the second stage of the randomized controlled Phase II trial comparing 2 doses of the anti-VEGF DARPin and ranibizumab, i.e. LUCENTIS. The data suggest some product differentiation between the DARPin and LUCENTIS but do not support directly moving to Phase III. Instead, we plan to perform additional Phase II work to more completely access safety and efficacy and to guide the Phase III study design. This will likely delay eventual approval by approximately 1 to 2 years compared to starting a Phase III program by the end of 2013.

As previously communicated, data from this Phase II trial will be presented at the American Academy of Ophthalmology Retina Subspecialty Day in November.

Regarding Bimatoprost Scalp hair growth, the results of the Phase II trial in male and female hair loss indicated that the formulation was well-tolerated but did not provide sufficient efficacy to proceed directly to Phase III. As a consequence, we are extending the Phase II program to include trials with an approximately tenfold higher concentration of bimatoprost in the current formulation and also in an oval formulation. These trials will start enrolling male patients with androgenic alopecia in the third quarter of 2013. (Source: AGN's Earnings Call Transcript)
Our Analysis
These delays signal a reduction in AGN's odds of success in finally getting through trials. The delays also give the competition a better timeline to prepare and come up with alternative solutions. Given that Latisse will require additional Phase II trials, our concerns are now in safety (toxicity) because of the ten-fold increase of dosage from the previous Phase IIb that completed last September. Moreover, extending Bimatroprost Scalp's phase two will further put pressure on R&D costs.
Valuation
Despite these setbacks, revenue is still growing around twice as fast as the competition and is expected to continue doing so in the near to medium term, which translates into a rich valuation.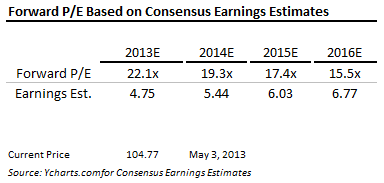 Final Note
Overvaluation leads to risk in the ability to preserve capital. The current valuation is still supportive given the above industry estimated growth rate in the AGN's earnings; however, any further setbacks could result in a revaluation. This happened to Chipotle (NYSE:CMG), and it is those kinds of risks about which we are most worried. Moreover, we still believe there is still a pending recalculation of the earnings estimates on the way. It takes time for wall street analysts digest the current information regarding DARPin and Bimatoprost Scalp.
Disclosure: I have no positions in any stocks mentioned, and no plans to initiate any positions within the next 72 hours. I wrote this article myself, and it expresses my own opinions. I am not receiving compensation for it (other than from Seeking Alpha). I have no business relationship with any company whose stock is mentioned in this article.