Ophthalmic products form an especially profitable niche segment in the healthcare market. The main causes of visual impairment and sight loss in developed countries are retinal diseases, such as age-related macular degeneration ((NYSE:AMD)), diabetic macular edema (DME) and macular edema. The most optimistic estimates of the size of this market come from Visiongain, which estimates that the ophthalmic drug market will reach $21.9 billion in revenues by 2015. The U.S. is estimated to have 32.8% of global ophthalmic market share by that year. Brazil, Mexico, China and Indian markets are expected to show double digit growth during this same period.
Cooper a huge success story in the ophthalmic market
The global ophthalmic market is driven both by an aging population and more widespread reporting of eye disorders. In addition, an increase in the number of diseases associated with vision or retinal disorders such as diabetes influences the demand for advanced ophthalmic devices. In this market CooperVision - the ophthalmology segment of the mid cap Cooper Companies (COO) - was able to make inroads in the field largely dominated by large cap pharmaceutical companies, whose ophthalmology segments are but a fraction of revenues. In the lens market Johnson & Johnson (JNJ) Vision maintained a 42% market share in 2011, and Ciba Vision, a division of Novartis (NVS), was about 25%. Nevertheless CooperVision was able to hold on to a sizable 21% share in the United States, while Bausch & Lomb fell to 11%. In the last quarter of 2012, the fastest growing region in this market was Asia Pacific, where sales climbed 10% and which accounted for a quarter of the unit's $318 million in revenue. The Asian market is particularly promising for Cooper. China, for example, reports 31% of its population suffers from myopia, which translates to 400 million people.
Innovation is the key
When practitioners were asked about product innovation, analysts from Robert W. Baird & Co. Inc. found that CooperVision scored the highest at 3.73 on a scale of 1 to 5 (1 = Not innovative at all and 5 = Highly innovative) followed closely by Ciba (3.67) and J&J Vision Care (3.59), with Bausch & Lomb further behind at 2.82. As a result, for the last several years the company had a 27% compound annual growth rate, and its stock price has climbed from $11.50 at bottom in 2008 to $112 per share today, an astonishing 874% gain in a little over 4 years.
Watch out for red herrings in this niche
On the other hand, the recent rally of TearLab (TEAR) cannot be sustained. TearLab's osmolarity system tests the osmolarity of tears and determines a numerical score that quantifies a patient's dry eye disease, or keratoconjunctivitis sicca. This system has a 50% margin for doctors that should, on the face of it, make it attractive for them to use. However, TearLab sells the diagnostic chip for just $10-15, while doctors get reimbursed at a rate of $22.71. Thus, a doctor can only make an extra $10 per test. And to get it the doctor must acquire and make use of the desktop system and train employees to use it. The reimbursement requires a CLIA waiver and each doctor's office must receive their own specific FDA waiver. Not every eye doctor wants to go through such hassle.
In addition, in TearLab's management's presentation, the number of patients with dry eye disease is estimated as 75 million. However, recent NIH estimates indicate that there are only around 6 million applicable patients in the U.S. If TearLab tests were used on 100% of all patients in the US then total revenues would be just $120 million. TearLab's current market capitalization is nearly double ($218 million) the entire market size and the company's sales never exceeded $1M in any given quarter. Nevertheless, the stock price has almost doubled in 2013 to $7.5, possibly due to analyst upgrades who did not crunch the numbers.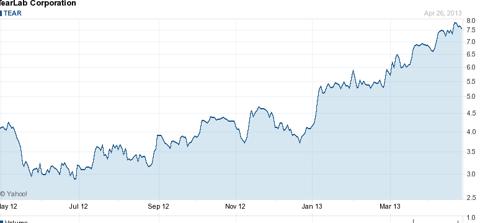 Is pSivida the next Cooper?
Small ophthalmology companies have a chance at beating their larger competitors. pSivida Corp. (PSDV) leaped after a medical journal questioned the effectiveness of a drug that would compete with its recently-approved treatment for chronic diabetic macular edema (DME). Lucentis, developed by Genetech, a division of Roche (RHBBY.OB), is approved for the treatment of patients with DME, as well as neovascular age-related macular degeneration and macular edema following retinal vein occlusion. According to an article in MedPage Today a recent trial published in the online journal, JAMA Ophthalmology showed that patients with vitreous hemorrhage caused by diabetes got no short-term benefits from treatment with Lucentis. According to the article, the study showed that after 16 weeks of treatment, surgery was needed 12 percent of the time in patients treated with Lucentis, and 17 percent in those treated with a placebo, an insignificant difference.
On the other hand, pSivida uses a unique innovative approach to drug development: Strategic Drug Delivery looks for the therapeutic gaps in clinical practice and applies currently available drugs plus new delivery technology to fill those gaps and to create transformational change. In other words, they don't create new drugs, but rather better ways of delivering them. Its recent product, ILUVIEN (partnered with Alimera Sciences and approved in the EU), is the first long-term implant approved for DME. It releases medication for three years after a single injection. It has a large economic upside for the company: it received $30 million from Alimera thus far and will take a sizable piece of the profits. As a result, its share price jumped to $2.26 with a market capitalization of $52 million.
The eye space is a fertile ground for Strategic Drug Delivery especially as there are many poorly treated diseases, many drugs that could work and very few effective ways to get them to the back of the eye. According to Dr. Paul Ashton, President and CEO of pSivida, the company expects to begin Phase III trials of its lead development product, an injectable micro-insert for posterior uveitis, early next quarter, which will form the basis for an NDA submission. Since it has the same micro-insert as ILUVIEN, and delivers the same drug as the surgically implanted Retisert product already approved for posterior uveitis, the company expects Phase III trials to show efficacy similar to Retisert, but with fewer side effects, according to Dr. Ashton.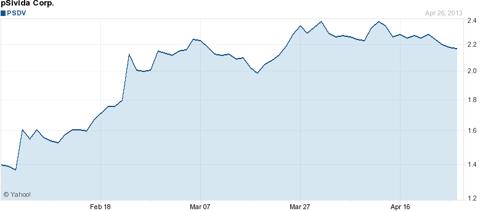 Disclosure: I have no positions in any stocks mentioned, and no plans to initiate any positions within the next 72 hours. I wrote this article myself, and it expresses my own opinions. I am not receiving compensation for it. I have no business relationship with any company whose stock is mentioned in this article.