By Sumit Roy
The U.S. Mint reported that sales of American Eagle gold coins were 209,000 ounces in April, up from 62,000 ounces in March and the highest level since December 2009. Meanwhile, sales of silver coins rose to 4.1 million ounces from 3.4 million ounces.
Since the start of the year, gold sales have totaled 502,000 ounces, up 118% from the same period a year ago. Silver sales -- which are running at a record pace -- totaled 18.3 million ounces, up 57% from last year.
American Eagle Gold Sales (in Ounces)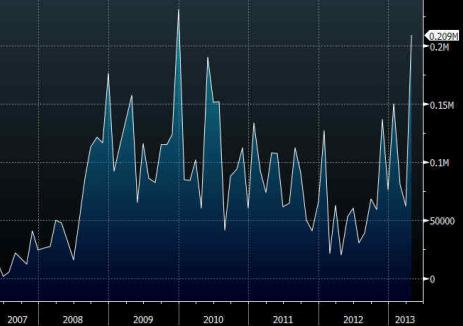 As we've written in the past, sales of American Eagle gold coins are a relatively insignificant portion of the global gold market. Annual global gold demand is in the range of 145 million ounces. At 502,000 ounces, mint gold sales are too small to make a dent.
Incidentally, silver coin sales are significant. On an annualized basis, sales are running at a 56 million ounce clip. That's over 5% of global silver demand, which is around 1 billion ounces.
American Eagle Silver Sales (in Ounces)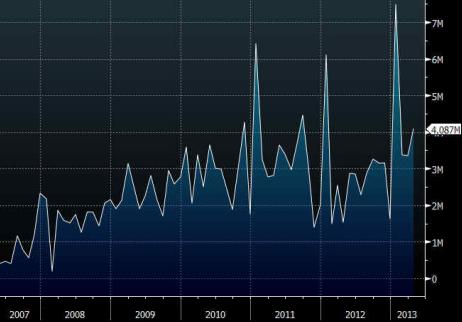 For the gold market, the more important factor has been the buying and selling by exchange-traded funds. This year, most of the investor movement has been on the sell side. ETF holdings were down 5,600,000 ounces in April alone. Since the start of the year, ETFs have liquidated a whopping 12 million ounces, or the equivalent of 8% of global demand.
Gold ETF Holdings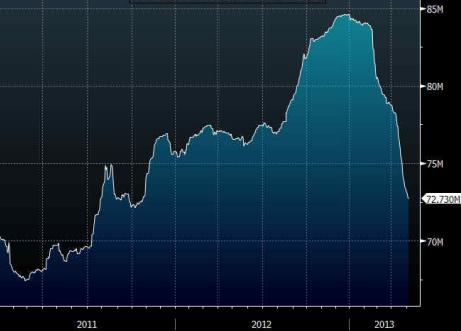 In our view, gold prices will only stabilize once ETF investors stop selling. Buying by coin investors will not make up the difference.