Ford Motor Company (NYSE:F) is one of the major producers of cars and trucks in the world, and has reported impressive sales figures recently. The company has showed strength in multiple areas. Some of the factors that may help the company stay strong on its path to profitability are positive financial performance, positive market performance, and growth in business.
Strong Sales in First Quarter of 2013
Ford reported an 18 percent increase in sales in the first quarter of 2013 when compared to last year, and the best sales in April since 2007. Ford car sales increased by 21 percent, utilities sales increased by 16 percent, and truck sales increased by 16 percent. Ford Fusion and Escape set April sales records with a year-over-year increase in sales of 24 and 52 percent respectively. America's best-selling pickup, F-Series, had a 24 percent increase with best April sales since 2006. Another well-known brand by Ford, Lincoln, had an increase of 21 percent in sales.
"We are working harder than ever to keep pace with record demand for our all-new, fuel-efficient Fusion and Escape - with sales growth particularly strong on the coasts," said Ken Czubay, Ford vice president, U.S. Marketing, Sales and Service. "F-Series pickups also continue to build on their momentum as the housing and construction industries rebound."
The strength in sales is not confined to the North American market, it can also be witnessed in China. For the first quarter, sales in China increased by 54% compared to the same quarter last year. These positive sales directly influence the profitability of the company, which in turn results in a positive market performance.
Ford is not the only company benefiting from these strong markets, its competitors are also benefiting. General Motors Company (NYSE:GM) recently acquired the largest market share in the Chinese market due to its strong sales. GM is currently the largest automaker in China with 15.1 percent of the market share. The strong sales of Buick and Chevrolet models by GM helped the company stabilize its position in China. GM also announced its plans to invest $11 billion by 2016 in order to establish new plants and products in China. GM reported a profit of 1.2 percent in the fourth quarter of 2012.
Another competitor of Ford that holds a strong position in both the territories is Toyota Motors Corp. (NYSE:TM). Toyota is among the largest producers of cars in the United States, and it produces vehicles under a large number of brand names, such as Corolla, Lexus, Prius, Sienna and Camry. Toyota's well known truck brands are Tundra and Tocomo. Toyota's profit margin for the fourth quarter of 2012 was 1.2%.
Ford's Financial Performance
Ford reported revenue of $35.8 billion, which is higher when compared to last year's revenue in the same quarter. The company also reported a profit of $1.6 billion for the first quarter of 2013, which is higher than the profit in the same quarter last year of $1.4 billion. This positive financial performance can be directly attributed to the company's strong sales in North America and China.
The company's strength in these territories offsets the negative effect of the slow sales in Europe. Due to the economic conditions in Europe, Ford witnessed a year of disappointing financial performance in that territory with an annual loss amounting to $2 billion.
Ford's Market Performance
Ford has exhibited a stable market performance that is backed up by strong sales and a strong financial performance. The average trend of the company's share price has been upward throughout the year. At the time of writing, Ford's shares are being traded within the range of $13.41 and $13.78, while the 52-week range of the share price has been between $8.82 and $14.30. The extent of growth in the share price can be witnessed by the difference between the two extremes.
The following chart represents the trend of share price of Ford Motor Company over the past year.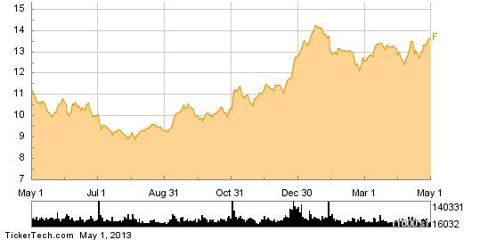 Click to enlarge
It can be observed from the chart that the company's share price has followed an upward trend. There have not been any abrupt declines or inclines; therefore, it can be said that the share price has remained relatively stable.
In light of the relevant factors analyzed above, in my opinion, investors should buy the shares in the company. I believe that Ford has exhibited significant financial growth and its sales in North America and China have increased commendably. These factors will continue to have a positive impact on the market performance of the company.
Disclosure: I have no positions in any stocks mentioned, and no plans to initiate any positions within the next 72 hours. I wrote this article myself, and it expresses my own opinions. I am not receiving compensation for it (other than from Seeking Alpha). I have no business relationship with any company whose stock is mentioned in this article.