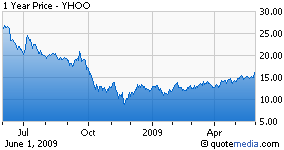 Usually, the theory is that you need three of something to make a trend, but Monday let's go with two.
Barclays Capital analyst Douglas Anmuth Monday morning upgraded Yahoo (NASDAQ:YHOO) to Overweight from Equal Weight, with a price target to $20, up from $15. Coming out of meetings with the company's management, the analyst writes, "we believe the company is better positioned now than at any point in the past few years." He asserts that the company is focused on the right core initiatives, is better structured, has a renewed sense of innovation and is well-positioned to benefit from an eventual rebound in advertising.
That follows a similarly bullish note on Yahoo's fundamentals on Friday from J.P. Morgan's Imran Khan.
Anmuth asserts that a new version of the company's home page to be launched later this year with more third-party content and status updates could be "material" in helping Yahoo fight Internet fragmentation, increase user loyalty and improve monetization.
He pushed up his 2009 EPS estimate to 41 cents from 40 cents, which is above the Street at 36 cents. For 2010, he goes to 48 cents, from 44 cents, with the Street at 42 cents.
YHOO Monday is up 55 cents, or 3.5%, to $16.39.