Market Recap:
The market was relatively flat to start the week. With no major data or earnings coming out this morning, there was not a lot to expect for the market today. Some sectors saw good continuation higher, like energy, but overall, it was an uninteresting, light day for the market. The only major news was that China's HSBC Services PMI missed expectations, while PMIs for Europe came in better than expectations and grew in April over March. The market, though, will be looking toward a key Wednesday China Trade Balance, some key earnings on Tuesday and Wednesday, and a Friday Federal Reserve speech from Ben Bernanke. Those will be the keys, but we would expect a pretty timid market with light volume. Dips will be bought and rallies sold as the market can be easily controlled.
The Dow Jones (NYSEARCA:DIA) dropped five points, while the S&P 500 (NYSEARCA:SPY) rose four points.
Stocks To Trade:
Today we are looking at bullish positions in Citigroup (NYSE:C), KinderMorgan (NYSE:KMI) and a bearish position in Teva Pharmaceuticals (NYSE:TEVA).
We like the looks of Citigroup moving forward right now. The market looks very strong right now, and we believe that C can benefit from a combination of a positive market as well as solid value-to-potential growth. Right now, Citigroup has great value. The company trades price/sales of 2.1, while future P/E sits below 9. We look for value below 2.5 on price/sales and below 15 on future P/E. Value is there because of the continued risk that is priced into financials due to the recession correction. Yet Citigroup is expected to see around 20% earnings growth and 13% growth in the next two years, respectively. Revenue, though, is only expected to grow 2-3% each year. That low amount of organic sales growth has been the knock on Citigroup and other banks. Yet we believe those numbers are extremely cautious, and C has one of the best lineups in the financial industry.
The company reported in its Q1 that consumers still were reluctant to take on new debt. The company saw only a 1% tick up in consumer lending in Q1 2013, and the fact that most American consumers want to deleverage debt (not take on new debt) has hurt Citigroup and other banks. Yet that story is known, and is not likely to change for some time. We believe that, if anything, that situation will improve, not get worse this year. Unemployment levels have declined and consumer credit so far this year has been quite strong, which may show a slow shift in consumer appetite. Consumer credit rose 8% in February after a sub-$13B rise in January. What we like for C is that the company is seeing a lot of growth in investment banking units as well as its international footprint. Securities saw over 30% growth in Q1, and the stock market's continued success in April should continue that trend for C. In some ways, we can look at money center banks with large investment banking units as plays on the market's rise and fall since the consumer credit divisions are pretty stagnant.
With shares still very cheap in comparison to earnings growth, we believe that it's a decent time to add financial shares. Even with C up 19% YTD, those shares can make a major move higher if the company starts to see some solid growth in its international divisions, which we believe will happen. The company is well positioned in growth markets like China and Japan (which is having an amazing start to the year economically). We like shares in this bull market, which as we stated in our weekly outlook, does not look to be slowing down.
We like getting involved on a break of $48, targeting a move to $50, then $52.
Trade: C, Long
Entry: Above $48
Targets: $50 and $52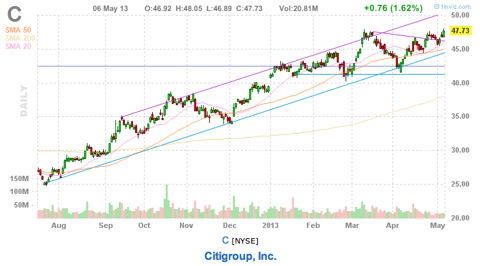 Another stock we like right now is KinderMorgan. We believe that the next rotation of money for the market is energy (as we suggested in our weekly outlook when we recommended SLB). Oil and energy have been fairly flat throughout the past year and have lagged the market in this recent rally. With money wanting to seek yield, we like energy in May. As the weather heats up and more individuals hit the road for travel, we believe that the energy market will be solid. What more, we like the companies that had solid results for Q1, but have not shown a ton of strength thus far since that report. One of these companies is KMI. The company had solid results for Q1, and we believe it has solid potential to move even higher. The company is only up 4.6% in the past quarter. In addition to the market rotation and earnings, the company has a great dividend with a 3.9% yield.
Let's take a look at KMI's last report. The company saw revenue rise 65% year/year, breaking $3B. That number beat expectations of $2.8B, which is a solid beat for the company. Further, the company's Kinder Morgan Energy Partners LP (NYSE:KMP) saw profits more than triple. Revenue from its KMP division does come back into KMI, which is a big benefit. The company is very bullish as it looks to expand with $12B in investments this year. KMI is a great way to play a limited amount of industries that have a lot of growth potential in American markets. Energy production in the U.S. is expected to grow a ton over the next two years, and KMI will grow with that as the largest pipeline company in the states. Oil production is expected to grow 22% this year by barrels per day. For KMI, the company is also less concerned with pricing than some of its other oil counterparts that depend more on pricing. The company is concerned with drilling and production, as it cares about supply. Supplies of oil are very high this year, so high that there is an overabundance. At the same time, oil prices have remained over $90 per barrel, so there is no reason to expect a let up.
With a great dividend and lots of growth potential, we like KMI moving forward. With its value a bit high right now, a great way to approach KMI is to go long but hedge with a bull put spread. We like the Jun22 37.50/35 bull put spread that is offering nearly 15% in potential gains.
Trade: KMI, Jun22, 37.50/35 Bull Put Spread
Buy Point: 0.30
Max Gain: 15%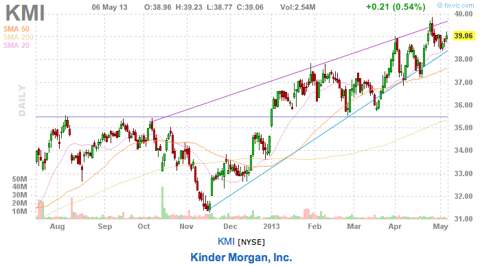 One stock we do not like right now is Teva Pharmaceuticals. Last week, TEVA announced earnings that beat expectations but left us concerned about the company. The company slightly beat earnings and revenue expectations, but results in North America worry us. TEVA saw an 11% decline in North American revenue as generics started to compete with key revenue drivers for TEVA. As Zacks notes:
Teva is going through a transition period. Although the company's first quarter results were above expectations, we remain concerned about the performance of the US generics business. Moreover, new competition has entered the multiple sclerosis market in the form of Tecfidera. Although Teva expects the US generics business to improve in the second half of the year, the entry of additional generic competition for Pulmicort would affect the performance of the US generics business. The company said that if it remains semi-exclusive on generic Pulmicort, it would be in a position to achieve the mid to high end of its US generics business guidance range of $4.3 billion - $4.7 billion. However, the entry of additional competitors this year would lead to Teva delivering US generic sales at the low end or slightly below the low end of the guidance range.
The company has reiterated its 2013 guidance and believes that it will see materialization of its generics business, and it noted that it's not seeing a lot of competition for Pulmicort at this time, but if that competition does come in, it would impact the company. That potential is creating risk for us, which makes us concerned. Why invest in companies that can see a lot of potential weakness if something happens that they cannot predict at this time? And as Investopedia notes, that competition is likely coming:
With a successful court fight, it looks like Actavis, Apotex, and Sandoz will be on their way shortly with their own versions. This is likely to lead to significant price competition in the market and further pressure on Teva with respect to meeting or beating 2013 expectations, even though Teva management remains outwardly confident.
Shares are cheap. We definitely notice that with a future P/E at just over 7 and price/sales at 1.8. Yet, the risk here is just too great for us to get behind TEVA. We do not believe now is the time to short because value is there, but we do not believe it's the time to get involved. Avoid TEVA to save yourself a lot of volatility and lack of upside. Shares could fly if the company can avoid a lot of competition, but that's a big if.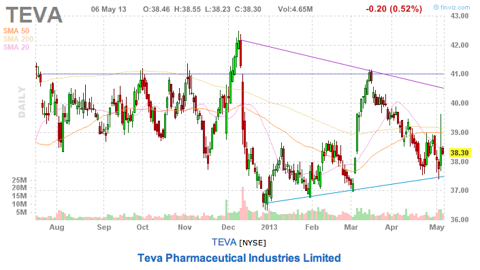 Market Outlook:
The market looks like it is due for a quiet consolidation week after breaking out of a key range that held since March, and we believe that things are destined to continue higher this week, if only slightly. For tomorrow, the market will get Consumer Credit information for March. Credit has been expanding pretty solidly, so it will be important that it stays on that path to help financials, retail, and automotives. Other than that, we get earnings tomorrow morning from DirecTV (DTV) and Louisiana-Pacific (NYSE:LPX). Overseas, we do not have much information out. Another light day, so we should expect more of the action we saw today.
Charts courtesy of finviz.com
Disclosure: I have no positions in any stocks mentioned, and no plans to initiate any positions within the next 72 hours.
Business relationship disclosure: The Oxen Group is a team of analysts. This article was written by David Ristau, one of our writers. We did not receive compensation for this article (other than from Seeking Alpha), and we have no business relationship with any company whose stock is mentioned in this article.