Through today, the average stock that has reported earnings this season (roughly 1,700 companies) has averaged a one-day gain of 0.77% on its report day. (For companies that report after the close, we use the next day's change.) Below is a chart showing this average report-day performance for stocks during each earnings season over the last 10 years. The average one-day performance for all quarters going back 10 years has been +0.12%, so this season's 0.77% gain has been very strong compared to the average.
Unless we see significant earnings weakness over the next two weeks, this season will make it four quarters in a row in which stocks averaged gains on their report days during earnings season. The last time we went four earnings seasons in a row with positive returns was in late 2005, but the gains have been much better during this four-quarter period than they were back then. Stocks have had a remarkable run on earnings over the last 12 months. At some point there's going to be a reversal. The next earnings season starts in July.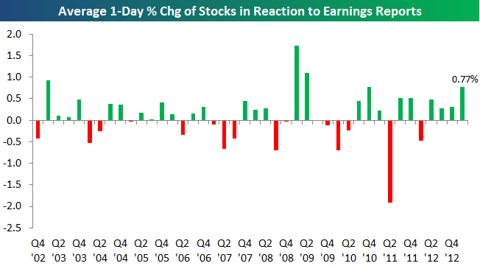 Every day we track all of the stocks that have reported that morning and the prior evening. From our database, below is a list of the stocks that have had the most positive one-day reactions on their report days this season. As shown, Global Geophysical (GGS) ranks first with a huge one-day gain of 74.77% on April 25. Neutral Tandem (NASDAQ:IQNT) ranks second best with a gain of 52.01%, followed by YRC Worldwide (NASDAQ:YRCW), Noranda Aluminum (NOR), and Build-A-Bear Workshop (NYSE:BBW). Only two S&P 500 companies have gained more than 15% on their report days this season: Netflix (NASDAQ:NFLX) and Akamai (NASDAQ:AKAM).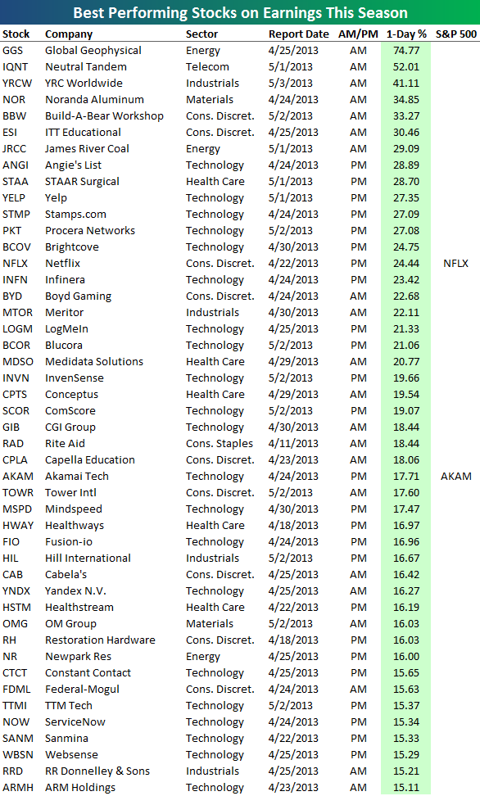 While most stocks have gained on their report days this season, there have definitely been some losers as well. Two stocks have seen declines of more than 37% on their report days: Vocera (NYSE:VCRA) and Vocus (NASDAQ:VOCS). ZAGG (NASDAQ:ZAGG) has been the third worst with a one-day decline of 27.33%, followed closely by Acacia Research (NASDAQ:ACTG). Edwards Lifesciences (NYSE:EW), Pitney Bowes (NYSE:PBI), Safeway (NYSE:SWY), Textron (NYSE:TXT), and Allergan (NYSE:AGN) are the S&P 500 names on the list of earnings season losers.