The recent decline in precious metals over the past month has caught many investors off guard, both from the severity and the rapidity of the drop. Many explanations have been put forward for this drop, ranging from the possible sale of gold by the Cyprus central bank, increased confidence in the economic system reducing systemic risk, and others. Although the macro causes of this drop remain open to debate, its occurrence has caused me to revisit my precious metals exposure.
Although I am primarily a total return investor with a focus on dividend growth stocks, I keep about 5% of my portfolio in precious metals stocks for diversification purpose. At the moment, my precious metals exposure consists primarily of a position in Silver Wheaton Corporation (NYSE:SLW). I believe this company has excellent management, an excellent business concept, and it currently pays a dividend of 1.65%. Like all precious metals stocks however, it has been hammered recently, dropping nearly 32% in the past 3 months. This drop was caused by the fall in the price of silver, which has decreased by about 25% over the same time period (graph is from YCharts).

Click to enlarge
What is Silver Wheaton's Business Model?
For those unfamiliar with Silver Wheaton, it is a silver streaming company that generally exchanges an upfront cash payment to mine operators in exchange for the rights to a portion of the silver produced by the mine. This arrangement benefits miners since opening a mine is a capital-intensive process that requires a large amount of financing before production can begin, and since silver is generally a by-product of commercial mines that are focused on gold, copper, or other base metals. In return, Silver Wheaton has historically been able obtain silver at a cost of around $4/oz, which can then be sold on the open market for large profits. Currently, Silver Wheaton owns the rights to silver (or less often, gold) streams from 19 mines and another 4 mines in development. These mines are geographically diverse and located in politically stable countries, as shown below on its website: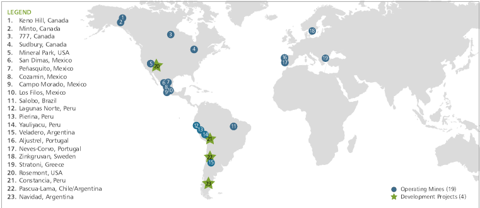 Click to enlarge
What Risks does Silver Wheaton Face Following the Recent Decline in Precious Metals?
Following this business model, Silver Wheaton should be able to continue earning huge profits even after the recent drop in the price of silver. However, there is another risk to the company from low commodity prices above and beyond the silver price. If low commodity prices cause a mining company that Silver Wheaton has an agreement with to suspend production, or even worse, to go bankrupt, then Silver Wheaton would not receive silver while production was stopped. Such a scenario would very adversely impact its share price, since Silver Wheaton has already provided the upfront financing to the mine but would have stopped receiving anything of value in return.
In order to learn more about the possibility of a stop in production at any of the mines that Silver Wheaton receives silver from, I dug deeper into the operating mining companies that it has deals with. In particular, I am interested in the financial health of these companies and the likelihood that they will be able to weather and maintain production in the face of an extended period of low commodity prices. Below is a table with information about the financial health of the mining companies that provide the largest portion of Silver Wheaton's silver streams (rating information from Moody's, other financial information from Morningstar).
| | | | | | |
| --- | --- | --- | --- | --- | --- |
| Company | % of SLW's total silver streams | Moody's Rating | Moody's Outlook | Debt/Equity | Net Margin % TTM |
| Primero (NYSE:PPP) | 20 | NA | NA | 0.07 | 27.1 |
| Goldcorp (NYSE:GG) | 17 | Baa2 | Stable | 0.03 | 32.2 |
| Hudbay (NYSE:HBM) | 15 | B2 | Stable | 0.27 | -2.6 |
| Vale (NYSE:VALE) | 10 | Baa2 | Stable | 0.49 | 10.3 |
| Capstone (NASDAQ:CPST) | 9 | NA | NA | 0.00 | 19.9 |
| Glencore (OTCPK:GLCNF) | 8 | NA | NA | 0.40 | 0.5 |
| Lundin (OTCPK:LNDNY) | 6 | NA | NA | 0.00 | 16.5 |
| Barrick Gold (NYSE:ABX) | 5 | Baa2 | Negative | 0.55 | -6.0 |
Of the companies with Moody's ratings, three are considered investment grade, and one is in junk territory (Hudbay). Hudbay also raises concern since they currently have a negative net margin and are losing money, as well as having a moderate amount of debt. Barrick Gold is also a cause for concern after the recent decline in gold prices, having negative net margin, a large amount of debt, and a negative outlook from Moody's. However, Barrick Gold is one of the largest miners out there, and they should be able to raise additional funds through debt or equity issuance if needed.
Of the four companies without Moody's ratings, three are small Canadian miners (Primero, Capstone, and Lundin). These companies are all profitable with little debt, suggesting that they will keep producing with lower commodity prices. The other company, Glencore, is a large, diversified British resource company that has a moderately high level of debt. However, its size and diversity remove any real cause for concern.
Risks for Future Production
One major risk for future production is the Pascua-Lama mine owned by Barrick Gold, for which Silver Wheaton will receive 25% of the silver for the life of the mine. The mine straddles the Argentina-Chile border, and work has been stopped since mid-April on the Chilean side due to environmental concerns. The newly precarious financial position of Barrick Gold does not inspire confidence in this situation. However, Silver Wheaton has agreements in place to shield them from the worst of this situation. According to their annual report, they have a completion guarantee from Barrick, requiring Barrick to operate the mine at 75% capacity or greater by December 31, 2015. Silver Wheaton is entitled to silver production during 2014 and 2015 from other mines owned by Barrick to make up any shortfall from Pascua-Lama, and it has the right to terminate the agreement and receive its $625 million upfront payment back, minus credit for received silver, if the completion guarantee is violated.
Conclusion
In sum, I am mainly concerned with silver stream received from Hudbay, which provides 15% of the silver received by Silver Wheaton. Although this situation bears close watching, my overall impression is that the vast majority of Silver Wheaton's silver streams will keep rolling in for the foreseeable future. I believe that the market has already priced in a lower silver price over the medium-term as well as possible risks to production. In the current market environment, I am holding my current position in SLW and will overweight the position if SLW drops back into the $22-$23 range, as I believe that its long-term story remains solid.
Disclosure: I am long SLW. I wrote this article myself, and it expresses my own opinions. I am not receiving compensation for it (other than from Seeking Alpha). I have no business relationship with any company whose stock is mentioned in this article.