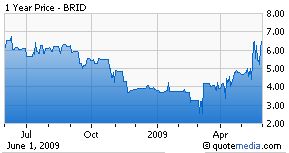 Bridgford Foods (NASDAQ:BRID) delivered solid second quarter results when it recorded sales of $25.6 million (a 2.9% increase) and earnings of 11 cents versus an 8 cent loss. The results were released after Monday's market close in a 10Q filing (there was no press release). The notable 19 cent swing in earnings was attributable to a substantial drop in input costs (flour and meat). BRID's gross profit margin soared 850 basis points from 34.3% to 42.8%. Although historically the second quarter is the company's weakest, BRID still managed to even show a 460 basis point margin improvement on a sequential basis, an impressive feat in itself. Further benefiting the bottom line was a 3% drop in its shares outstanding, from 9.69 million to 9.43 million.
Under covered: The beauty of this equity is the fact it virtually has no research coverage. There are no earnings estimates, upgrades, downgrades or any opinion for that matter. The good thing about this phenomenon is that the stock is so unknown, it leaves plenty of room for new buyers (such as institutions - who currently own less than 3%) to come a courting, one of the criteria investment guru, Peter Lynch (of Fidelity Magellan fame) utilizes when picking undervalued situations.
Costs are stabilizing: A $422,000 savings in fuel costs helped reduce BRID's SG&A expense by 70 basis points from 36.4% of sales to 35.7%. The company also experienced a 4% decrease in its depreciation from $748,000 to $716,000, and paid no income tax, due to a tax loss carry over. BRID's cash arsenal ramped up 87%, from $6.1 million to $11.4 million, allowing it more than enough capital to handily complete the 500,000 shares still remaining in its stock buyback program.
The bottom line: BRID has now racked up two quarters in a row of positive earnings. It appears that management's efforts to rebuild the company are starting to pay off, as momentum is on the rise. A new 52 week high, (it could easily rally to $10 by midsummer) and the reestablishment of its cash dividend, looks like it just might be in the cards. This one might just be the "diamond in the rough" value players are looking for.
Disclosure: Long BRID.