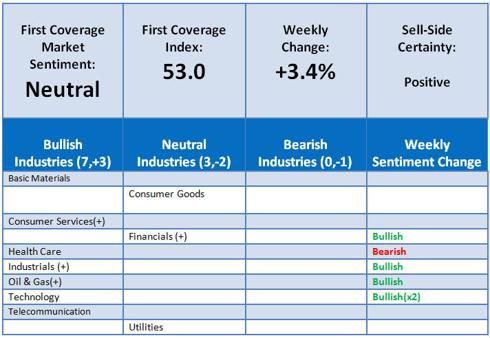 Click to enlarge
Sell-Side Stays Bullish for 13th Week in a Row…but Still Continues Frugal Ways!
Another week and another win for the bulls...
While the week clearly featured a mix of news that saw large volatility in the fixed income arena, it nevertheless clearly continued the trend of good news trumping bad. All the major markets posted a very strong week ranging from up 2.7% for the Dow to up 4.9% for the NASDAQ.
That being said, there is a whiff of "Do what I say…not what I do!" beginning to permeate this market rally, at least from those with some excess disposable income (and we could assume this would represent the sell-side even now). It's not that they aren't suggesting again to their buy-side clients to stay long in this market, and it's not that they aren't also enamored with the size of their re-inflated 401(k). It's just that the very people who are responsible for selling this market are the same ones, if you look at the economic activity surrounding their spending, that are acting like this might not last for a very long time.
Last week, David M. Smick of the Washington Post wrote:
For years, the world has wanted Americans to consume less and to save more. They are getting their wish. The U.S. savings rate, near zero less than a year ago, has soared to nearly 5 percent of income and could go higher. Total personal savings jumped from $20 billion in the first quarter of 2008 to a whopping $453 billion during the same period of 2009. The real danger is if the savings rate goes to 7 or 8 percent…There is an undeniable 'trickle down' aspect to the workings of our economy. Like it or not, those making more than $100,000 a year are responsible for half of retail sales and 70 percent of the profit margins at retail … Suddenly, because of the economic meltdown, this group has become highly cautious about spending. Their savings rate has soared...
That being said, there is no denying this week's gain in sentiment was substantial. There have only been three weeks over the past two years that showed a larger week-over-week sentiment shift. So, what do we take from this?
First, it's timely to note that a few weeks ago we discussed the fact that all sustained sentiment trends end with a big "confirmation" number at some point in the last or second last week. This 3.4% increase would definitely qualify as one of those weeks, and the current duration of 13 weeks for this most recent bullish trend does place it four weeks longer than the average duration. So, for those of you drinking from your "half empty" glasses, who want to consider this large sentiment increase a warning sign caused by capitulation amongst the bears, please do so. The data wouldn't argue with you.
On the other hand, this market rally seems to be like the deranged villain of a teen horror film. Every time we think we've reached the end, and cash is the answer, the rally sticks one hand up from the grave and re-emerges out to post another positive week and keep the bears at bay. There are no longer any bearish industries (by sentiment) as even financials have climbed out of that category. And, if we are going to pay attention to what matters most (i.e. changes in direction), then we would have to look hard to find a negative data point that demonstrates the sell-side is "feeling" any less bearish about this market or any of these industries relative to last week.
So, again, the advice from the sell-side to their buy-side client base is to stay long and ride the rally until it isn't there to be ridden.
As usual, here are the stocks with the biggest bullish and bearish sentiment shifts over the last week.