Today, I added a little known stock to my portfolio, Natural Gas Services Group (NYSE:NGS). I wanted to pen a short article explaining my reasons for taking a position in a stock that has run so hard over the past year.
From its website :
Headquartered in Midland, Texas, Natural Gas Services Group, Inc. sells and leases compressors used in the production of natural gas. We are a leading provider of small to medium horsepower compression equipment. We focus primarily on the non-conventional natural gas production business in the United States (such as coalbed methane, gas shales and tight gas), which, according to data from the Energy Information Administration, is the single largest and fastest growing segment of U.S. gas production.
Up to this point, NGS's business relies mainly on flares and incinerators -- supplemented by the rental of their compressors which are used to help facilitate the production of natural gas. As the natural gas craze continues to roll forward, the prospects for growth for NGS have never been greater. The company has been seeing their supplemental growth with compressors turn more towards primary, as international sales of compressors grow, as stated by CEO Steve Taylor in the company's 2012 annual report to shareholders:
Our sales business also grew in 2012 over the prior year. Flares and incineration systems had record revenues and compressor sales exhibited some recovery, although this business has not yet re-established its former levels of revenue. The business should show improvement over time, but visibility remains elusive. However, the compressor sales business has benefited over the last couple of years from increased international sales. This is certainly positive and we anticipate growth in that realm.
The company has been showing great growth, just as natural gas has, with plenty of room to grow further, in my opinion. Here, I contest there's money still to be made on the long side of things despite the already massive run up to $22. I'm a bull, and here's 5 reasons why.
(All slides source from NGS 3/2013 Investor Presentation)
1. Earnings
The company is due to release earnings on May 9th this week, and I'm betting we're going to be seeing continued revenue growth and continued elimination of debt.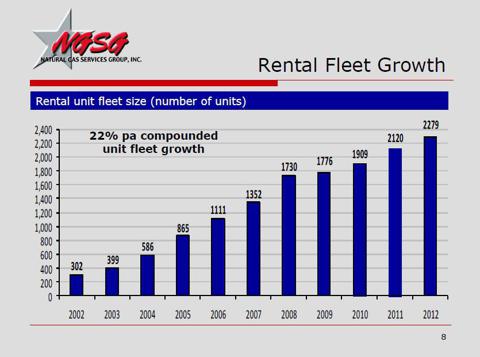 The company's rental fleet numbers continue to grow, commensurate with a company that is going to continue growing revenue. These slides from the company's March 2013 investor presentation say a lot.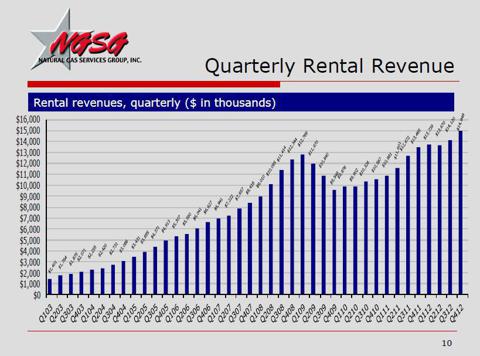 I am expecting all-time company records in both EBITDA and revenue for the quarter, and a continued increase in the company's rental fleet growth.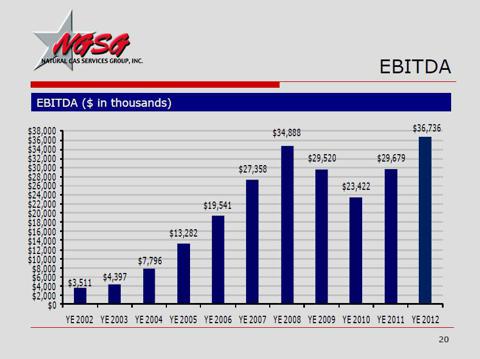 2. Technicals
Usually, I short after an intense rally, especially when the RSI is plowing straight ahead above 70: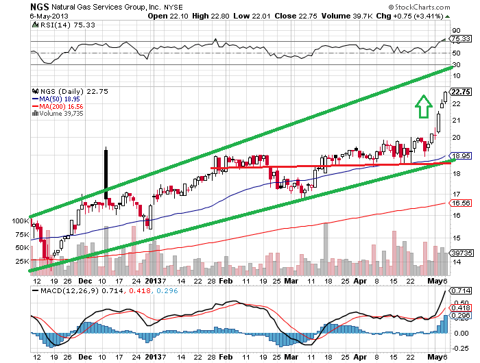 But, in this case, the uptrend looks like it'll correct shortly (possibly as early as this week before earnings) and continue upwards. With a small pullback on volume and a great earnings report, the RSI will correct accordingly back to between 30-70, but the price will stay well above the $21 level.
Natural gas is becoming the future of energy, it's unavoidable. The case for alternative energy is going to break through even further in the years to come, despite lobbyists trying their hardest against it. This is a company with major long term growth prospects, as alternative energy and natural gas continue to emerge.
The company trades at a $280 MM market cap and a P/E of 22, which (believe it or not) I think are warranted as long as the company continues to keep its debt low and grow in the same fashion it has been over the past few years.
3. Directors & Officers With Stake in the Game
What isn't there to love about a company whose officers and directors have stake in the game? Taking a quick look at NGS's insider transaction shows plenty of acquisitions, some from predetermined options awards, and very few sells. In the last year, there have been two Form 4's filed for sells as opposed to 11 Form 4's filed for acquisitions.
The CEO currently owns 141,845 shares, from his last Form 4 filing, and other insiders have filed Form 4's showing ownership of anywhere between several thousand and tens of thousands of shares. The numbers aren't as important to me as it is to see many directors and insiders all having a stake in the game.
I love companies where the insiders have a stake in the game. Nothing assures me more as an investor that executives are in it for profit than when they're carrying a ton of shares.
Source: NGS Insider Transactions
4. Elimination of Debt
There isn't much that needs to be said about the following slide. In large companies like Apple (NASDAQ:AAPL), that have $135 billion in cash, you can take on some debt and it can be very healthy. In a growth stage stock like NGS, I prefer having as low a total debt to EBITDA number as possible. As you can see below, as the company has been growing revenues, it has been hitting the other side of the balance sheet as well, eliminating debt.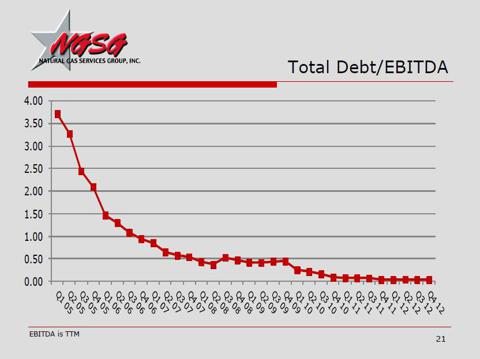 5. Room to Grow
My argument here is very similar to my argument I recently made with Kona Grill (NASDAQ:KONA). Not only is NGS similar to Kona in the fact that they both have insiders with a huge stake in the game, but they both have the same growth prospects.
I remain bullish on Kona because of the fact that they have most of the U.S. to continue expanding, and they're moving in a slow, predetermined fashion (and also like NGS, focusing on eliminating debt and growing revenues). In my Kona article, I stated:
This is a company that is not offering franchise opportunities because it wants to grow slowly and organically, focusing on its service and what makes it unique. Kona is not rushing, and this is going to yield consistent results. Kona is the most promising restaurant stock for growth I've seen in years.
The same holds true for NGS. They are moving slowly and calculated when it comes to expansion. They are not spreading themselves too thin, nor are they avoiding growth altogether, as start-ups sometimes make the mistake of doing. If they continue to grow revenue like stated in their last 10-K, there's going to be a serious argument for both domestic and international growth:
Total revenue increased to $93.7 million from $65.2 million, or 43.8%, for the year ended December 31, 2012, compared to 2011. This was the result of a 135.9% increase in sales revenue, a16.2% increase in rental revenue and a 22.3% decrease in service and maintenance revenue.
As you can see from the NGS investor slide show, they have a very similar opportunity. There is much of the U.S. they have to conquer.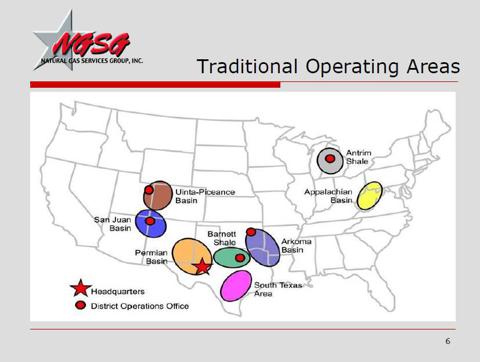 Conclusion
I opened up a starter position here with some longer-term calls. I'm going to be adding the equity on dips and keeping a close eye on what I call an extremely fundamentally sound "sleeper" stock in NGS. As natural gas continues to rise in popularity, the opportunity for growth with NGS is going to be desirable.
Potential risks include the market as a whole pulling back and going bearish and natural gas as an energy form not taking off. NGS's specific risks lie in the uncertainty of international business, potentially growing too quickly and overextending themselves, and the fact that the 2012 annual report points out that most of their compressor revenue came from one dedicated customer. That could put the company in a vulnerable position going forward.
However, similar to how I feel about other certain social issues, I feel that alternative energy and natural gas is a war that's already won; their heyday is still far off, but on its way. NGS is a stock I want to be in when it all takes place. Furthermore, NGS is a stock I want to be in before "the world" finds out about it.
Disclosure: I am long NGS. I wrote this article myself, and it expresses my own opinions. I am not receiving compensation for it (other than from Seeking Alpha). I have no business relationship with any company whose stock is mentioned in this article.
Additional disclosure: I own NGS calls.