Tonight (morning of May 7th in Australia), the Reserve Bank of Australia cut its interest rate to 2.75% whereas the consensus assumed that rates would stay steady at 3.0%. While the market has priced in rate cuts for later this year, I find myself mystified by the timing and context of this latest rate cut. The RBA's latest statement on monetary policy says almost nothing new and does not point to a single locus of economic danger to justify another cut.
At the end of the statement on monetary policy, the RBA concludes:
The Board has previously noted that the inflation outlook would afford scope to ease further, should that be necessary to support demand. At today's meeting the Board decided to use some of that scope. It judged that a further decline in the cash rate was appropriate to encourage sustainable growth in the economy, consistent with achieving the inflation target.
This interpretation of "scope" surprised me. I had taken it to mean that if inflation or the forecast for inflation took a sudden turn downward, the RBA would not hesitate to cut rates further. Yet, the RBA says nothing of the sort. Instead, it says inflation is currently consistent with target although perhaps "a little lower than expected." A "little" hardly reads like a strong justification for record-beating interest rates. The RBA even sticks by its forecast that inflation should stay consistent with target over the next 1-2 years. Never did it or does it say that in order for that forecast to prove accurate, rates have to keep going lower. Perhaps that is a message we are to take this time?
Adding to my mild bewilderment is that the RBA has mostly positive things to say about economic conditions overall. It expects the global economy to pick up next year. It notes that the unemployment rate remains relatively low, productivity growth is improving, and savers are starting to change their behavior by moving money into investments and assets. Moreover…
There has been a strengthening in consumption and a modest firming in dwelling investment, and prospects are for some increase in business investment outside the resources sector over the next year. Exports of raw materials are increasing as increased capacity comes on stream. These developments, some of which have been assisted by the reductions in interest rates that began 18 months ago, will all be helpful in sustaining growth.
In other words, almost everything the RBA cites looks pretty good or is at least pointing in the right direction. A casual reader of this statement should be hard-pressed to understand the urgency for cutting rates to new record lows. Australia has some very high class problems!
The closest real justification for the rate cut comes via the stubbornly high exchange rate of the Australian dollar (NYSEARCA:FXA) and low credit demand:
The exchange rate, on the other hand, has been little changed at a historically high level over the past 18 months, which is unusual given the decline in export prices and interest rates during that time. Moreover, the demand for credit remains, at this point, relatively subdued.
The RBA makes a point this time to note how long the exchange rate has remained stubbornly high. I have to assume this slight rephrasing means that the RBA's patience could finally be wearing thin. If so, the Australian dollar lands right back in bearish territory for me. The RBA has a tough hill to climb given its major partners in central banking are staying as accommodative as possible and, in the cases of the European Central Bank and the Bank of Japan, are trying to find ways to ease further. The RBA will have to push rates ever lower to get the attention of the market's adjustment mechanisms given such poor alternatives relative to Australia's economic performance and interest rates.
As I have wondered aloud in previous reviews of the RBA's statements, perhaps the RBA is severely stressed and alarmed about something but does not want to overtly state it. Whatever the true problem, the RBA weakens its case by not directly and overtly making a strong case for these rate cuts. Is it the exchange rate? Is it a lack of confidence in China's growth potential? Is it a forecast of a crash in consumer spending or in housing if rates do not drop ever closer to zero? These monetary policy statements lack the substance that other central banks provide when they chart a course for historically low interest rates.
Regardless, any notions I harbored of getting bullish on the Australian dollar anytime soon have been wiped clean (RBA's mission accomplished on that score with me!). I still cannot get overly bearish given low volatility across global financial markets and a bullish bias suggest many traders will likely continue chasing the higher yields offered by the Australian dollar. I would do the same except I think the risks of such a strategy are ever-increasing as long as the RBA insists that conditions dictate ever-lower rates.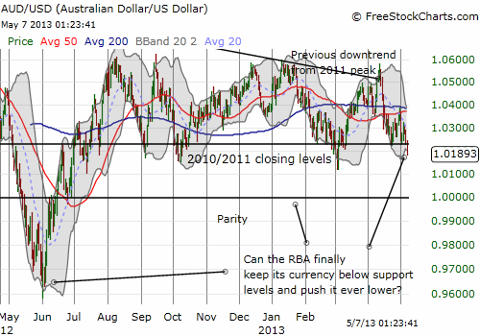 What a stubbornly high exchange rate looks like...
Source: FreeStockCharts.com
Be careful out there!
Disclosure: I have no positions in any stocks mentioned, and no plans to initiate any positions within the next 72 hours. I wrote this article myself, and it expresses my own opinions. I am not receiving compensation for it (other than from Seeking Alpha). I have no business relationship with any company whose stock is mentioned in this article.
Additional disclosure: In forex, I am short the Australian dollar