American Capital (NASDAQ:ACAS) recently reported financial results with EPS of $0.21 missing expectations of $0.28 but increased net asset value ("NAV") by 7% to $19.04 as it continues to repurchase shares and pay down debt. While investors are happy with increased share values, others are patiently waiting for ACAS to return to a regulated investment company required to distribute at least 90% of capital gains, dividends and interest to shareholders. ACAS has decided not to pay dividends until its share price returns to NAV, but probably also needs to exhaust the accumulated operating loss carry forwards as well.
American Capital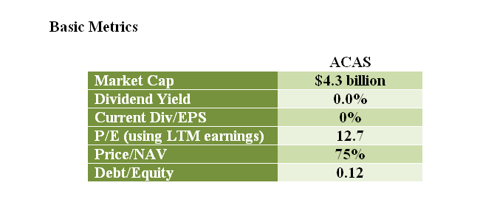 Click to enlarge
ACAS has been moving away from safer investments in senior and subordinated debt since 2008 with only 16% of the portfolio in senior debt, 18% mezzanine or subordinated debt, 4% in "Structured Products" and the remaining 62% are in various forms of equity (see chart below).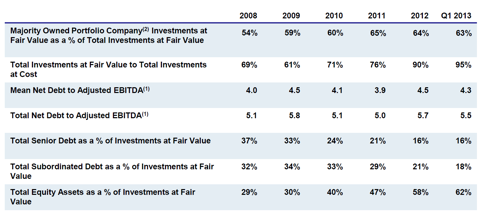 Click to enlarge
The credit quality of the private finance portfolio has been declining due to higher leverage ratios of its portfolio companies but improved slightly in Q1 2013 (see chart below).

Click to enlarge
For detail on the footnotes of this chart please visit the ACAS web site here.
When interest and/or principal payments on a loan become past due, or if the borrower is not expected to be able to service its debt and other obligations, loans are placed on non-accrual status. As of March 31, 2013, ACAS had non-accruing loans at cost totaling $313 million, 16.3% of total loans at cost or 11.3% of total loans at fair value, and is among the highest in the industry.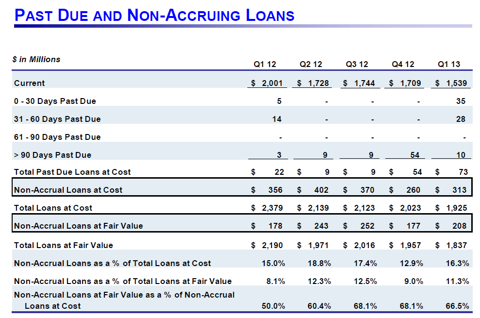 Click to enlarge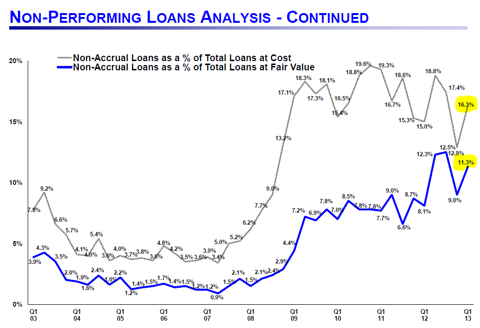 Click to enlarge
ACAS is priced at a significant discount to NAV compared to most BDCs that trade near book value or at a premium depending on investor expectations and perception of risk. Both Main Street Capital (NYSE:MAIN) and Triangle Capital (NYSE:TCAP) are priced at a large premium to NAV and have significantly lower non-accrual rates. Investors are obviously willing to pay a premium (see chart below) for portfolio quality as well as proven underwriting skills to minimize non-accrual rates. BDCs such as Prospect Capital (NASDAQ:PSEC) and Ares Capital (NASDAQ:ARCC) have a larger portion of senior debt with low non-accruals rates but even Solar Capital (NASDAQ:SLRC) with an even mix of both senior and subordinated debt currently has no investments on non-accrual.

Click to enlarge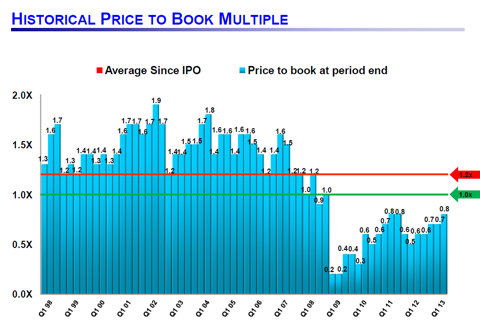 Click to enlarge
Summary
There are a few reasons why investors value ACAS below NAV:
Riskier asset class portfolio
Declining portfolio credit quality
High non-accruals
No dividend
When will ACAS pay a dividend? If ACAS is waiting for the stock price to trade closer to NAV before paying dividends, while continuing to invest in riskier assets that investors are reluctant to pay full price for, I believe it will be a long wait. Most of the increases in NAV have come from the unrealized appreciation of assets. I am far from an expert in tax considerations for regulated investment companies and probably oversimplifying, but would like to see ACAS sell some of its riskier equity assets, actually realizing some of the appreciation, and use the tax advantages of its loss carry forwards and maybe some write downs. Then reinvest the proceeds in safer senior secured debt investments that produce income, to improve the credit quality and reduce non-accruals so that investors will pay $19 per share and potentially receive a dividend.
Disclosure: I have no positions in any stocks mentioned, and no plans to initiate any positions within the next 72 hours. I wrote this article myself, and it expresses my own opinions. I am not receiving compensation for it (other than from Seeking Alpha). I have no business relationship with any company whose stock is mentioned in this article.