Overview
As one of the world's premier soccer (football) clubs, Manchester United (NYSE:MANU) has enticed many investors to research their stock since their August 2012 IPO. The stock fared rather well in the opening days of trading and has moved up since. Since the IPO, Man U's stock is up nearly 32%. Competing in the Barclays Premier League, Manchester United is one of the most globally recognized soccer teams, largely as a result of their success on the pitch over time. However, the stock appears to be overvalued relative to growth prospects and the dual class voting structure makes it difficult for minority shareholders to have a say in company affairs.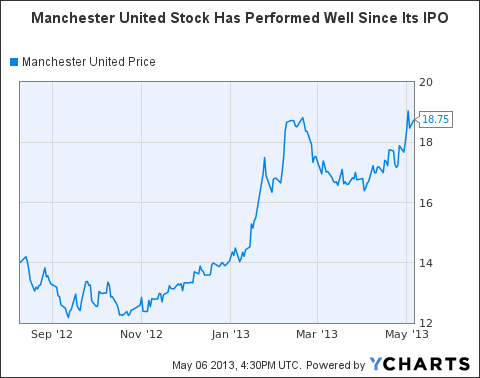 Valuation Remains An Issue
Currently, Manchester United trades for over 49x 2013 earnings estimates and more than 25x 2014 earnings estimates. These are rather large PE multiples and should really make investors consider if this valuation is warranted given the company's future profitability. Especially when this number is compared to the rest of the market, it makes Man U's stock seem particularly expensive. However, Man U has shown that it is able to grow revenue and the bottom line by sizeable portions from sponsorship deals and other sources as well as through geographical expansion. Yet the valuation, even relative to the earnings growth rate appears to be rather rich.
Voting Issues With The Dual Class Structure
One of the most controversial issues of the Man U IPO was the fact that the dual share class skewed voting rights of the shareholders in favor of the existing majority owner, Red Football LLC which is controlled by the Glazer family. At the time of the IPO, 42% of the Class A shares were sold to the public and none of the Class B shares were sold. Class A shares are entitled to 1 vote while Class B shares receive 10 votes. When the IPO was launched, 100% of the Class B shares and 58% of the Class A shares remained under Red Football LLC's control. Red Football LLC retained 98.7% of the total voting power. This voting class disparity makes it very difficult for outside shareholders to make changes to the company, as their voting power is minimal. This in itself would keep me from purchasing Manchester United stock.
Conclusion
Manchester United is a powerful team and should continue with its success on the pitch, however due to a few key issues investors should look at the stock with caution.
Disclosure: I have no positions in any stocks mentioned, and no plans to initiate any positions within the next 72 hours. I wrote this article myself, and it expresses my own opinions. I am not receiving compensation for it (other than from Seeking Alpha). I have no business relationship with any company whose stock is mentioned in this article.