Japan has been one of the most supercharged international equity markets in 2013 with the iShares MSCI Japan Index (NYSEARCA:EWJ) posting a year-to-date gain of 20.82% which handily beats the broader iShares MSCI EAFE Index (NYSEARCA:EFA) return of 10.01% through 5/3/13. The Bank of Japan has been aggressively implementing new quantitative easing practices to boost the amount of money flowing through their economy. This practice has been a tailwind to Japanese stocks which have taken off since November 2012.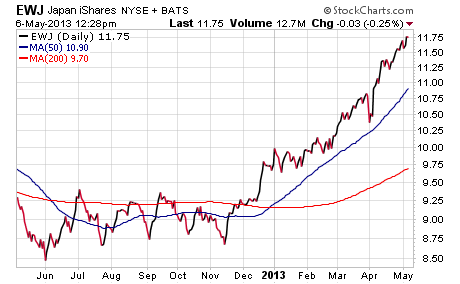 According to Reuters, "The central bank aims to roughly double the monetary base over two years by increasing purchases of government debt to end 15 years of nagging deflation." Because Japan's economy is largely dependent on exports, many of this country's stocks are lifted by a falling Japanese yen. As you can see on the chart below, the CurrencyShares Japanese Yen (NYSEARCA:FXY) has had an inverse correlation to Japanese stock prices over the last six months.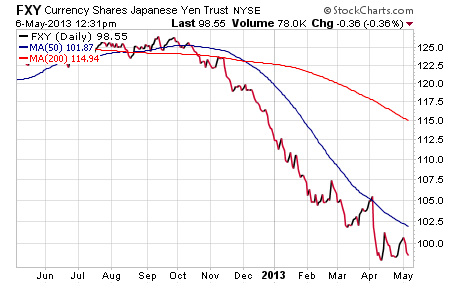 Hedge funds, banks, and other large investors have made billions by shorting the Yen and going long Japanese stocks during this time frame. However, there may be an easier way for ETF investors to access a similar strategy through the WisdomTree Japan Hedged Equity Fund (NYSEARCA:DXJ).
According to WisdomTree the strategy for DXJ is, "to provide exposure to equity securities in Japan, while at the same time hedging exposure to fluctuations between the value of the U.S. dollar and the Japanese yen." They accomplish this by investing in a diversified basket of Japanese stocks and hedging their exposure to the yen through currency futures contracts. Their index weighting methodology caps any single company in the ETF to 5% and any single sector to 25% so that you get broad-based exposure to companies within this country.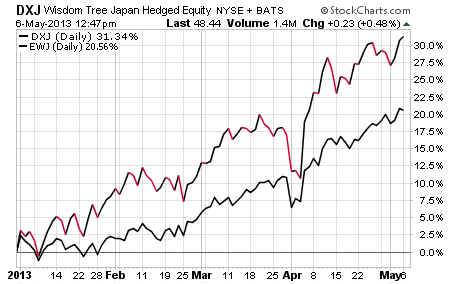 As you can see in the chart above, DXJ has posted a year-to-date return of 30.72% which is more than 10% better than EWJ. DXJ currently charges investors an expense ratio of 0.48%, while EWJ has a slightly higher fee of 0.51%. In addition, DXJ has seen its assets increase to nearly $8 billion which is steadily creeping up on the $10 billion in total assets that EWJ commands.
Because of the long-term asset inflation strategy that the Bank of Japan is implementing, I would not be surprised to see this trend of a falling yen and rising Japanese stock market continue. However, I would caution new investors that purchasing either of these funds on their highs is a risky entry point for new money. I would prefer to wait for at least a 5% pullback before adding money to these ETFs.
In addition, it should be noted that if we see a renewed upward surge in the Japanese yen, that DXJ would most likely underperform other non-currency hedged funds. This is especially of a concern considering that the yen has fallen more than 20% since its 2012 high and may be overdue for a short-term bounce.
The Final Word
I believe that WisdomTree has created a unique low-cost investment vehicle with DXJ that gives investors access to a sophisticated international trading strategy. However, the added element of currency exposure is another risk that investors should be wary of when investing in this fund. So far this year, that risk has been well worth the reward.
Disclosure: I have no positions in any stocks mentioned, and no plans to initiate any positions within the next 72 hours. I wrote this article myself, and it expresses my own opinions. I am not receiving compensation for it. I have no business relationship with any company whose stock is mentioned in this article.
Additional disclosure: David Fabian, Fabian Capital Management, and/or its clients may hold positions in the ETFs and mutual funds mentioned above. The commentary does not constitute individualized investment advice. The opinions offered herein are not personalized recommendations to buy, sell or hold securities.