Many investors rely on annual picks from trusted sources, and the May 4th edition of Barron's had a big one, "Barron's 500: America's Top Companies" by Jacqueline Doherty. It contains companies considered well managed, most likely to grow, and expected to generate the most revenue growth and cash returns.
It is no surprise to many that Apple (NASDAQ:AAPL) was at the top. For 2012, its revenue was up 44.6%, had $42.7 billion in free cash flow, and 27% free-cash-flow yield. Sales momentum for new products was up 73% and 80% in 2012 for the iPhone and iPad families, respectively.
Doherty also felt Apple deserved top honors due to its expanded distribution network and renowned ability to roll out new products. She noted that when the iPhone 5 was released in October, it went from 31 countries in the first week to 100 countries by 2013. Apple's retail outlets also grew by 12.6% worldwide and China sales increased by 78%.
The other side of Apple's coin is its share price that dropped 36% from its October $702 high to $450. Doherty noted this was due to last quarter's revenue growth being only 11% compared to 60% last year. This was attributed to a reduction in smartphone growth and competition from Samsung (OTC:SSNLF). Apple is working to keep its stock afloat by repurchasing $60 billion in stock and boosting its dividend by 15% to an effective yield of 8%. Looking at the chart below, it may be working since shares are up about 15% from its low.
(Click to enlarge Apple's chart)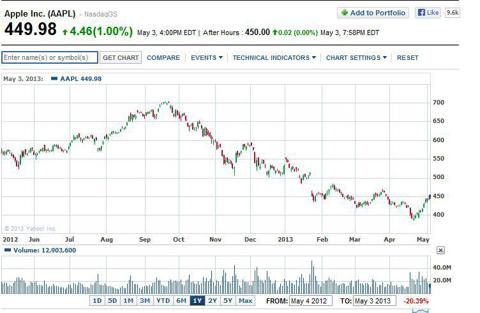 Doherty failed to mention a controversial issue that could push profits much higher or become sell signal. Domination of a field is about brand recognition and having status symbol quality. Apple has both and if the rumored late-2013 cheaper iPhone for developing markets becomes a reality, it could do well in a market that is projected to double in three years and is measured in billions of users whereas the U.S. market is measured in hundreds of millions. But others think it would be the "ultimate sell signal" on belief that it would signal that Apple is no longer the most innovative producer of phones. Whichever your view is, Apple must soon decide or potentially forfeit the chance of being a dominant player in developing markets.
Computer Hard Drive Makers are Third and Ninth on List
The beleaguered tech competitors Western Digital Corporation (NYSE:WDC) and Seagate (NASDAQ:STX) made the top ten. They are in a field facing two major transformations: (1) from a market dominated by hard disk drives to one dominated by faster solid-state drives (NYSE:SSD) and hybrid drives, and (2) from a personal PC driven market to a market dominated by servers for data storage for cloud computing.
Doherty stated Western Digital is meeting those challenges since 50% of its revenue is projected to be non-personal computing devices, up from 35% in 2008. Western Digital's CEO was quoted as saying its business is not dependent on a rebound in PC sales. Its revenue growth is predicted to exceed industry growth of 3% per year.
One-year chart for WDC
(Click to enlarge)
One-year chart for STX
(Click to enlarge)
As an aside, if Western Digital and Seagate growth projections are correct, perhaps some wind can be found for OCZ Technology's (NASDAQ:OCZ) tattered sails.
(Click to enlarge OCZ's chart)
OCZ produces one of the world's finest SSDs (noted here and here) but faces delisting if it cannot come up with a plan for releasing past earnings, finding a purchaser or increasing its earnings, while muzzling shorts who punish it for whatever positive news that suggests an improving, albeit difficult situation. If you are interested in taking a different approach from Barron's (i.e., gambling), OCZ's shares are cheap.
DaVita HealthCare Partners
DaVita HealthCare Partners (NYSE:DVA) is fourth on Barron's list. Most of the DaVita's 2,000 dialysis facilities are in the U.S. where it controls a third of the nation's treatment centers. The aging U.S. population and growing diabetes trend are compelling reasons for owning shares. Elsewhere I learned DaVita increased the number of its facilities 5.3% to 12% in each of the past four years (see page 18 in the 2012 10-Q). Doherty noted that just DaVita's share repurchases could push shares up 9%.
According to Doherty, DaVita's biggest problem is that its profits come from hospital and private insurance sources whereas 66% of DaVita's revenue comes from an unprofitable dependence on Medicaid and Medicare. To counter this effect, DaVita recently diversified by purchasing a physician practice group that is more dependent on patients with private insurance.
(Click to enlarge DaVita's chart)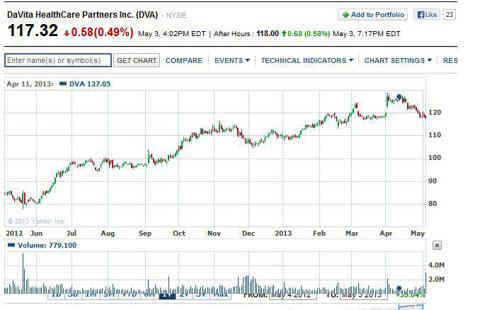 DaVita's stock price increased 40% in two years to recently close at $117.32 and investors may rest better knowing Berkshire Hathaway (NYSE:BRK.A) has been buying shares.
A Hedge to DaVita
While a compelling buy, I think DaVita investors may want to hedge their bets for two reasons. First, DaVita faces increased downward pressure on its rates by both commercial and government payers according to its annual report. Second, on May 1, the American Association of Clinical Endocrinologists (AACE) recommended active obesity management that may include the use of approved anti-obesity medications as a first-line therapy for chronic cardiometabolic diseases, including prediabetes, diabetes, dyslipidemia and hypertension. The anti-obesity drugs are cheap compared to the $27,000, $46,000, or $77,000 per year it may cost to treat dialysis, which also carries great risks, including death.
There are now two newly FDA-approved anti-obesity drugs on the market, or will be "imminently" according to Arena's (NASDAQ:ARNA) CEO on May 2. Arena's Belviq and Vivus's (NASDAQ:VVUS) Qsymia are poised to profit from this major change in policy. Both have markets, but a 16-point comparison indicates Belviq will gain greater acceptance by patients and primary care physicians and another analysis indicates Belviq will dominate in the obesity clinic market where most of the anti-obesity drugs are prescribed. This may also be the best possible time to buy Arena since the worst news just passed and it faces many positive catalysts.
(Click to enlarge Arena's chart)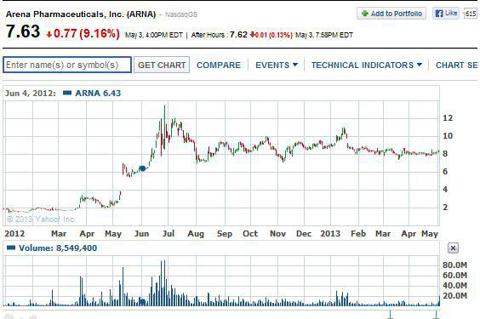 The worst possible news hit Thursday when Arena temporarily forfeited an edge over Vivus by strategically withdrawing its application to the European Medical Association (EMA). That dropped Arena 22.6% to $6.50 (a price last seen in early June 2012) before bouncing a bit to finish down an ugly 9.2%. Arena was already down 23.6% from its $11 peak in January and holding flat on news that the EMA had questions. Arena is now down a whopping 31.6%.
(Click to enlarge Vivus' chart)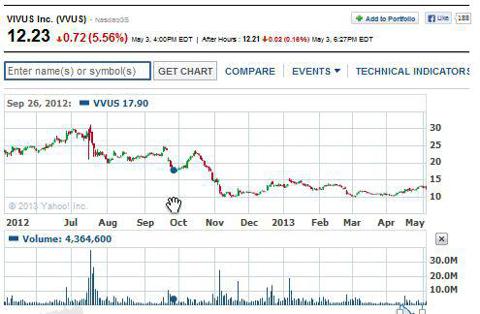 Because Arena and Vivus generally trade in tandem, contrasting their reduction in share price upon bad European news is one measure of knowing if Arena overshot its bottom and if it created a buying opportunity. It appears so because in contrast to Arena, Vivus only dropped 6% when the EMA rejected it (-11.5% on news of likely rejection followed by a 60% rebound before dropping 2% when officially rejected in October 2012).
Another measure is determining investor expectations for European-generated revenue. While many hoped it would be significant, most realists thought Europe was unlikely to help Arena's bottom line due to differences in insurance, demographics and other factors. It thus appears an emotional sell-off to the European news instead of a logical reaction based on experts in the field.
In addition to looking backwards to determine if the Street overreacted, we should also look forward and we find plenty of compelling reasons to buy into this dip since there are more than ten near and mid-term catalysts that should boost Arena's stock. While there is always more than meets the eye, Arena's stated strategy is to conduct nonclinical studies that could not be completed fast enough to meet the EMA's strict timeline. Because clinical trials are relatively short, we may yet see Belviq before the EMA in 6-18 months with a much clearer and stronger hand, including a better deal with European marketing partner for some of the reasons stated below. Additional catalysts for Arena include: (1) the imminent DEA scheduling of Belviq, probably as a schedule IV per FDA recommendations with a $65 million milestone payment from Eisai (OTCPK:ESALY); (2) Marketing of Belviq by Eisai, perhaps immediately upon scheduling; (3) Potential approval of Belviq by the South Korean equivalent of the FDA which will result in a $3 million milestone payment from Ildong; (5) Potential approval of Eisai's recent application for Belviq in Mexico and Switzerland; (6) Results from phase I trials that may ultimately pit Arena against Novartis's multiple sclerosis drug Gilenya which generated $500 million in 2012 despite its many side effects; (7) Applications for Belviq to Canada and other countries; (8) a potential study of Belviq on smoking cessation; (9) a new application to Europe; and (10) several more drugs in the pipeline, sales results, et cetera.
Thus, by all measures, this would be the time to buy into Arena, as a hedge or as a pure play.
With Too Many to Choose From and Little Time to Research Them All - Pick Those with the Lowest P/E
Doherty noted that in Barron's past lists the companies with the lowest P/E ratios did exceptionally well. The 30 companies with the lowest P/E ratios on the 2012 list rose on average by 42% vs. the Standard & Poor's 500 gain of 15.6%.
(Click to enlarge Hewlett-Packard's chart)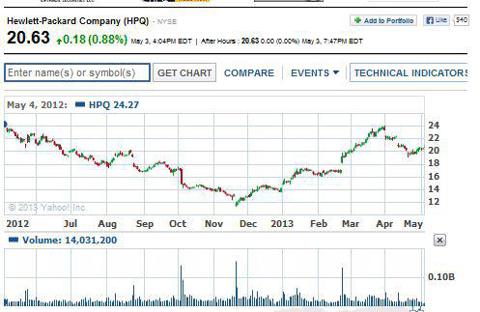 She noted that only two stocks on the 2013 list, Hewlett-Packard (NYSE:HPQ) and Exelis (NYSE:XLS), fell in 2012 but 13 on this list are returning members, which makes me wonder if, in general, their low P/E ratios are symptomatic of poor macroeconomic conditions and tough competition and should be viewed with caution until you have done your due diligence and believe the economy is growing enough to justify an investment. It should be noted that despite some being bearish on Hewlett-Packard, its two-year chart shows it has life since it bottomed-out in November 2012.
Also among the returning bottom dwellers were the energy sector stocks Western Refining (NYSE:WNR), HollyFrontier (NYSE:HFC), and PBF Energy (NYSE:PBF).
(Click to enlarge PBF's chart)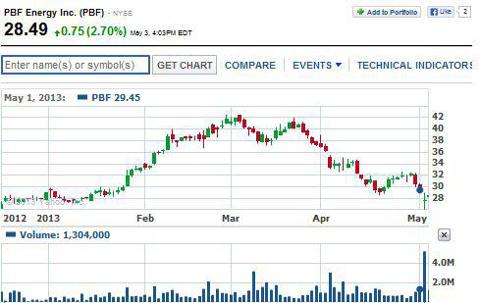 But Doherty believes that refiners' shares recently corrected and the sell-off may be over. She highlighted PBF, which went public last year before dropping from $42 at its March high to $28.49 recently despite a Wells Fargo analyst believing it is worth $44 to $46.
Doherty thought that the gold mining stocks may have regained their shine after a major correction in gold prices. Barrick Gold Corporation (NYSE:ABX) is down 53% to $20, from its year high of $42.46 in October, and Freeport-McMoRan Copper & Gold (NYSE:FCX) is down 27% to $31.13, from its year high of $42.64 in October. Due the recent sell off with the correction of gold prices, Doherty believes they could bounce with their high expected earnings.
(Click to enlarge FCX's chart)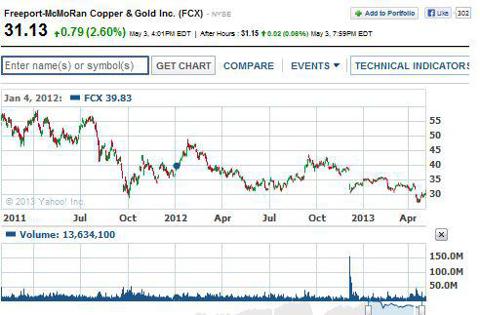 If you want to play gold stocks and believe the market for new housing is improving, a relatively safe bet may be Freeport which has a substantial portion of its revenue tied to copper, is completing an acquisition and some on Seeking Alpha believe it one of the better commodity metals to buy.
Conclusion
Rounding out the top ten of Barron's 500: America's Top Companies were: Wesco International (NYSE:WCC), CH Robinson Worldwide (NASDAQ:CHRW), QUALCOMM (NASDAQ:QCOM), Joy Global (NYSE:JOY), Visa (NYSE:V), and MRC Global (NYSE:MRC).
There was a lot to consider in Barron's this week and these were but a few to start. But, do your due diligence and hedge your bets.
Disclosure: I am long ARNA, OCZ. I wrote this article myself, and it expresses my own opinions. I am not receiving compensation for it (other than from Seeking Alpha). I have no business relationship with any company whose stock is mentioned in this article.
Additional disclosure: I am not a registered investment advisor and do not provide specific investment advice. The information contained herein is for informational purposes only. Nothing in this article should be taken as a solicitation to purchase or sell securities. Before buying or selling any stock you should do your own research and reach your own conclusion. It is up to investors to make the correct decision after necessary research. Investing includes risks, including loss of principal.