In articles that I wrote here at the end of last year and at the very beginning of this year, I provided discussions of dividend stocks. This article will take a look at four solid performing stocks that were highlighted in one of those articles. It will look at how and why the price has gone up since those articles, what dividend or distribution the stocks currently pay, and potential catalysts for continued positive performance.
In an article published on January 3, 2013, five mid-cap stocks that yielded at least 6% were presented. In this article, four of the five stocks will be discussed and these are the ones that have seen positive returns since the beginning of the year. The stocks include El Paso Pipeline Partners L.P (NYSE:EPB), Prospect Capital Corporation (NASDAQ:PSEC), Spectra Energy Partners L.P. (NYSE:SEP), and TC Pipelines, L.P. (NYSE:TCP).
The following is a chart showing the performance of these four stocks from January 3, 2013 through yesterday, May 6, 2013 (as of the time of the writing of this article, 9:53 am Pacific Time).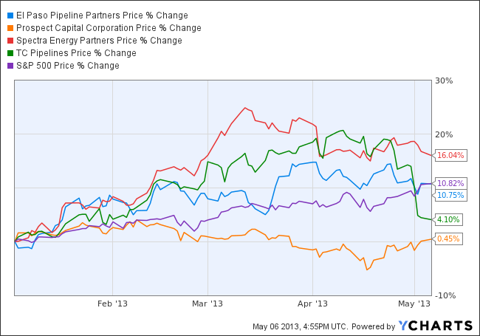 The chart shows that the average performance of these four stocks combined (about 7.85%) has slightly underperformed the S&P 500 (NYSEARCA:SPY). The dividends and distributions from the stocks, however, boost the performance and make it right on par with the performance of the S&P 500. This is a portfolio of stocks that so far this year, has pretty much matched the performance of the index.
El Paso Pipeline Partners had a return of 10.75% during this time period, which is almost identical to the 10.82% return for the S&P 500 in this same time. It currently has a nice dividend yield of 5.8%. This company is a partnership, so the distributions are not dividends, but rather distributions that go on the partners' (shareholders) K-1 at the end of the year for tax purposes. The company has exceeded analysts estimates for earnings in the past three quarters reported, with earnings per share for the quarter ended in March of 2013 coming in at .60 compared to the estimate calling for .56. In April, the company raised its quarterly distribution by 2%. The company has met and exceeded earnings estimates recently along with raising its distributions, which is what I attribute the increase in share price to. Continued strong performance could occur if the company delivers strong further earnings, and if initiatives such as its LNG export opportunities pan out.
Prospect Capital Corporation has been the weakest performer out of these four stocks, with its stock price nearly unchanged in this time period. It has a current dividend yield; however, of 12%. Its December 2012 quarter ended earnings were .51 per share, and that handily beat the analysts' expectations of .42 per share. The company releases earnings today after the bell, and analysts are expecting earnings to come in at .31 per share. If the company can meet or exceed this estimate, and if it can maintain and/or raise its dividend payout, these could be strong factors that could increase its share price over the long run. The fact that the company has good earnings and that its dividend yield is so high, make it the kind of stock that is hard for a high yield dividend investor to ignore. For this kind of investor, I would think it is at least worth a look.
Spectra Energy Partners has been the strongest performer of the companies highlighted in this article. It has a strong 16% return in share price for this time period, not to mention the fact that it currently pays a 5.4% distribution yield (this is another company that is a partnership, so it issues K-1s to partners). Its earnings have beaten analyst estimates in the past four quarters, with its most recent earnings for the quarter ending in December of 2012 beating expectations by three cents per share. It is about to go ex-dividend on May 7, 2013. The formula for this company to continue rising in price is simple in my opinion: it just needs to continue to beat analyst estimates for earnings and slowly but surely increase its distributions over time. It recently raised its distribution for its upcoming one.
TC Pipelines is also a partnership, and its current distribution yield sits at a healthy 7.2%. Even considering its distribution yield, it has underperformed the S&P 500 for this time period. In the last two quarters, its earnings have come in below analyst estimates. Earnings for March of 2013 came in at .52 per share, well below the expectation of .63 per share. This, in my opinion, is why it has underperformed. The fact that it still has solid earnings though, and can afford its distributions, is why I think the company is still delivering positive returns. In April of 2013, Zacks downgraded the company's stock to a sell rating. If the company can beat the analyst estimates calling for .55 per share in earnings for the upcoming quarter ending in June of 2013, this can propel the stock price to a decent increase in my opinion.
Thank you for reading this article. Before deciding whether or not to invest in any of these stocks mentioned here, please conduct your own research and due diligence.
Disclosure: I have no positions in any stocks mentioned, and no plans to initiate any positions within the next 72 hours. I wrote this article myself, and it expresses my own opinions. I am not receiving compensation for it (other than from Seeking Alpha). I have no business relationship with any company whose stock is mentioned in this article.