As we have written recently here at SA, we think there may be a strategic deal or two coming to Tesla (NASDAQ:TSLA). This reminds us of the "Snow White" fairytale and may have Elon Musk asking,"Magic mirror in my hand, who is the fairest in the land?"
This may be the catalyst for TSLA's bullish stock action on top of the scarce borrow-ability of its shares for short sellers to increase their positions or just to maintain them. The information behind our belief is buried inside its most recent 10K SEC filing:
"In May 2009, we entered into a development agreement with Daimler under which we have performed specified research and development services for the development of a battery pack and charger for Daimler's Smart for two electric drive. ... In February 2012, we received an initial purchase order for the development of a full electric powertrain system for an additional Mercedes Benz vehicle from Daimler. We are negotiating the agreement for production parts for this B-Class program. In addition to the agreements described above, we have entered into an exclusivity and intellectual property agreement (EIP Agreement) with Daimler North America Corporation (DNAC), an affiliate of Daimler, ... The EIP Agreement provides that ending July 2013, if the company receives an offer from a strategic competitor of Daimler to enter into an agreement for development of a non-Tesla branded vehicle or an integrated electric powertrain system, DNAC would be given the right of first refusal to enter into such agreement with the company instead of, and on the same terms offered by, the third party. ... In addition, until July 2013, before licensing intellectual property generated outside the scope of any strategic cooperation area to a Daimler competitor, we would first have to offer DNAC the right to license the intellectual property on a non-exclusive, royalty-bearing basis, or on an exclusive basis in the automotive field; and if DNAC requests the latter, we must negotiate such a license in good faith. If no agreement is reached, however, we would be free to license the technology to the Daimler competitor, and DNAC could take a non-exclusive license. Both we and Daimler have the right to terminate the EIP Agreement in the event the other party undergoes, or executes an agreement to undergo, a change of control. Any strategic cooperation agreements entered into between us and Daimler prior to termination will not be affected by such termination. ... In addition to these agreements, Blackstar lnvestCo LLC (Blackstar), an affiliate of Daimler, beneficially owned 4,867,929 shares of our common stock as of December 31, 2012. .... In July 2010, we entered into an early phase agreement to develop an electric powertrain for the Toyota RAV4. With an aim by Toyota to market the electric vehicle in the United States in 2012, prototypes would be made by combining the Toyota RAV4 model with a Tesla electric powertrain. We began developing and delivering prototypes to Toyota for evaluation in September 2010. ... Additionally, in July 2011, we entered into an agreement to supply Toyota with electric powertrain system for the RAV4 EV. We began delivery of these systems to Toyota for installation into the Toyota RAV4 EV in the first half of 2012. Our production activities under this program are expected to continue through 2014. In addition to these agreements, in July 2010, we sold 2,941,176 shares of our common stock to Toyota at our IPO price of $17.00 per share. "
We are sorry for the length of these excerpts, but they are important. There is a deadline just ahead for Daimler (OTCPK:DDAIF), and Toyota (NYSE:TM) is in the wings. These two companies are certainly no strangers to TSLA shareholders. But the significance of the July 2013 expiration of exclusivity for Daimler is an event all shareholders, and short sellers for that matter, should put on their calendars. We think it could be a catalyst for another round of dealmaking for our CEO Elon Musk. In fact, reading through the history of this company, one can see a story board for a movie about an inventive deal maker with a lot of twists and turns.
Also, the insider roster of shareholders from the recently filed SEC proxy adds to the backdrop for artful negotiation: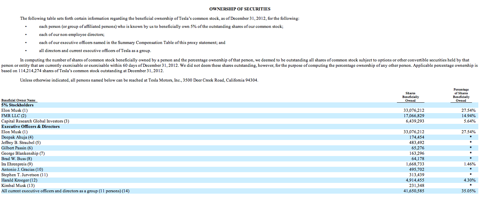 Click to enlarge
(Click to enlarge)

Click to enlarge
(Click to enlarge)

Click to enlarge
(Click to enlarge)

Click to enlarge
(Click to enlarge)
You can see from the footnotes above that Daimler is represented on the board by Harald Kroeger. However, Toyota does not have a representative. We think, given the leadership position Tesla has staked out for itself in EVs, these two giants will put lucrative offers on the table for Tesla to feast on. Not a buyout, just frothy capital. You got to hand it to Elon, he sure knows how to throw a beauty contest.
Disclosure: I am long TSLA. I wrote this article myself, and it expresses my own opinions. I am not receiving compensation for it. I have no business relationship with any company whose stock is mentioned in this article.