When Nokia (NYSE:NOK) abandoned its own operating system (Symbian) in favor of WP, it was (probably) under the expectation that Microsoft (NASDAQ:MSFT) would offer its users unique advantages of owning multiple Microsoft products. For instance, an effective WP ecosystem would make it more attractive to buy a Lumia phone if one already had W8 on the computer and subscribed to Office 365.
However, at this point, one has to conclude that Nokia's expectations haven't been completely fulfilled. Windows Phone simply isn't as big of a success as expected. So that brings us to the question of whether Nokia and Microsoft can turn the tide and significantly increase the WP market share. While there are many variables to analyze in an assessment of Nokia's future, I will only focus on the impact that the ecosystem will have on Nokia in this article.
How important is the ecosystem for Microsoft
One of the most important aspects to look at in the (almost impossible) process of predicting the future is to analyze incentives. It is simply more likely that someone with a strong incentive to do X will end up doing X than someone with a worse incentive. Therefore I believe it is relevant to assess how incentivized Microsoft is at making the WP ecosystem a better alternative than iOS and Android.
As you can see in the below diagram, Microsoft has multiple sources of income, and WP doesn't really bring in any noticeable income. That obviously doesn't mean that WP sales don't benefit Microsoft indirectly in other ways, however, it should be clear that it isn't a necessity for Microsoft to succeed with WP.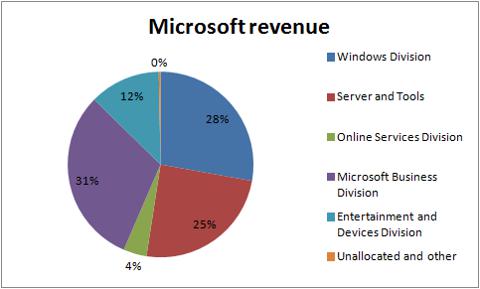 The incentive problem
Unlike Microsoft, Nokia's only goal is to maximize the utility of the WP ecosystem. Microsoft, on the other hand, needs to weigh the benefits of increased WP market share with the potential costs of lower sales in its other divisions. For instance, Microsoft has for a long time been reluctant to make Office available to iOS users. But recently the executives at Microsoft have changed their minds as it can bring in roughly $2.5B in extra revenues. While this decision probably increases the shareholder value of Microsoft, it comes at the expense of fewer Windows ecosystem advantages. Nokia will indirectly suffer from this decision through the logic that Office at iOS leads to higher Mac sales and Mac users are less likely to buy a Lumia phone than a W8 user.
Another example of the conflicting interests between Nokia and Microsoft, is Microsoft's decision to make Skydrive available at both iOS and Android. Skydrive can be used to easily synchronize data between your phone and your desktop, and while some may argue that Skydrive still works better on Windows Phones, Nokia would still have preferred that Skydrive was exclusive to Windows Phones.
And as of November, both Android and iOS users can now use the SmartGlass Xbox app, which means that there no longer are any advantages of buying a Windows Phone if you already own an Xbox.
At this stage, I don't really see any significant ecosystem benefits of buying a Windows Phone. This is bad news for Nokia as the company would have preferred that all of the above apps were exclusive in order to give consumers reasons to choose a Lumia Phone over an iPhone or a Samsung (OTC:SSNLF) Galaxy.
Why Google and Apple are more incentivized to maximize sales of their smartphones
To get a sense of Apple's (NASDAQ:AAPL) incentive, one just needs to take a look at the below diagram which shows that Apple generates the majority of its profits through sales of iPhones. This means that Apple's goal is to use the ecosystem as a mean to maximize sales of iPhones. Microsoft's goal is the reverse; it wants to use WP to increase Office and W8 sales. Succeeding with WP is not a goal in itself for Microsoft.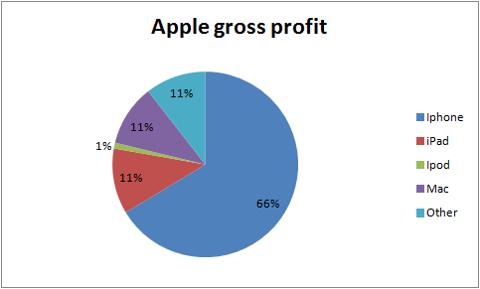 The majority of Google's (NASDAQ:GOOG) revenue comes through advertising, which means that its business model is quite different from the business model of Microsoft. Google is heavily reliant on users watching videos on YouTube and using its search engine. It is using Android as a way of making sure that it can still generate income in the "post-PC era." If, for instance, it had completely left the smartphone market to Apple, Microsoft or another operating system maker, it would risk losing advertising revenue as the OS maker could find ways to increase its own revenue by developing substitutes for YouTube, Google Mail and Google's search engine.
While Microsoft will continue to do well over the next 10 years even if it abandoned WP, Google's business model is much more dependent on the success of Android.
Conclusion
Nokia's biggest weakness is not related to its reputation to carriers or the quality of the smartphones. But instead, the problem is that it is totally reliant on a partner (Microsoft) which has a different interest than Nokia. That doesn't imply that it's impossible for WP to become a success; however it makes Nokia compete at a handicap compared to iOS and Android.
Disclosure: I have no positions in any stocks mentioned, and no plans to initiate any positions within the next 72 hours. I wrote this article myself, and it expresses my own opinions. I am not receiving compensation for it (other than from Seeking Alpha). I have no business relationship with any company whose stock is mentioned in this article.