Yesterday MBIA (NYSE:MBI) announced that it has agreed to settle its longstanding litigation dispute with Bank of America (NYSE:BAC). Under the terms of the settlement agreement, MBIA will receive a net payment of approximately $1.7 billion, consisting of approximately $1.6 billion in cash and $137 million principal amount of MBIA Inc.'s 5.70% Senior Notes due 2034.
In exchange for the $1.7 billion net payment, MBIA will dismiss the litigation commenced in September 2008 against Countrywide and Bank of America, relating to breaches of representations and warranties on certain MBIA-insured securitizations sponsored by Countrywide.
Bank of America and MBIA have also agreed to the commutation of all of the MBIA Corp. policies held by Bank of America, which have a notional insured amount of approximately $7.4 billion, and of which $6.1 billion are policies insuring credit default swaps held by Bank of America referencing commercial real estate exposures.
The importance of this settlement for MBIA is paramount, because it substantially improves the liquidity and capital risk profile of MBIA, by eliminating substantial near-term payment obligations and $7.4 billion of insured exposure.
So the question is, is MBIA's stock a buy, given the 45% run-up yesterday?
On the latest balance sheet total liabilities were $18.5 billion. I don't know if these liabilities encompass the $7.4 billion in notional value CDS exposure, but if we add the $7.4 billion to the $1.7 billion settlement, then the total gain for MBIS is about $9.4 billion.
One other thing to notice is the chart below.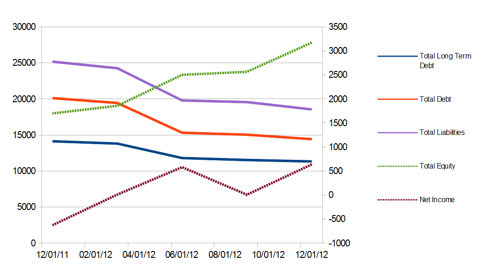 Even without yesterday's settlement, MBIA has been fixing its balance sheet for many quarters now. Total debt as of 12/31/2011 was $20.1 billion and as of 12/31/2012 has been reduced to $14.3 billion. Total equity during the same period has gone from $1.7 billion to 3.2 billion and net income from a loss of $600 million to a net positive of $636 million.
Besides the fact that EPS [ttm] is $6.33 and the PE of the stock is 2.26, I think this settlement has lifted the insolvency issue that has been plaguing the stock for many years now.
While further research is warranted and one has to have a closer look at the liability side of the balance sheet, given the relative large size of the settlement and the fact that MBIA's market cap is only $2.75 billion, I think this stock is a buy and probably has a very long way to go on the upside.
Disclosure: I have no positions in any stocks mentioned, and no plans to initiate any positions within the next 72 hours. I wrote this article myself, and it expresses my own opinions. I am not receiving compensation for it (other than from Seeking Alpha). I have no business relationship with any company whose stock is mentioned in this article.