Introduction
Starbucks' (NASDAQ:SBUX) common stock is outperforming significantly the returns of the S&P 500 Index and competitors Dunkin' Brands Group (NASDAQ:DNKN) and Panera Bread (NASDAQ:PNRA) since my last discussion of the company in February 2013 (see graph). Starbucks is benefiting from its latest acquisitions (Evolution Fresh, La Boulange and Teavana), international and domestic growth, and use of the Starbucks cards. Importantly, Starbucks happened to be a leader in the specialty coffee category. According to the quick service restaurant industry research firm Technomic, specialty coffee is up 10% on menu offerings in the past two years. Starbucks' performance should continue due to the momentum the company has going from full integration of its acquisitions, continued growth in China/Asia, the commodity tailwind expected in 2013 and 2014, and higher growth in the consumer packaged goods channel.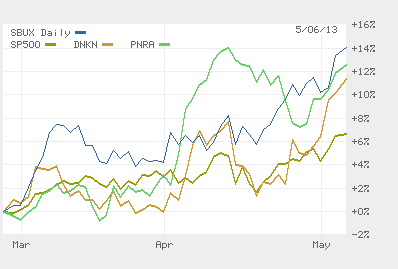 Valuation and fundamentals
During the second fiscal quarter ending March 31, 2013, Starbucks reported record results (despite its much larger size) while both Dunkin Brands and Panera had weak results due to unfavorable weather in the U.S. In addition, Starbucks beat the average quarterly earnings estimate by $0.03 per share compared with a miss of $0.01 by Panera and a meeting of Wall Street's average estimate by Dunkin' Brands. Despite this out-performance, Starbucks common stock remains valued similarly to those of Dunkin Brands and Panera based on a number of measures. Also, Starbucks has the most solid balance sheet as well as a large number of shares remaining for repurchase under its current buyback program (26 million shares left as of April 2013).
| | | | |
| --- | --- | --- | --- |
| | SBUX | DNKN | PNRA |
| Market capitalization | $46.6B | $4.4B | $5.3B |
| Enterprise value | $45.2B | $6.0B | $5.0B |
| EBITDA margin | 18.2% | 40.8% | 17.6% |
| EV/EBITDA | 17.4 | 19.3 | 12.8 |
| Price-to-earnings (NYSE:PE) fiscal '13 | 27.7 | 26.4 | 25.4 |
| PE-to-growth | 1.4 | 1.5 | 1.6 |
| Dividend yield | 1.4% | 1.9% | nil |
| Beta | 1.2 | nm* | 0.8 |
| Price-to-CFO | 17.9 | 31.4 | 17.7 |
| Price-to-sales | 3.3 | 6.5 | 2.4 |
| Int'l revenue (last fiscal year) | 23.3% | 18.2% | <1% |
Source: Capital IQ, Thomson Reuters, SEC filings, author's calculations; EBITDA - earnings before interest, tax depreciation, and amortization; CFO - cash flow from operations
* Dunkin Brands went public in 2011 and beta calculation uses at least 3-year data.
New Developments
While Starbucks seems to be valued similarly to Dunkin Brands and Panera it also has the strongest balance sheet due to its cash-generating abilities and also the most robust domestic and international growth outlook. On the domestic front, Starbucks is integrating its customer loyalty program. Starbucks will have the most unique multi-channel customer reward program allowing purchases of Starbucks products at groceries as well as Starbucks' own stores to count towards rewards. Also, Starbucks is having record use of the Starbucks card and its mobile application as a form of payment and the total prepaid balance stood at over $500 million as of April 2013.
In products, Starbucks' panini and bistro box offerings are performing well. It has introduced LaBoulange bakery products in 440 locations (primarily on the West coast) with good results and plans to expand LaBoulange in the entire U.S. by the end of 2014. Also, Evolution Fresh is in 4,000+ stores in the U.S. with plans to expand to over 8,000 stores by the end of 2013. Dunkin Brands and Panera made relatively smaller new product introductions with Dunkin Brands offering heart shape donuts and new breakfast sandwiches while Panera introduced pasta and new juice and shrimp offerings to its menu. While food and fruit beverages have lower margins than coffee, additional sales have positive impact on margins since most of the costs are already incurred for (rent, utilities, labor).
In the tea category, with Teavana's acquisition, Starbucks is trying to do what it did for specialty coffee drinks (even though this is what it promised in 1999 when it acquired Tazo Tea). It added 337 new Teavana stores in the quarter ending March 31, 2013. In addition, Starbucks is boosting its drive-through stores in the U.S. and its compilation CDs are doing remarkably well at the Billboard.
Internationally, Starbucks's growth is even more impressive with the following realized achievements and future goals:
China - it will have over 1,000 stores in mainland China by the end of 2013 and plans to have over 1,500 by 2015, making China the largest international market; the Starbucks reward card is performing well, and, also, Starbucks is actively exploring the consumer packaged goods channel in China;

Japan - plans to open 1,000 restaurant there this quarter;

South Korea - plans to have 500+ restaurants by year-end

Vietnam - recently opened the first store there;

Indonesia - plans to open 100+ new restaurants in three years; and

Philippines - plans to open 100+ new restaurants in four years.
Additionally, Starbucks is focusing on improving its performance in Europe. Among other initiatives in the Old continent, it plans to open a restaurant in the historical Montmartre district of Paris and recently promoted Kris Engskov, a former Clinton aide, to senior vice president and president of Europe, Middle East and Asia.
For comparison, Panera has only a handful of international restaurants in Canada, and Dunkin Brands operates primarily in the Middle East and Asia and under the Baskin Robbins ice cream brand.
Conclusion
In the past year, Starbucks has achieved significant growth in a socially responsible and ethical way. For example, its Carson Valley roasting plant and distribution center in Minden, NV., was awarded the 2012 manufacturing excellence award by the Association of Manufacturing Excellence. In China, the company opened its first farmer support center in Asia and will provide resources and expertise to farmers.
On the negative side, Starbucks did endure a highly publicized tax scandal in the UK. And in the U.S., while the company has a liberal stand on gay marriages, it is criticized for not allowing unionization of its 'partners.' Also, Starbucks was criticized by some media outlets for asking its employees to take a political stand in Washington, DC., and write Come Together on customers' cups. Despite a few public relations setbacks, Starbucks remains a socially responsible company. It should continue rewarding investors with its growth opportunities including international expansion, unique multichannel loyalty program and the integration of its recent acquisitions.
Disclosure: I have no positions in any stocks mentioned, and no plans to initiate any positions within the next 72 hours. I wrote this article myself, and it expresses my own opinions. I am not receiving compensation for it (other than from Seeking Alpha). I have no business relationship with any company whose stock is mentioned in this article.