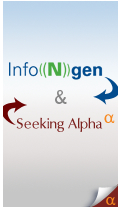 Seeking Alpha is always searching for the latest and best tools to empower our contributors. To this end, I am pleased to announce a new partnership between Seeking Alpha and InfoNgen that will enable us to offer its financial discovery service to our contributing authors. All active contributors are eligible for a complimentary subscription to the InfoNgen service, a $5,000 annual value.
By using InfoNgen, contributors will eliminate mundane and time-intensive searches by gaining access to unique and relevant information from the wealth of cyberspace, within emails, in desktop documents or on network drives.
Contributors will instantly and easily be able to manage what would normally be information overload: InfoNgen allows its users to follow specific stocks, industries, and economic news by filtering over 28,000 sources and 600,000 stories per day. The service provides an innovative way to filter content from hard-to-track sources such as legal and regulatory sites, industry subscription services and corporate sites, and even translated content from foreign media - before the info hits mainstream media. InfoNgen also enables customized search options, so SA contributors will receive only the news alerts that matter to them individually, in real time, via either the web or a desktop platform.
In short, InfoNgen will enable our authors to research articles more quickly, efficiently, and effectively.
We try hard to develop strategic partnerships that will benefit our authors, their research and writing. We hope our partnership with InfoNgen will enable SA contributors to provide faster, more rigorous opinion and analysis and give them a stronger, more informed voice in what at times can be a crowded blogosphere. We recognize that many of the best financial research tools are expensive, so we're very pleased to be able to provide one of the best services on the market to our authors completely free. In exchange, InfoNgen requests only that the authors link to its service in the body of posts.
For more on InfoNgen's technology and how it can benefit you, please visit the company's resource page. As part of our agreement with InfoNgen, all of our authors who receive an account will receive a personal introduction to the InfoNgen service to ensure they can maximize its effectiveness for their individual needs. Additionally, to provide our authors with proprietary insights, InfoNgen is creating custom taxonomies related to the themes and issues they track. The results from these topics will be exclusive to our authors.
Some of the many authors who will be using the InfoNgen discovery service are:
Cliff Wachtel, David Fry, John Jansen, Todd Sullivan, Rick Konrad, Paco Ahlgren, Alan Brochstein, John Lounsbury, J. Clinton Hill, Vinny Catalano and Lee Munson,
Seeking Alpha is offering 600 subscriptions on a first-come, first-serve basis. To sign up, please contact the Contributor Relations team at contributors [at] seekingalpha.com (replacing the "[at]" with "@"). InfoNgen is only one of many free benefits available to our authors. If you are not already a Seeking Alpha Contributor, you can apply to be one at any time.
InfoNgen competes with Autonomy (
OTC:AUTNF
), Nstein (CVE: EIN), Clearforest (owned by Thomson Reuters -
TRI
), Factiva (owned by News Corp -
NWS
), Buzzmetrics (owned by Nielson) and Relegence (owned by TimeWarner AOL -
TWX
).