Overview
As one of the premier ETF providers in the United States, WisdomTree (NASDAQ:WETF) is performing well this year and is successfully growing its bottom line. In what has been a very competitive ETF landscape over the last few months, WisdomTree has been able to operate unique and strong-performing ETFs while industry price wars have made competitors slash fees in order to remain competitive. One of WisdomTree's advantages is the differentiation of their ETFs. The ETFs have experienced rather large amounts of capital inflows in the first quarter of this year, which has helped WisdomTree's earnings. However, the stock is up over 103% since the beginning of 2013 and that has left valuation at a rather rich level. The company also has plans to launch new ETFs and these could help WisdomTree add to its assets under management or AUM and ultimately to its income.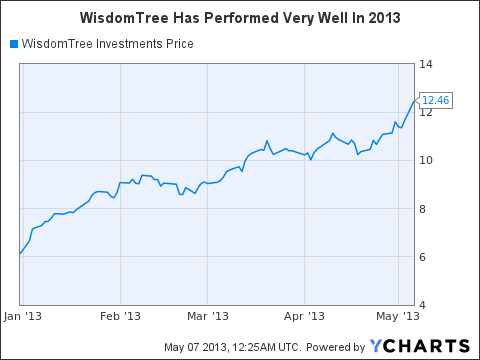 Differentiated ETFs
Currently, WisdomTree's largest ETF by AUM is the WisdomTree Japan Hedged Equity Fund (NYSEARCA:DXJ) with around $7.8 Billion in assets. This is over $2 Billion more than its next largest fund. On April 28th of this year I published an article titled, "Japan: Why The Yen Will Move Lower And The Nikkei Will Move Higher" which outlined the investment thesis for this ETF. Assets of this fund have ballooned in recent months, both as a result of price increases of the components and because of capital inflows. This has been a very popular ETF with WisdomTree and they have announced plans to continue the hedged equity theme by adding a similar ETF for Korea, Great Britain and for small cap Japan. WisdomTree currently offers a similar fund named the WisdomTree Europe Hedged Equity Fund (NYSEARCA:HEDJ). In this regard, WisdomTree has differentiated its ETFs from the competition and this should help them continue to increase AUM and as a result, their bottom-line.
Significant Inflows
At March 31st 2013, WisdomTree had total assets under management of $25.1 Billion. This represents about a 37% increase in AUM from the end 2012 when assets stood at $18.3 Billion. Over the same period, the average advisory fee remained at 54 bps. This rise in AUM helped WisdomTree increase its Q1 income by nearly 50% compared to its previous quarter.
Valuation Remains A Concern
While WisdomTree appears to be growing profitability at very healthy rates, the stock has run up a rather significant amount and now trades a somewhat rich PE multiple. Currently, WisdomTree trades for around 22x 2014 earnings estimates, making it rather expensive. However, if the company is able to grow earnings at a sizeable rate, this valuation does not seem to be extremely unreasonable.
Conclusion
WisdomTree is a stock to watch and could make a good buy on a price dip if they are able to sustain current levels of capital inflows and successfully launch new ETFs.
Disclosure: I am long DXJ. I wrote this article myself, and it expresses my own opinions. I am not receiving compensation for it (other than from Seeking Alpha). I have no business relationship with any company whose stock is mentioned in this article.