Alpha Natural Resources (ANR) has recently released its first quarter earnings. The first quarter 2013 adjusted net loss was $104 mln or $0.47 per share compared with an adjusted net loss of $58 mln or $0.27 per share in the first quarter of 2012. Tons of coal sold were down 11.5% from the fourth quarter of 2012. Coal revenues were down 16% from the fourth quarter of 2012.
Alpha Natural Resources has been under pressure this year along with other coal companies. The stock is down 27% YTD. It is neither the best nor the worst performance among coal stocks. Peabody Energy (BTU) is down 21%, Arch Coal (ACI) is down 30%, Walter Energy (NYSE:WLT) lost 51%. ANR produces both thermal coal and metallurgical coal. Thermal coal brings 54.3% of coal revenues, while met coal brings 45.7%. As ANR is exposed to both sides of the coal industry, it has to deal with problems on both fronts.
The biggest problem with both thermal and met coal is the low pricing. The reasons for the low pricing are, of course, different. Although natural gas prices are above the $4 mark, it does not help thermal coal. In its earnings call, ANR states that coal has a 40% share in total generation compared to 50% just five years ago. This is a huge difference. In addition to that, coal inventories remain elevated compared to normal values. According to ANR, Powder River Basin has approximately 100 mln ton of additional capacity. This fact clearly does not help prices to rise.
Thermal coal problems are domestic ones. Met coal problems come from abroad. China's slowdown affects prices. ANR states that the second quarter Asian benchmark price for met coal was announced at $172 per metric ton, up from $165 in the prior quarter. Nevertheless, recent transactions have been recorded around the $160 level. The weakness in Europe does not help prices either.
ANR is doing what it can do - adjusting its portfolio and dealing with costs. ANR has eliminated higher cost thermal coal production in Central Appalachia and has curbed Powder River Basin production until market conditions improve. ANR states that it is primarily focused on supporting its global metallurgical coal business.
When I see a tough environment like that, I search for liquidity and solvency problems. Total liquidity at the end of the first quarter was $2.1 bln, including just over $1 bln of cash and marketable securities and $1 bln under secured credit facilities. Long-term debt is $3.28 bln. If measured by the debt-to-equity ratio, ANR is the best-performing company in comparison with its peers.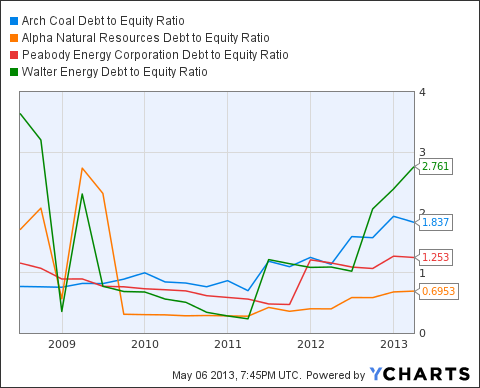 ACI Debt to Equity Ratio data by YCharts
The absence of solvency and liquidity issues is one of the main reasons why ANR does not plunge lower despite the fact that the company is expected to lose money in 2013 and 2014 (analyst estimates sourced from Yahoo Finance). The mean analyst target for ANR is $10.74.
I believe that ANR's move to bet on met coal is an interesting one. When the global steel industry gains steam and the demand for met coal improves, ANR would be well positioned to benefit from that. There are risks that the stock may not hurry to go higher. However, ANR has traded above $10.00 at the beginning of this year. The fundamental situation has not changed since then, so ANR could easily return to these levels if there were any sings of improvement in the coal industry.
Disclosure: I am long WLT. I wrote this article myself, and it expresses my own opinions. I am not receiving compensation for it (other than from Seeking Alpha). I have no business relationship with any company whose stock is mentioned in this article.