One of the intriguing ways to find investment opportunities is to search for companies that have worse reputations than what their balance sheets (and future growth prospects) indicate. With these types of investments, usually the company has done something bad in the past that is unduly affecting the company's valuation in the present. In my life, I've made three investments that fall into this category: BP (NYSE:BP), Bank of America (NYSE:BAC), and General Electric (NYSE:GE).
In the case of General Electric, there are two dominant reasons why investors do not like the company:
From a dividend and total return perspective, the company has had a rough 10-15 years.
GE Capital had been an albatross tied around the neck of a strong industrial company.
One element that explains why General Electric has had a disappointing track record over the past 10 to 15 years is the fact that the company traded at an absurdly high valuation during the late 1990s and early 2000s.
In 1998, General Electric traded at an average P/E ratio of 30.
In 1999, General Electric traded at an average P/E ratio of 36.
In 2000, General Electric traded at an average P/E ratio of 40.
In 2001, General Electric traded at an average P/E ratio of 31.
Not only did these prices not incorporate a margin of safety, but they almost ensured mediocrity over the next 10-15 years because you need 15-20% annual growth for 7-10 years to justify that kind of valuation, and there are almost no examples of a non-tech company posting those kinds of earnings growth numbers once it became a company worth hundreds of billions of dollars.
A big part of General Electric's disappointing story as an investment over the past 10-15 years can be attributed to the crazy starting valuation of the company back then. General Electric earned $1.52 in 2012. Right now, at $22.50 per share, General Electric is trading at 14.80x the company's $1.52 earnings in 2012. Considering that GE trades in a range of 15-17x earnings when you remove the bubble valuation years from the calculations, the company is trading on much more attractive terms today.
Back in the late 1990s and early 2000s, investors almost had a 50% guaranteed due to the inevitable P/E compression that would follow GE's journey from trading at 30-40x earnings to 15-17x earnings. Today, General Electric is trading a little bit below the 15x earnings range, and that comes with the small margin of safety inherent in using 2012 figures. Someone considering a purchase of General Electric shares at today's prices would likely achieve total returns that mirror the firm's long-term earnings growth rate (analysts currently estimate that the company will grow earnings and dividends by 13.0% over the medium term), and there is a very modest margin of safety in terms of the price that is slightly below historical norms.
That is one reason why an investment in General Electric today comes with much different terms than a General Electric investment of yesteryear.
Another reason pertains to GE Capital. The industry side of the company is doing just fine. It has grown almost linearly for the past 15 years, and is expected to grow by 4-6% this year as well (and really, it is growing around 8% but is getting hit by currency fluctuations). GE Capital has always been the potential threat to the company's business model. As long-term GE shareholders know all too well, that is the reason why earnings fell from $1.78 in 2008, to $1.03 in 2009, causing the company to slash the dividend from $0.31 quarterly in 2009 to only $0.10 per share.
But when you look at GE Capital today, you will see that the unit has changed considerably since before the crisis. Per the most recent annual report [pdf]:
GE Capital has strengthened its balance sheet immensely. Our Tier One Common Ratio is about 10%, well in excess of the levels set by financial regulators. Now, because of our financial strength and earnings power, and subject to Federal Reserve review, we expect GE Capital to resume paying a dividend this year to GE.
Since I know most people prefer to learn visually (a picture is worth a thousand words and all that), this chart from the annual report provides a helpful insight into how GE Capital has changed since the crisis.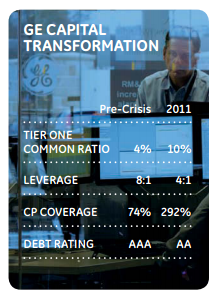 In my opinion, the most important thing to focus on is the company's liquidity. If you want to become a GE shareholder, you should pay attention to releases like this one to make sure that GE's strong liquidity positions remain strong as the financial crisis becomes an increasingly distant memory.
Investing in General Electric today is much different than investing in GE during the recent 10-15 year time frames when the company turned in poor performances. First of all, today's valuation is much more rational. You're almost always setting yourself up for failure when you pay 30-40x earnings for a mega-cap company, and today's valuation at slightly below 15x earnings provide investors an opportunity to capture future returns in line with the company's future earnings growth rates. And secondly, GE Capital is much more liquid, and has much less leverage than the pre-crisis GE Capital that destroyed the firm's earnings power during the financial crisis. Normally, you want to be careful when you hear the phrase "it's different this time," but the numbers on GE Capital and the valuation today are much different compared with where General Electric was before the crisis.
Disclosure: I am long GE, BAC, BP. I wrote this article myself, and it expresses my own opinions. I am not receiving compensation for it (other than from Seeking Alpha). I have no business relationship with any company whose stock is mentioned in this article.