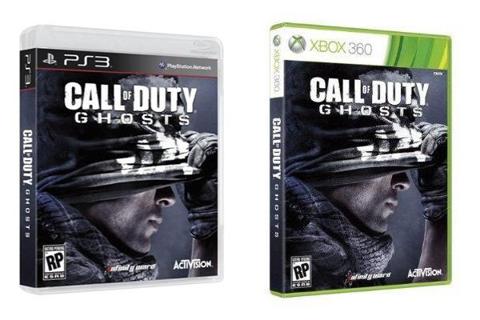 Last week, leading video game publisher Activision Blizzard (NASDAQ:ATVI) announced it would be releasing a new "Call of Duty" game in November. This should come as no surprise to anyone who follows Activision or the video game industry. However, this year's version of the hit franchise will be a new spin-off that could create some excitement for an already climbing stock.
Activision and Infinity Ward, the studio behind the hit "Modern Warfare" series, will release "Call of Duty: Ghosts" on November 5th, 2013. The game will be available for current PS3 and XBOX 360 consoles, along with the eventual releases of the highly anticipated Playstation 4, from Sony (NYSE:SNE), and new Microsoft (NASDAQ:MSFT) console.
The new console launches coming from Sony and Microsoft appears to be the perfect time for this new line in the popular "Call of Duty" franchise. Mark Rubin, executive producer of developer Infinity Ward, had this to say:
"Everyone was expecting us to make "Modern Warfare 4, which would have been the safe thing to do. But we're not resting in our laurels. We saw the console transition as the perfect opportunity to start a new chapter for "Call of Duty". So we're building a new sub-brand, a new engine, and a lot of new ideas and experiences for our players. We can't wait to share them with our opportunity."
The new video game is a huge risk for Activision. Gamers were expecting "Modern Warfare 4", the sequel to one of the biggest video games of all times. Activision is creating a new storyline, a new setting, and brand new characters for gamers to enjoy in "Call of Duty: Ghosts". However, Activision has had success with both the "Modern Warfare" and "Black Ops" lines of "Call of Duty" and a third one should be no different.
Activision will get help with the marketing of the new "Call of Duty: Ghosts" game. On May 21st, Microsoft will host an event to premiere the new console and details to the world. Sony did a similar event like this earlier that was heavily watched and followed. At Sony's event, they discussed the new console and details, leaving out actual pictures of the eagerly awaited device. Sony also gave several video game publishers the opportunity to showcase new games and gain some buzz.
This is where this timing of the "Call of Duty: Ghosts" line is huge. The Microsoft event will be one of the biggest in the technology sector for all of 2013. Activision will use the event to announce more details on the game and also promised footage of live gameplay. Expect shares of Activision to see a bounce around the May 21st date.
Other than Sony, there was no bigger winner from the Playstation 4 release than Activision Blizzard. The company announced the launch of popular PC game "Diablo III" coming to consoles. The game will be available for both the PS3 and PS4. Activision also provided further details on its "Destiny" game. "Destiny" is the new game from Bungie, the video game that created the popular "Halo" franchise. "Destiny", which I profiled in an entire article, was a big step for the company. I said, "Destiny could be the kick that Activision shares need to stay above the $13 range going forward." Since that time, shares hit the $14 level for the first time since 2008.
While shares could see a lift in May from the Microsoft event, investors should also consider going long Activision prior to the November release date. The game is already available for pre-order and is rocketing up the charts. According to VGChartz.com, "Call of Duty: Ghosts" has 115,670 pre-orders on XBOX 360 and 47,240 on the PS3. This comes only a couple days after the announcement of the new game.
On Amazon, "Call of Duty: Ghosts" occupied the number 18 (XBOX 360) and number 30 (PS3) places on the top video games sales list. The number is misleading, as there were actually only seven actual video games ahead of "Call of Duty: Ghosts", due to the high ranking of XBOX and Playstation points cards. It was also encouraging to see "Black Ops II" make up two of the places ahead of "Call of Duty: Ghosts", giving Activision a nice ranking on the popular website.
Retailers have begun pre-orders on the highly anticipated game. Gamestop (NYSE:GME) is offering a limited edition two-sided poster. Gamestop is also offering a weapon camo pack to use in "Black Ops II" to its Power Up Rewards members who pre-order "Call of Duty: Ghosts".
The big question remains how will the new game line sell. Here is a look at sales of some of the other "Call of Duty" games:
"Modern Warfare 3" XBOX 360: 9.25 million in North America, 14.91 million worldwide
"Black Ops" XBOX 360: 9.09 million in North America, 13.93 million worldwide
"Call of Duty 4: Modern Warfare" XBOX 360: 5.63 million in North America, 8.89 million worldwide
"Call of Duty 4: Modern Warfare" Playstation 3: 2.54 million in North America, 6.36 million worldwide
As you can see, there are high expectations for this game. The last two "Call of Duty" games have each sold over 9 million copies in North America and close to 14 million worldwide. This new "Ghosts" game will need to sell 9 million copies in North American and probably around 12-13 million worldwide to please analysts. This could be a tough task, but strong momentum from the Microsoft event could carry strong pre-orders into November. My guess would be 9.00 million copies in North America and 12.5 million copies worldwide.
Another area to watch will be the release of "Battlefield 4". This first person shooter game is similar to "Call of Duty" and will be released on October 25th, giving it the time edge. The game, from Electronic Arts (NASDAQ:EA), is part of a franchise at one point believed to hurt "Call of Duty" sales, but so far just another game on the market. The last Battlefield game sold well for EA. "Battlefield 3" sold 6.78 million copies on XBOX 360, 6.36 million on PS3, and 2.38 million on PC.
Shares of Activision hit a fifty two week high on Monday. At one point in the day, shares were up to $15.33, which places them within distance of the $16 level last seen in 2008. I fully believe that with a strong lineup of games going into 2014, which includes "Call of Duty: Ghosts" and "Destiny", the company will hit $16 and not look back.
Disclosure: I am long ATVI. I wrote this article myself, and it expresses my own opinions. I am not receiving compensation for it (other than from Seeking Alpha). I have no business relationship with any company whose stock is mentioned in this article.