LNG-oriented companies like Cheniere Energy (NYSEMKT:LNG) and Southern LNG Company LLC (NYSE:SO) would have been delighted to hear President Obama speaking Saturday at a development forum that ended his three-day trip to Mexico and Costa Rica. Obama said the U.S. might be able to help relieve Central America's growing energy demands by exporting LNG (NYSEARCA:UNG). Helping Central America would be a factor in the decision-making.
Obama added that the U.S., profiting from a surge of natural gas production, is likely to be a net natural gas exporter as soon as 2020. Obama has been very well informed on the matter. As a matter of fact, over the last decade, U.S. shale gas production has increased 12-fold and now comprises about 25% of total U.S. production. Increased dry shale gas production went from 0.39 Tcf (trillion cubic feet) in 2000 to 4.80 Tcf in 2010, accounting for 23% of U.S. dry gas production.
U.S. Estimated Gas Production Projection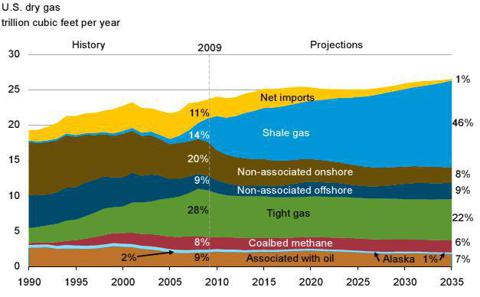 Source: EIA
Daily production rates are about 50 to 250 Mcf (thousand cubic feet) per day. By 2020, U.S. growth projections for shale liquids could increase by 21 Mcf per day. By 2035, EIA projects that shale gas production will rise to 13.6 Tcf, representing nearly half of all U.S. natural gas production. In a previous article, I discussed the shale gas boom of the last few years and how the U.S. economy can profit from that opportunity.
Central America's demand for more energy is increasing. By 2030, the World Bank estimates that Central America will need $25 billion in the power sector investment to address increasing demand. Obama has discussed with Central American presidents at a dinner on Friday night how U.S. natural gas can be used by the region as a bridging mechanism to relieve its energy demands until alternative energy sources can be increased. He added:
I've got to make an executive decision broadly about whether or not we export liquefied natural gas at all. (...) The main message that I have is that the United States recognizes our fates are tied up with your success. We want to be a partner.
More Than A Political Game
Meanwhile, the DOE put an hold to the applied licenses for LNG exporting to non-FTA countries by several companies. The purpose was to study further the possible impact of available energy for the U.S. with the unexpected rise of applied licenses for exports. Only Cheniere Energy got the license for its Sabine Pass terminal in Louisiana before the DOE stopped the delivering process. The company is still awaiting the approval for its Corpus Christi terminal located in Texas. More on Cheniere Energy here.
Environmentalists have raised concerns about the impact of increased production on the U.S. environment as well as the effect of large-scale liquefied natural gas exports, thereby raising concerns about the possible increase of energy prices in the U.S. However, according to some U.S. proponent producers, the supply would be more than adequate, but some U.S. companies are opposed, rallying the environmentalists.
U.S. natural gas production was 22,901,879 Mmcf (million cubic feet) in 2011, up from 18,503,605 Mmcf in 2006, a 23.77% increase in only five years. According to the 2012 Assessment of the U.S. Geological Survey, estimated mean volumes of technically recoverable, conventional gas resources are 291 Tcf (trillion cubic feet) and ten billion barrels of natural gas liquids. Outside the U.S., estimated mean volumes are 1,429 Tcf (trillion cubic feet) of natural gas and 16 billion barrels of natural gas liquids. So as we can see, the U.S. reserves represent almost 17% of all reserves in the world.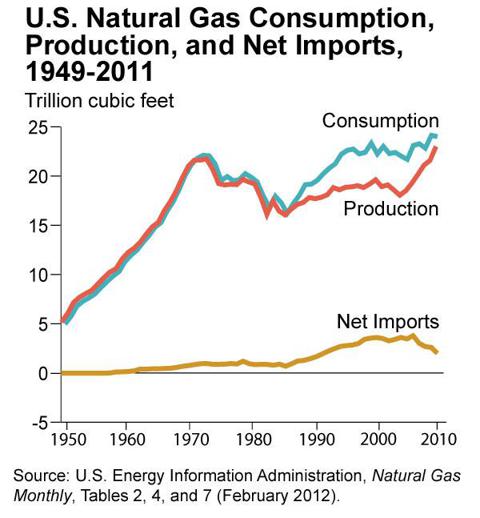 Natural gas is clean and abundant. Use of this resource can be done wisely, for the purpose of building a healthy domestic industry that would benefit not only the producers of the commodity but the U.S. economy as well.
Bottom Line
A healthy export market would stabilize prices, and thereby stabilize supply. With the natural gas prices that have prevailed over the last couple of years, few companies are intentionally exploring for gas. Much of the new gas on the market is produced as a by-product of oil. Gas at $4.50 per million BTU is still a bargain relative to oil, and is a price that would encourage more gas-directed exploration.
Obama is well aware of the unique opportunity in his own hands by approving further LNG exports. Boosting the anemic U.S. economy is at stake, and Obama knows what it means for the country: the possibility of relying on North American energy to ensure's independence to foreign energy. The Obama's administration has the chance to leave an indelible mark on the U.S. economy as well as the country's history.
Disclosure: I have no positions in any stocks mentioned, and no plans to initiate any positions within the next 72 hours. I wrote this article myself, and it expresses my own opinions. I am not receiving compensation for it (other than from Seeking Alpha). I have no business relationship with any company whose stock is mentioned in this article.