Two weeks ago, Baidu (NASDAQ:BIDU) made headlines after a bogus press release said it was purchasing Zynga (NASDAQ:ZNGA) for $10 a share. Even-though it turned out to be a hoax, Baidu looks to be buying a company after all. No it's not Zynga, the company is PPS Net TV (ppstream), a Chinese online-video company.
According to a report from Reuters, China's largest search engine, Baidu is in the process of acquiring Chinese online video firm, PPS Net TV, for between $350-$400 million.
China's online video industry is becoming one of the most competitive industries in the world. With so many companies battling to become the next big thing, costs have soared. Just last year, Youku acquired Tudou in an all-stock deal for a whopping one billion. This made the newly formed company, Youku Tudou (NYSE:YOKU) the largest online video player in China. Youku said that it expects to save close to $60 million a quarter, just from the rising costs of competition.
After recently coming across the upcoming Baidu acquisition of ppstream a couple of days ago, I started thinking about Renren (NYSE:RENN), which also operates a Chinese online-video company in 56.com. Renren purchased 56.com back in 2011 for as little as $80 million. This is far from the one billion figure that Tudou fetched when Youku bought them out. So how much is 56.com worth to Renren? Let's take a look.
The Worth of 56.com
During the last conference call, Renren's management informed investors that 56.com's viewership more than doubled in the fourth quarter. While they didn't give an exact number of total users, knowing that the number of viewers doubled only adds to the value of Renren. Management said that it expects 56.com to continue growing over 100% again this year.
Last year Renren starting integrating 56.com into Renren, so that users would spend more time online. The move came as Chinese companies were racing to expand their offerings, in order to move into one another's territories to compete for attention from internet users. Social media websites have struggled to compete in what the industry calls user "stickiness," or the ability to keep users' attention. The more things that companies can get users can engage in the better. Things look good for Renren which has many sites (games, e-commerce, chat, video) for users to stay online and to be connected.
Baidu's $400 Million Could Have Went A Lot Further
So all things are still pointing in the direction that Baidu will finalize its deal with PPS NET TV. However, I feel their money would have gone farther and would have been better spent elsewhere. Take for instance Renren. Renren has a market cap of just $1.1 billion. Renren has many of the things that Baidu has been looking for, such as social media, e-commerce, and video. Renren even has over 178 million real name users as of December 31, 2012. For an extra $700 - $800 million Baidu could have purchased the whole company of Renren. Don't forget the best part, Renren currently sits on top of $900 million in cash. That means Baidu could have purchased Renren and all of its assets for just $200 million, or about half the cost of PPS Net TV. Ouch! Now do you agree with me that Renren would have been a better choice between the two?
56.com vs. PPS Net TV (ppstream)
Just for a comparison I checked in on 56.com and PPS Net TV (ppstream). These charts are from Alexa.com which is a provider of free, global web metrics which shows what is taking place on companies' services.
Time On Site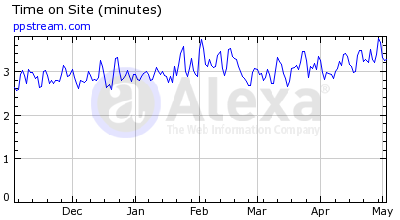 Users are spending between 2-3 minutes on ppstream. Not very much as we can clearly see. The chart is showing a slight uptrend so give or take another 6-8 months and users will probably be spending around 4-5 minutes on the site. Now let's look at 56.com.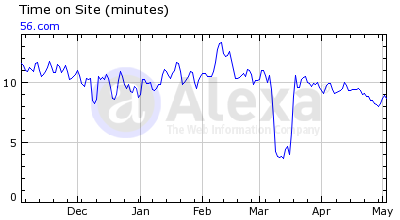 Users are spending around 8-10 minutes on 56.com. Even though that still doesn't sound like much, that is still twice as much time as ppstream users are spending. Now let's take a look at the overall traffic rank between the two companies.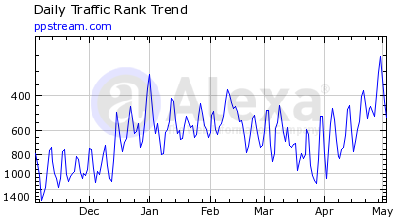 Looking over the traffic rank of ppstream, we can see that throughout the world, ppstream is rated as the 554th most popular website. When looking exclusively at China, ppstream is the 95th most popular website there.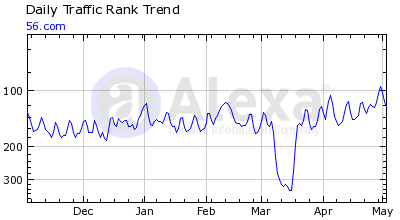 Looking over the traffic rank of 56.com, we can see that throughout the world, 56.com is rated as the 139th most popular website. When looking exclusively at China, 56.com is the 23rd most popular website there. Clearly we can see that 56.com is the winner between the two companies. Which is why it makes even more sense for Baidu to go after Renren, than buying up other companies and trying to piece them together.
Why Renren Is Worth $7.40 Per Share
When social media comes to mind what is the first thing that you think of? For most people the first thing they think of is Facebook (NASDAQ:FB). With over 1 billion users, Facebook has become the social media giant. However, Renren has a unique advantage over this social media giant in that Facebook is banned from China. Renren as we know, is the closest thing to Facebook in China, and will exploit this advantage in one of the most populated countries in the entire world.
So how did I come up with Renren's $7.40 price per share? let's take a look. Facebook right now has a market cap in the $66 billion range. Facebook has over a billion users as well. If we divide the market cap of Facebook by the number of users we get $60.60 per user.
Renren has over 178 million users and has a total market cap of $1.1 billion. If we also divide the market cap of by the number of users we get $6.17 per user, which is slightly less than that of Facebook. Of course this is not what the market solely goes off of to determine a company's worth. However, this gives us a general idea on how much these companies are really worth, since they run the same business model for the most part. Renren's 1.1 billion market cap is less than 2% of Facebook so I feel I am being pretty conservative with my estimate.
So how did I come up with my figures for 56.com? First of all we know that Tudou was bought out by Youku for one billion. Baidu looks to be buying ppstream for around $400 million. 56.com fits right between these two companies. So if we take the average of the two figures and divide them up, we get $700 million.
In the other assets category have grouped the remaining businesses in Renren like that of Nuomi which is a Groupon (NASDAQ:GRPN) like service, as well as Renren games in which both services have been growing 100% year over year. I feel value right now being very conservative would be around $100 million. So what does all of these numbers mean? Let's take a look at the table below.
| | | |
| --- | --- | --- |
| | The Market's Value Now | My Value Right Now |
| Renren: | $178 million | $1.1 billion |
| 56.com: | $80 million | $700 million |
| Total Cash: | $905 million | $905 million |
| Other Assets: | $7 million | $100 million |
| Total: | $1.17 billion | $2.8 billion |
1.17 billion / 378 million shares outstanding = $3.10 (Yesterday's closing price)
2.8 billion / 378 million shares outstanding = $7.40 (My value on Renren)
You might call me crazy, and all of the rest of the names in the book, but that's okay. I base my reasoning off of numbers and facts. The funny thing about Renren is that the $2.8 billion is based off of Renren's assets. I haven't even factored in the growth of the company which is growing around 40-50% year over year. I haven't even factored in a multiplier yet either. Of course we won't be able to do this until they post a profit but you get the idea.
For more information about Renren and why I think it's a golden opportunity to invest in right now, read more of my articles here and here.
Conclusion
After posting an article last Saturday about why Renren will beat estimates again, shares of Renren surged Monday reaching as high as 15%, only to fall back and settle in with an 11% gain. Volume was more than six times the daily volume, suggesting that a major reversal is taking place.
I feel that Renren is a good pick up at this point for long term investors because of its strong balance sheet and where the company is headed. Short term investors who want to make a quick buck should probably stay away from Renren until it starts turning the profitable corner, which will be probably be another quarter or two.
Investors are reminded that this article should be considered general information and to make sure they do their own proper due diligence with regard to the stocks mentioned in this article. With that have a great trading day and I look forward to all of your helpful comments and insight.
Disclosure: I am long RENN. I wrote this article myself, and it expresses my own opinions. I am not receiving compensation for it (other than from Seeking Alpha). I have no business relationship with any company whose stock is mentioned in this article.