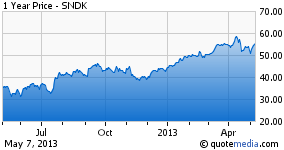 SanDisk (SNDK) holds an Investor Day tomorrow, Wednesday, May 8th, so the company could be out with a press release as soon as this evening or perhaps tomorrow. With SNDK reporting Q1 '13 earnings recently, there is likely to be very little new incremental news, although the stock is down after earnings from a high of $58.92 on April 11th, trading as low as $51.18 on May 1, which probably defines its trading range for now.
SanDisk beat on Q1 '13 revenues by 3%, beat on Q1 '13 EPS by 6% and guided higher for the 2nd quarter, only to see the stock get crushed. I think the selling after earnings was more a function of the monster 25% run the stock had in the first quarter, as it laps very weak comparisons for 2012, through the 2nd quarter.
SanDisk is a tough stock to own: we've been caught a number of times the last few years holding for too long, and getting caught in a downside draft as supply swelled and pricing tanked, crushing earnings, as was the case for the first 6 months of 2012.
In the April conference call, SNDK management noted that it thought neither Samsung (OTC:SSNLF) or Micron (NASDAQ:MU) would add to capacity in 2013, which is definitely a positive since it will sustain the current supply / demand and pricing strength being seen in the sector.
My question as an investor / portfolio manager is, "what are peak earnings for SanDisk ?" given the favorable supply / demand and pricing environment, and how long can it continue? For 2013, current consensus is looking for $4.10 per share, which is still less than the $4.65 EPS from 2011 (which at that time was a high print), but is 25% higher than the $3.30 2013 consensus estimate from one year ago.
SSD's are a new market for SNDK and will help drive additional revenue growth as SNDK continues to gain share in SSD's, but my experience with the stock / company since the late 1990's is that these new markets get increasingly commoditized quickly, and SNDK might not be able to get to the same peak gross margins it did in September, 2010, with a 52% gross margin and a 37% operating margin.
Our spreadsheet for SNDK goes all the way back to the late 1990's and most times SNDK's gross margin peaked between 48% - 50% and operating margin peaked at 34% - 35%. Since the late 1990's, over 58 quarters, the gross margin has averaged 33% over the 58 quarters.
Using the 2015 current consensus revenue estimate of $7 billion(approximately), and a net profit margin of 15%, peak earnings could get to $7 per share. With just a 12% profit margin, peak earnings are $3.50, with one problem being that "shares outstanding" continue to grow, rather than shrink, as the capex requirement of a semiconductor, as capex as a % of revenues have gyrated between 2% and 8% the last 4 years, thus SNDK management can't (or won't) repurchase stock, and slowly seems to be diluting shareholders.
This is a tough business model: heavy capex requirements, supply that comes on quickly, commoditized end markets and steep operating leverage, shares outstanding which are growing slowly, all seems to result in gradually lower margins making for nervous investors, me included. SanDisk continues to lap very easy comp's through the 2nd quarter, 2013, and the weak yen is really helping gross margin.
Our internal valuation model puts an intrinsic value on SNDK of $66 per share currently. Morningstar doesn't rate the shares currently.
We remain a nervous long for now, as the 2nd quarter earnings, revenue growth and margins will tell us much. I don't anticipate holding the shares much beyond 2013, but that can change quickly, and it could change either way. Currently, I do think the SanDisk Investor Day will be a net positive with a weaker yen, better pricing, and SSD's still a positive end-market.
Disclosure: I am long SNDK, MU. I wrote this article myself, and it expresses my own opinions. I am not receiving compensation for it (other than from Seeking Alpha). I have no business relationship with any company whose stock is mentioned in this article.