"If everyone is thinking alike, then no one is thinking." Benjamin Franklin
As I look through various charts of the major indices, I see a mixed bag. From a longer-term perspective it's clear that markets are in an uptrend. However, most significant indicators and oscillators are making lower highs, which in technical terms means negative divergences and is bearish. Looking at the S&P500 (SPX/SPY) this market has become very extended both from a technical perspective and more importantly from deteriorating macroeconomic fundamentals. I continue to believe that the risk/reward for entering new long (bullish) positions is very poor at this time, especially when the seasonality (sell-in-May) is also bearish.
One thing I learned very early on in trading is to not play shoulda-coulda-woulda. Anyone can look back in time, scan some charts, read some news, and know exactly what they should have bought and sold. Hindsight makes everything easy and crystal clear. But decisions need to be made looking to the right side of the chart (i.e. the future, where there is nothing yet known) and there is only the left side of the chart (past) plus current data/news to go on to try and gleam what might happen going forward. I will leave the cheerleading to the Ra-Ra crowd in the media. One thing I am sure of is that this is a traders market and we are in unchartered global economic waters. Watching Apple (NASDAQ:AAPL) crash from $700 to $400 or gold get hit for $200 in 2 days should make anyone buying stocks today know that thinking prices only go up is a fool's errand.
Looking at the daily chart of the SPY below shows the classic textbook case of negative divergence. These are all warning signals that the uptrend is losing momentum (see how all the red lines slope down while price has continued higher). So far this has not mattered one bit. With the Fed and Bank of Japan printing $160 billion a month, the money will flow somewhere and right now the "buy the dip" group rules (and has been correct). But again, nothing goes straight up and with this many people on the same side of the boat, and everyone thinking exactly the same way, the set up is ripe for a correction.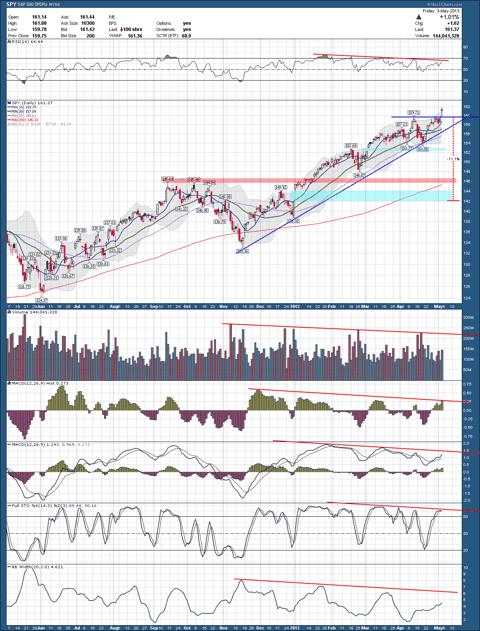 Along with the negative divergences above, we are also are faced with this: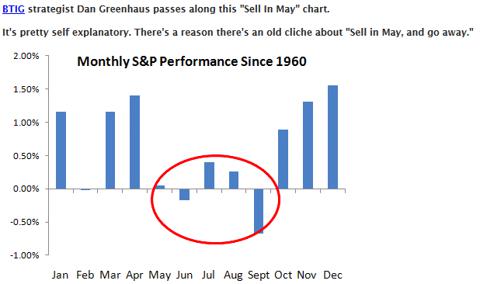 How about the economy and Friday's jobs report? Well, despite 38 straight months of job growth, 2.6 million fewer people were employed in April 2013 than in December 2007 when the recession officially began. According to the Labor Department, 22 million people are unemployed or under-employed in part time jobs looking for fulltime work. And things don't look much different around the world:
India Services Business Activity Index fell to 50.7 in April (March: 51.4), composite Output Index down to 50.5
Chile's economy grew 3.1% in March From Year Ago: Est. 4.7%
April PMIs indicate eurozone Q2 GDP of -0.4%, "significantly below our baseline scenario of +0.2%" - Barclays
China services PMI is out, and it's mediocre. From Markit:
HSBC China Composite PMI data (which covers both manufacturing and services) signaled an expansion of output for the eighth consecutive month in April. However, the HSBC China Composite Output Index signaled only a marginal rate of growth, posting at 51.1. This was down from 53.5 in March, suggesting that the rate of expansion was the weakest since last October. Output rose simultaneously across both the manufacturing and service sectors for the sixth successive month in April. That said, the rates of expansion were only marginal in both cases. The latter was indicated by the HSBC China Services Business Activity Index recording 51.1 in April. Down from 54.3 in March, the services survey headline index signaled the weakest expansion of service sector activity since August 2011. Full report here >
Oskar Lafontaine, the German finance minister who launched the euro, has called for a break-up of the single currency to let southern Europe recover, warning that the current course is "leading to disaster."
"The economic situation is worsening from month to month, and unemployment has reached a level that puts democratic structures ever more in doubt," he said.
I'll finish up with a look at the Commitment of Traders (COT) report. This comes out every Friday and captures the data up through the prior Tuesday. The largest powers in the marketplace are the Commercials - the large users and producers of the commodity, who use the futures market to sell forward or hedge their production/demand. They are considered the "smart money" because it's their marketplace and they know it well. They use the markets for selling and delivery, not speculating. They are represented by the purple bars in the chart below. You can see that they have become the least "short" in the gold market than any time in the past year.
The Large Traders are the second most dominant figure in the report (blue bars). They are large traders/speculators that are mostly made up of hedge funds and commodity funds. Finally, there are the small traders (yellow bars) made of mostly of retail traders, and this group is usually considered the "dumb money" as they are often on the wrong side of the trade,
Looking at the chart below we see three things of interest:
Gross large spec shorts in gold rose 3.6% as of the close on Tuesday, which puts gross large spec shorts at a new record high of 96,258 contracts. This means the hedge fund community is beating on lower gold prices.
Small specs also turned net short for the first time in 13 years. So what is usually the "wrong" group is now also beating on lower prices.
The Commercials are the least short they have been all year (and they are always short as they are hedging gold they have on hand, it's the level of their shortness that is what is meaningful).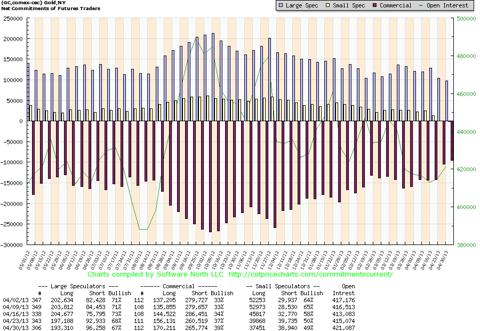 As confirmation of the retail short interest above, below is a chart of gold sentiment as tracked by the HGSNI, which tracks newsletter writer sentiment, which in this case is now lower than it was in 2008 just before the price of gold rallied to new highs.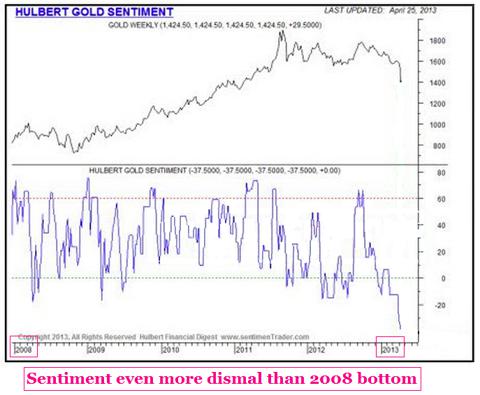 Finally, since discussing the COT, it's interesting to note the Commercial position in the S&P 500 futures contract as they are at the shortest they have been in the past year: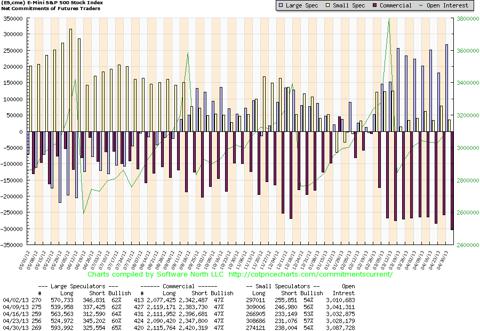 Disclosure: I am long GLD. I wrote this article myself, and it expresses my own opinions. I am not receiving compensation for it. I have no business relationship with any company whose stock is mentioned in this article.