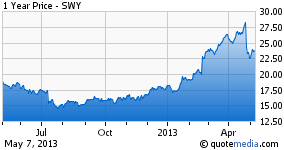 Safeway Inc. (NYSE:SWY) shares appear cheap at current levels. Analysts expect the company to earn $2.32 per share in 2013, and $2.42 per share for 2014. That might not be a lot of growth in terms of earnings, but this company has been and could be more of a dividend growth play than many investors realize. The stock now trades for just about 10 times earnings, while the average stock in the S&P 500 Index (NYSEARCA:SPY) trades for nearly 16 times earnings. At current valuations, the company does not appear to be getting the credit it deserves for having built an extremely successful gift card business, increasing the focus it has put on higher margin organic and other health food products, and being able to grow the dividend at a rapid pace. Let's take a closer look at the dividend and the gift card business at Safeway:
Safeway already offers a solid dividend yield of nearly 3%, but that is only part of the story as dividend growth potential is another positive factor. Safeway has increased the dividend annually since 2005. At that time, the dividend was 5 cents per quarter, but due to regular increases, it has surged over 300% in about 8 years to 17.5 cents per share. The average stock in the S&P 500 Index yields just over 2%, so Safeway already offers an above-average yield that could continue to outpace other stocks. The payout ratio is less than 30%, so the dividend looks secure as well.
Safeway owns a valuable gift card division called the Blackhawk Network Holdings, Inc. (NASDAQ:HAWK) which recently went public. This company offers gift cards which are sold at Safeway as well as many other grocery stores, drug stores and other retailers. It also sells gift cards online. Safeway raised about $230 million in the IPO and it will continue to be the majority owner of Blackhawk. Safeway's ownership position remains high in Blackhawk.
After the shares it sold in the IPO, the ownership stake in Blackhawk dropped only slightly from 95.4 percent to 93.8 percent. Blackhawk was founded in 2001 and it has experienced rapid growth. In 2012, sales jumped by about 27%, and it could continue to grow as new retailers are added. That means the value of the stake Safeway owns could become increasingly valuable and also be a catalyst for the stock to rise. Proceeds from any future sale of shares could also be used to raise the dividend or pay down debt.
The biggest risk factor that investors should consider is that the grocery retailing business is extremely competitive and based on very thin margins. Major retailers like Target (NYSE:TGT) and Wal-Mart (NYSE:WMT) have been increasingly offering grocery products and that could continue to put margin pressure on companies like Safeway. However, this company has been successfully facing these challenges for a number of years, and the multiple positive factors such as the increased focus on organics, the rising dividend and the Blackhawk stake, could act as upside catalysts for the shares.
Here are some key points for SWY:
Current share price: $23.95
The 52 week range is $14.73 to $28.42
Earnings estimates for fiscal year 2012: $2.32 per share
Earnings estimates for fiscal year 2013: $2.42 per share
Annual dividend: 70 cents per share which yields about 2.9%
Data is sourced from Yahoo Finance. No guarantees or representations are made. Hawkinvest is not a registered investment advisor and does not provide specific investment advice. The information is for informational purposes only. You should always consult a financial advisor.
Disclosure: I have no positions in any stocks mentioned, and no plans to initiate any positions within the next 72 hours. I wrote this article myself, and it expresses my own opinions. I am not receiving compensation for it (other than from Seeking Alpha). I have no business relationship with any company whose stock is mentioned in this article.