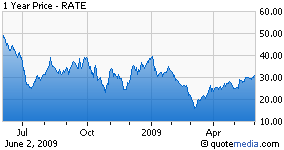 Bankrate (NYSE:RATE) shares are sagging Tuesday morning after Citigroup analyst Mark Mahaney cut his rating on the shares to Hold from Buy in a valuation call. His target remains $32; the stock closed Monday at $31.06. Mahaney notes that the stock has rallied 23% since its May 7 earnings report.
Mahaney writes that with the stock close to his target price, risk-reward is now less compelling. He says fundamentals deteriorated in the first quarter, but that that there were "green shoots." He says display ads were very weak, but may have troughed, with signs of improvement in April and May. He also says the 38% drop in its mortgage channel was almost certainly the bottom. And he adds that the company's new Web site, launched April 1, should generate higher click-through rates.
On the other hand, he sees headwinds for the company's credit-card segment and tough comps for the deposit segment. And he says a recent spurt in mortgage rates will temper demand somewhat.
RATE Tuesday is down $1.58, or 5.1%, to $29.48.