The share price of McDonald's (NYSE:MCD) has appreciated by 16% over the past six months. At $102.07, the stock is trading near its 52-week high and offers a 3.0% forward dividend yield. In my view, although McDonald's is a solid long-term investment, the current price level does not represent a compelling entry point and potential buyers should wait for a pullback. My opinion is based on the following reasons:
1. McDonald's shares are fully priced relative to its comps. According to the chart shown below, McDonald's consensus revenue, EBITDA, and EPS growth estimates are considerably below the comps averages. On the profit side, however, the company demonstrates a better performance as most of its margin and capital return metrics are above par. In terms of leverage and liquidity, McDonald's debt load is fairly in line with the comps'. The company has a higher free cash flow margin. Both its current and quick ratios are fairly consistent with the comps averages, reflecting a healthy balance sheet condition.

Click to enlarge
McDonald's current price multiples at 10.7x forward EBITDA and 17.6x forward EPS (next 12 months) are on average 20% below the peer-average trading multiples. Given the company's below-average growth potential, the valuation discount appears to be fair. Further, after accounting for the 5-year earnings growth estimate, McDonald's PEG ratio of 2.0x is 14% above the peer average, which also suggests a full valuation due to the firm's stronger profitability performance (see chart above).
2. Over the past 12 months, McDonald's forward P/E and PEG valuations have expanded by 7.4% and 17.9%, respectively (see charts below).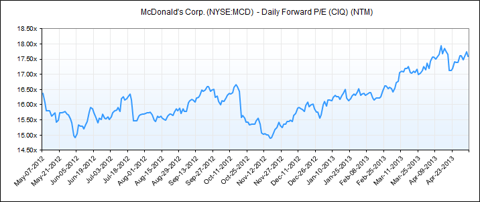 Click to enlarge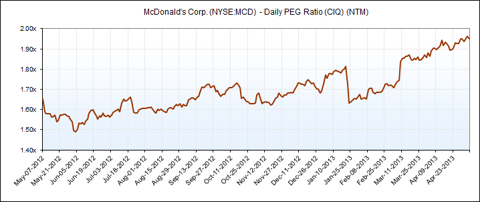 Click to enlarge
Nevertheless, the company's consensus revenue, EBITDA, and EPS estimates have actually experienced multiple downward revisions over the period, and the current levels are notably below their historical figures of a year ago. Moreover, analysts' average five-year earnings growth estimate for the company has also been lowered slightly from 9.9% to 9.0% over the past 12 months (see charts below). The weaker consensus estimates are primarily attributable to weak industry sales as well as margin pressure coming from higher costs and value pricing. As such, the multiple expansion over the past year was not supported by the company fundamentals.

Click to enlarge

Click to enlarge

Click to enlarge

Click to enlarge
3. In an Oppenheimer research note dated April 21, Brian Bittner commented that the stock is a lack of upside catalysts, which I tend to agree with (sourced from Thomson One, Equity Research):
A recovery to positive comps will take longer than expected with April expected to be surprisingly negative, despite comparison ease. This creates a challenging scenario for margin and earnings upside. Asia weakness and domestic weather issues are partially to blame, but we do not look past the difficulty in extending peak AUVs in a tough competitive and macro environment. Against this backdrop, we remain cautious on MCD and believe the stock could be range-bound given lack of upside catalysts for both multiple expansion and upwards earnings revisions.
As such, for a better margin of safety, I would recommend buyers pulling the trigger at a lower entry point or selling out-of-money put options. For existing shareholders, however, I believe a hold decision is still warranted given McDonald's tempting 3.0% dividend yield as well as the solid downside support from the company's share repurchase program, which retired approximately $15B value of shares in the past five fiscal years.
All charts are created by the author except for the consensus estimate tables, which are sourced from S&P Capital IQ, and all financial data used in the article and the charts is sourced from S&P Capital IQ unless otherwise specified.
Disclosure: I have no positions in any stocks mentioned, but may initiate a long position in MCD over the next 72 hours. I wrote this article myself, and it expresses my own opinions. I am not receiving compensation for it (other than from Seeking Alpha). I have no business relationship with any company whose stock is mentioned in this article.