Mercer International (NASDAQ:MERC) is the second largest global manufacturer of Northern Bleached Softwood Kraft pulp and is relatively unknown to most investors. As a highly cyclical company, the timing of purchases at the bottom of the corresponding commodity cycle is critical for long-term capital gains. Also known as NBSK, below is a 5-year monthly graph of the underlying commodity pricing.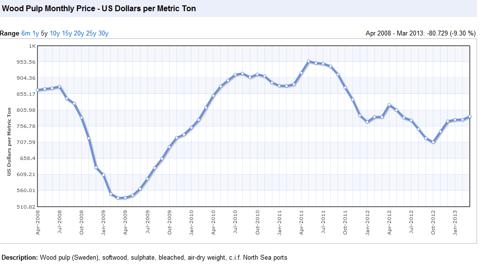 Source: indexmundi.com
Compare the above graph with a stock price graph for MERC and the correlation should be obvious.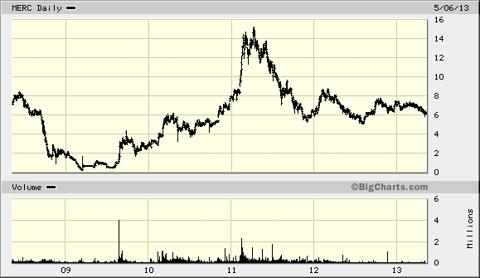 If in fact NBSK pricing is turning around from a cyclical low reached in Oct 2012, now could be a good time to buy NBSK producers like Mercer.
There are two types of Kraft pulp used to add strength to paper products such as tissue paper - softwood pulp and hardwood pulp. Softwood pulp is preferred as it adds more strength per ton of usage. Hardwood pulp is characterized as having shorter fibers and is less effective as a reinforcement agent. Mercer specializes in Softwood pulp.
One of the advantages of this specialization is showing up in current and anticipated global capacity. While hardwood capacity is expected to continue its annual increase in capacity that started in 1990, softwood capacity is expected to remain flat. In 2006, both hardwood and softwood had about equal global capacity at 23 million metric tons. Capacity of hardwood pulp is expected to grow to about 34 million metric tons by 2014 while softwood capacity is expected to remain flat at 23 metric tons. Between 2008 and 2014, hardwood capacity is expected to have expanded at a rate of 2.7% annually vs a decline of -0.5% annually for softwood.
As with most commodity cycles, higher pricing usually brings out plans to build more capacity that will drive prices down. The advantage of being in the NBSK business is the reduction of industry wide capacity that will continue to have positive impact on pricing as economies recover.
Mercer operates two mills in Germany and one in Western Canada. The two German mills are the only local facilities supplying NBSK. The German mills can effectively service the European market and one is position close to export facilities allowing for greater export opportunities. The Canadian mill is well situated for shipments across North America in addition to exports to Asia, specifically the growth market of China. China is the largest importer of NBSK.
Several years ago, Mercer began an electric power generation business situated at each of its pulp plants. The concept was to produce sufficient electricity to provide the factories with its own power supply and to sell excess power to utility companies. Investors should note that the cost savings of providing internally generated electricity is about $50 a ton - quite substantial in a low margin commodity business.
From the company's website:
Approximately 45 percent of the wood fed into the mill becomes kraft pulp. The remaining 55 percent of the wood is converted to a biofuel known as black liquor, and is burned in our modern high-pressure recovery boiler to make power. More specifically, lignin and hemi-cellulose are extracted from wood fiber, which becomes a source of fuel in boilers to make steam, which in turn makes power. As a renewable resource, wood is considered carbon neutral and energy produced from wood is therefore labeled "green" as opposed to the "brown" energy produced from non-renewable coal, for example.
MERC has been expanding its electrical production and revenues from electricity sales accounts for about 10% of 1st quarter 2013 revenues. The company expects to expand production an additional 25% by the end of the 3rd quarter 2013. Since the company is virtually energy self-sufficient, the added generating capacity could increase power sales by about 60%.
Most of Wall Street has MERC rated as a "Hold" with a recent upgrade this week by Royal Bank of Canada to a Buy. Consensus earnings estimates are for $0.44 a share this year and $0.66 next year. However the range of estimates are large enough to drive a truck through - ranging from $0.01 to $0.56 this year and $0.01 to $1.41 next. In 2010, MERC earned over $1.00 and in 2011 the company earned over $2.00. If NBSK pricing returns to the 2010/2011 pricing levels, similar earnings could be realized.
A more esoteric catalyst to higher share prices could be a settlement of a $250 million claim against the government of British Columbia under NAFTA rules. It seems the company claims its Canadian energy production was discriminated against because the firm is headquartered in the US.
For more in-depth information on MERC, the attached investor presentation is excellent in describing current production, historical NBSK pricing, NBSK trends and the future of Mercer. The 2012 annual report can be found here (pdf). The latest conference call transcript for the 1st quarter 2013 is here.
If NBSK pricing returns to $950+ price per ton over the next two years, share prices of MERC could climb to the $8 to $11 range. This would create a potential gain of between 33% and 80%. While speculative and subject to the whims of commodity pulp pricing, Mercer should be worthy of further due diligence, and reviewing the investors presentation above is a great place to start.
Author's Note: Please review important disclaimer in author's profile.
Disclosure: I am long MERC. I wrote this article myself, and it expresses my own opinions. I am not receiving compensation for it (other than from Seeking Alpha). I have no business relationship with any company whose stock is mentioned in this article.