In the last three weeks crude oil prices have risen better than $10/barrel, trading within $1 of two month highs, albeit very briefly Sunday evening. The failed spike higher in recent sessions can be attributed to unrest in the Middle East. Attention turned towards potential conflicts over Israeli airstrikes in Syria over the weekend... obviously, any escalation of military conflict in this oil-rich region has the potential to send oil futures higher.
I do not see any immediate danger of this and think crude oil is over extended, and short term we experience a setback. A trade above the down sloping trend line (white line) was denied, and a settlement back under the 8 day MA (orange line) would confirm a setback is underway.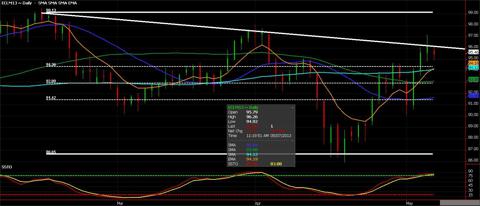 While I a m not expecting the bottom to fall out, my objective is the 18 day MA (dark blue line), which also represents a move back to the 61.8% Fibonacci level near $91.50 in June futures. The approach I have suggested to clients is short July futures while simultaneously selling out of the money puts 1:1. The options I've sold for clients have a delta of 45-50%, so they should be able to capture approximately 1/2 the futures move and have a $2.50 cushion if the trade were to move against them. On a fresh high, I would be willing to take a loss on the trade. If my objective is reached at $91.50, it represents just better than a $4 decline or $4000 move, 1/2 of that is $2000 per 1:1.
In the U.S., it was reported that U.S. crude oil stockpiles rose to 395.3 million barrels as of April 26th, the highest level in 30 years. I am anticipating a further increase on tomorrow's inventory report. Saudi Arabia, the world's largest oil exporter, increased crude production 1.8% in April to 9.3 million barrels per day, the highest level since November 12'. Not that the fundamentals matter at all in the energy complex of late, but both of these conditions are bearish.
A bearish technical picture in combination with these fundamentals justifies a bearish trade at current levels.
Risk Disclaimer: The opinions contained herein are for general information only and not tailored to any specific investor's needs or investment goals. Any opinions expressed in this article are as of the date indicated. Trading futures, options, and Forex involves substantial risk of loss and is not suitable for all investors. Past performance is not necessarily indicative of future results.
Disclosure: I have no positions in any stocks mentioned, and no plans to initiate any positions within the next 72 hours. I wrote this article myself, and it expresses my own opinions. I am not receiving compensation for it. I have no business relationship with any company whose stock is mentioned in this article.