Investors in General Electric (NYSE:GE) have been rewarded this year with an 8% year-to-date return. Through this article, I will present the case that General Electric shares may continue to rise in the future, rewarding continuing shareholders. In this analysis, I will not rely on my opinion or subjective variables, but rather on quantitative analysis.
A History of Returns
In order to analyze GE from a fundamental standpoint, I have utilized return on assets. Return on assets is the net income of the firm divided by average total assets across an operating period. The utility of return on assets is that it shows how able management is to use its asset base to generate profits for the organization. As return on assets is growing, management is becoming progressively more effective at generating profits and the stock price tends to respond. The chart below shows five years of return on asset history for General Electric.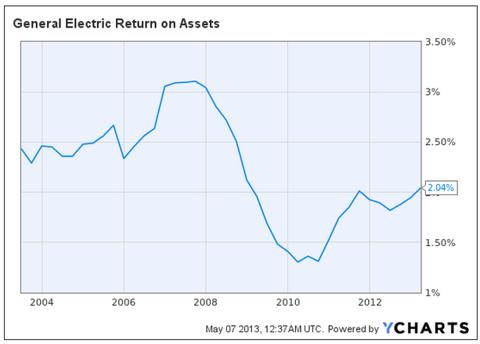 Click to enlarge
In the chart above three distinct fundamental periods can be identified. I will explore each of these periods in the following points and summarize in a table beneath the bullets.
The first period worthy of analysis is the first quarter of 2006 to the third quarter of 2007. During this period, General Electric experienced a surge in returns in that its return on assets increased by half. This period represents a time of growth for this massive company, in which the organization became progressively better at generating profits from its asset base. The market tends to reward heightened performance in that during this time period, stock price rose 24%.
The second period, which encapsulates GE's fundamental history is the fourth quarter of 2007 to the second quarter of 2010. During this period, the overall economy experienced decline and GE was not sheltered from the economic storm. Return on assets experienced a decline of over half its value and the firm entered a period of contraction. This decrease in fundamental performance was met with a likewise decrease in stock price in that shares declined 49%.
Another noteworthy period occurred between the third quarter of 2010 and the third quarter of 2011. During this period, GE recovered some of its organizational returns and the firm once again began to increase its asset-based effectiveness. This period of recovery was marked by a 14% increase in stock price.
The table below summarizes the points above.

It does not take too much observation to see that as a firm betters itself fundamentally, the market tends to reward the company by buying its stock. Likewise, as a firm enters periods of decline, shareholders tend to sell shares driving prices downward. This simple and logical relationship allows us to tactically enter the market. For the past five years, GE has obeyed the simple laws of textbook finance -as a company becomes more efficient and commands better profit ratios, its stock price increases. What is noteworthy about this relationship and serves as a catalyst for this investment thesis is that returns have been increasing since the second quarter of 2012 and continue to increase. I believe that this represents an excellent investment opportunity to capitalize on the resumption in growth in General Electric.
Wait for the Seasonal Pullback
While I advocate purchasing shares of GE, I believe that investor should wait for the most opportune moment. Specifically, I believe that investors should wait until the end of May to purchase GE. Seasonality analysis can yield insight into the tendency of securities to behave in certain ways during certain times of the year. For example, the market tends to rise in January 62% of the time and the majority of the time decline in June. General Electric is no exception to seasonality in that for the past 50 years, it has declined in 56% of all May months, as seen in the table below.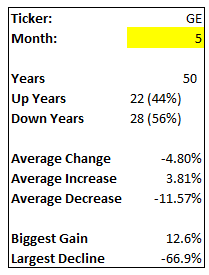 As can be seen in the table above, on average, General Electric has decreased by 4.8% in each May for the past 50 years. This is significant in that investors seeking to profit from a purchase of GE's stock can better their chances by waiting until the end of May to purchase. Statistically speaking, the odds favor waiting until June to buy GE.
While many investors may object to seasonal analysis and believe that it is spurious, I must object. I have worked within the industry long enough to know that many large institutions follow seasonal investing patterns in which they attempt to gain exposure to sectors that benefit during certain times of the year. GE is no different in that certain classifications of institutional holders are more than likely rotating out of the stock during this month to reduce exposure to the industry. For this reason, I believe that seasonal analysis is valid and that investors can greatly benefit by waiting until June to purchase GE.
Disclosure: I have no positions in any stocks mentioned, and no plans to initiate any positions within the next 72 hours. I wrote this article myself, and it expresses my own opinions. I am not receiving compensation for it (other than from Seeking Alpha). I have no business relationship with any company whose stock is mentioned in this article.