BP (NYSE:BP) shares are up sharply in the past month, rising 6.5%. When the company was last reviewed as a company to buy, shares paid investors a generous dividend yield of 5.17%. Shares closed at a recent price of $43.97 after the company reported a strong quarter, pushing the dividend yield down slightly to 4.91%. Despite the recent rise, it is a good time to determine if the rebuilding of BP is on track. BP is not an investment for everyone: building sustainable growth will take many years to complete.
There are a number of reasons supporting the view that the rebuilding of BP is progressing favorably.
1) Balance Sheet Still Improving
BP generated $4 billion in cash flow in the quarter, helped by downstream revenue and replacement cost profits from Rosneft and from inventory. BP ended the quarter with a net debt of $17.7 billion. The net debt ratio continued to improve: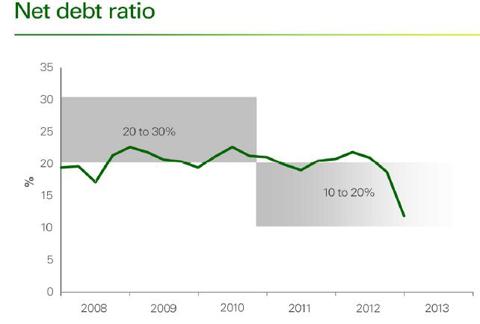 Source: BP
The company completed the divestment in its 50% interest in TNK-BP for $27.5 billion in cash and Rosneft shares. BP now has a 19.75% position in Rosneft and will be of strategic importance for BP. Rosneft will be a growing source of net income to replace what was previously generated by the divested TNK-BP. The impact of Russian export duty and oil prices will add to the volatility from Rosneft, but in the first quarter, the holding contributed to $85 million from the 11 days that it was included: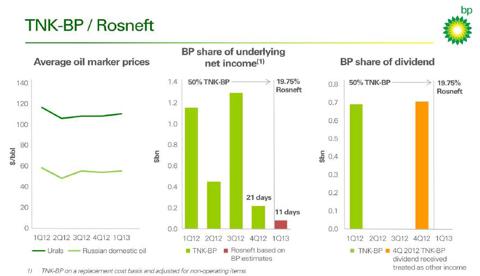 Source: BP
2) Gulf of Mexico Liability Unchanged
BP did not change the net charge provision for the Gulf of Mexico spill; $42.2 billion was allocated, and $10.6 billion was paid out so far. The company continues to take the position that it was not grossly negligent. Post-trial conclusions and briefings from phase 1 of the trial will be complete by July 12, 2013. When the trial moves to the second phase in September, BP will be claiming that the accident involved multiple parties.
3) Financial Forecast
For 2013, capital expenditure will be between $24 billion - $25 billion. After that, annual spend will be in the range of $24 billion - $27 billion. BP forecasts operating cash flow will be $30 billion - $31 billion in 2014. $2 billion - $3 billion in assets will be sold each year.
4) Exploration Activities Sustain Future Growth
Investors have the assurance that the BP management team will grow free cash flow by focusing on high-margin projects in the upstream. BP plans to have 15 to 25 wells in 2013. For oil sands, BP has a pipeline of 45 projects. In 2013, four of the projects will be started.
5) Focus on Wind Energy
BP affirmed its commitment to wind energy, noting the benefit of tax credits to help in its viability. The company has 16 wind farms in the U.S., with three being recent constructions.
Current Risks
Mad Dog Phase 2, which is BP's largest new oil project in the Gulf, is a development that involves BHP and Chevron (NYSE:CVX). BP said in its conference call that the project was not as attractive as previously modeled. The current forecast is that the project could bring production earlier, but at lower rates.
Compared with BP, BHP and Chevron both have a higher P/E and market capitalization. If investors assign a higher valuation to BP based on a comparable price/sales or yield, BP shares will continue the recent rise:
| | | | | |
| --- | --- | --- | --- | --- |
| NAME | MKT CAP, $ | P/E | YIELD, % | PRICE/SALES |
| BP plc | 140.36B | 6.19 | 4.9 | 0.37 |
| Chevron Corporation | 239.44B | 9.31 | 3.2 | 1.1 |
| BHP Billiton Limited | 181.21B | 18.93 | 3.4 | 2.68 |
Data Source: Yahoo Finance
The $30 billion - $31 billion cash flow forecast from BP is based on $100 per barrel and $5.00 per MMBtu for natural gas.
Conclusion
Risk reduction continues to be a priority for BP moving into 2014. The company has a goal of improving operating cash flow by 50% by 2014 compared with 2011. The share buyback of up to $8 billion also enhances shareholder value, making it likely that the $40 lows tested throughout the last year will not be broken.
Disclosure: I have no positions in any stocks mentioned, but may initiate a long position in BP over the next 72 hours. I wrote this article myself, and it expresses my own opinions. I am not receiving compensation for it (other than from Seeking Alpha). I have no business relationship with any company whose stock is mentioned in this article.