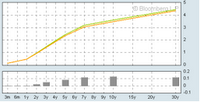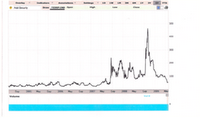 excerpts from this week's "Sectors and Styles Strategy Report":
"A huge disconnect is underway. The financial markets are signaling not just economic stabilization but a robust (V shaped) recovery. This is most evident in the accompanying two charts – the yield curve and the TED spread.
The yield curve suggests a robust recovery is in the cards while the TED spread shows a return to pre-credit/economic crises levels. When you add to this equation, the prospects that numerous Mega Trend bullish reversals appear to be just days to weeks away (see report), the "fundamental justification for a more bullish outlook in the coming months" noted last week gets stronger with each passing week. Yet, bottom-up earnings expectations remain mired in the low to mid $50 range (see page 3 in report), despite the steadily improving above-consensus macro economic reports.
Investment Strategy Implications
Stocks appear on the verge of major bullish signal, while fundamentals appear to support the technicals. All that's left is a completed bottom with Mega Trend reversals in tow."