The birth of iShares Core MSCI Emerging Markets (NYSEARCA:IEMG) last October presented investors with a low cost option for accessing emerging markets. It also introduced an interesting dynamic in the iShares household. With a lower expense fee for a similar index, 0.18% compared to 0.66% for iShares MSCI Emerging Markets (NYSEARCA:EEM), IEMG looked like a no-brainer for investors seeking cap-weighted MSCI exposure to the asset class.
But how would the fund perform initially and how well would it track its index? How liquid would it be? Fortunately, for IEMG shareholders the story has been a relatively good one so far.
Growth spurt
Not a lot of product providers see their funds grow to over $1bn in assets under management in just six months. The BlackRock (NYSE:BLK) iShares family is different. BlackRock is by far the largest ETF and ETP provider globally. According to etfgi.com, iShares commanded an almost 39% market share for global ETF/ETP assets as of March 31, 2013. The provider's presence in emerging markets is equally formidable.
Thanks in part to its parent's backing IEMG now has almost $1.1bn under management and over 1,600 holdings. IEMG is already the third largest US-listed benchmark global emerging market (NYSEARCA:GEM) ETF.
Benchmark GEM ETFs

Performance has been good out of the gate
A look at performance shows that IEMG has had slightly better returns than EEM since its inception.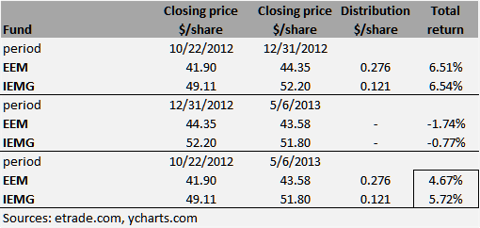 Breaking down the returns shows that in IEMG's very early days the fund performed relatively well even after factoring in distributions. Further outperformance came this year during a down market for emerging markets.
Portfolio construction is similar
Portfolio construction as of May 3, 2013 shows only slight differences in country and sector weights between IEMG and EEM. Both funds follow the MSCI index, although IEMG follows a variation called the MSCI 'Core' Index. Unique to IEMG's portfolio are its Indian holdings, which are represented by a $73m position in iShares MSCI India fund (BATS:INDA). According to iShares, IEMG shareholders do not pay the additional expense fee for holding INDA (very nice) although it is unclear if and when IEMG will directly own India-listed shares. India is a more complex and costly market to index.
IEMG also holds a higher percentage of ST securities in its portfolio, which in an upward trending market could detract from performance; however, in the down-trending market can help returns.
IEMG is much deeper but less liquid
The main difference between the funds is IEMG's portfolio depth, holding over 1,600 securities compared to around 800 for EEM. For investors seeking diversification this is a positive. Liquidity is no match however; EEM trades over $2bn per day compared to IEMG's $25m/day.
Bring on Goliath
IEMG has thus far demonstrated efficient access to emerging market equities. The fund offers MSCI index exposure at a cost competitive with its FTSE indexed peers; Vanguard FTSE Emerging Markets (NYSEARCA:VWO) and Schwab FTSE Emerging Markets (NYSEARCA:SCHE).
The major difference between the indexes is South Korea exposure, which is included in the MSCI index but excluded in FTSE. Performance between the MSCI and FTSE indexed funds has nonetheless varied little thus far, although the investment case for South Korea has recently been challenged by a depreciating Japanese Yen.
IEMG also raises an interesting dilemma for iShares - will it gobble up its more profitable big brother in the process?
Disclosure: I have no positions in any stocks mentioned, and no plans to initiate any positions within the next 72 hours. I wrote this article myself, and it expresses my own opinions. I am not receiving compensation for it (other than from Seeking Alpha). I have no business relationship with any company whose stock is mentioned in this article.