The GeoTeam® attended the 2009 Taglich Brothers Annual Small Cap Equity Conference on May 5th, 2009 where Orchids Paper Products (TIS) presented its growth stories to analysts and potential investors. The company gave an articulate presentation outlining recent accomplishments and future goals.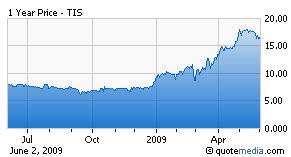 Orchids Paper Products' presentation has confirmed what the GeoTeam® discussed in previous research notes. In particular, the company's primary goal centers around maximizing its conversion roll capacity. Recall that the conversion line has higher margins than the parent roll division. With its present capacity, the company will embark on gaining market share in its current geographic market. When asked about expanding its geographical reach, the company stated that there are still significant market share gains to be captured in its current markets.
Going forward the company has scheduled projects to rebuild certain conversion lines which should increase productivity and projects to improve the flexibility of those conversion lines. Orchids Paper Products will also focus on the optimization of the $4.7 million conversion automation project that was completed in February 2009 and anticipates increased year over year production in the paper mill.
Disclosure: Long TIS