Introduction
There are too many articles on Seeking Alpha concerning the top oil companies. These companies have a very similar story to tell. However, the important question is which one is the best bargain among the oil stocks? There is limited analysis comparing the oil majors on similar metrics, even though many analysts are making separate arguments built along the same lines.
Recently, we compared Exxon Mobil Corp. (NYSE:XOM) to its industry competitors, Chevron (NYSE:CVX) and Conoco Philipps (NYSE:COP), and tracked the latest investment status of each. Today, we are going to compare BP (NYSE:BP) with its direct competitor -- Royal Dutch Shell (NYSE:RDS.A). The Gulf oil spill controversy continues and BP is still paying for it, both financially and from a public relations perspective, even three years after the fact. And in its latest conference call, Mr. Voser (CEO of Royal Dutch Shell) bid adieu to the company.
BP and Royal Dutch Shell are both looking forward to moving on and latching onto whatever sort of stability they can find. In the case of BP, stability alone won't do. It needs a way out, conserving its coffers as it goes. While BP has effectively managed to toss the blame around and get some of the eventual billings for the oil spill pinned on Halliburton (NYSE:HAL) and Transocean (NYSE:RIG), there is a massive backlog of courtroom proceedings that the company needs to keep up with. Shell, on the other hand, has become a leader in providing liquefied natural gas under the guidance of Mr. Voser. While his departure will not affect the operations of the multi-billion giant, the route taken into the future remains to be decided over time. In this article, I aim to find out which of the two oil and gas integrated companies is the best investing bet for the time being, as timing is everything.
Recent Updates
BP reported a massive $16.6 billion in profits in its latest quarter, thanks the sale of TNK-BP to Rosneft. All's not well, however, excluding this one-time item, as the company's profits fell 10% on a year-to-year basis. It only earned $4.22 billion for the quarter ended March 31st. The company also expects output to fall in the ongoing quarter due to maintenance-related shutdowns in the Gulf of Mexico and North Sea, and due to projected cost increases. The company is desperately trying to break free from the clutches of the Gulf of Mexico oil spill as it aims to return to its profiteering ways. BP's American rivals made far more profit on each barrel of oil or gas equivalent -- so much so that some analysts believe it to be twice the amount of BP. While it struggles in Northern America, the company aims to return value to shareholders as it uses cash from the TNK-BP sale to initiate an $8 billion buyback program and reduce the amount of debt for the company.
Contrast this to the fortunes for Shell in the first quarter, as it reported profits worth $7.95 billion, which were a 3.5% improvement from last year. Shell has also increased its dividend by 5% as well to $0.45. Shell is investing heavily for future growth as it diversifies its global assets into places that offer more efficiency. Shell has announced investments in a number of projects, including a deep-water project in Nigeria and an oil recovery project in Oman. It also has agreed to purchase part of Repsol's liquefied natural gas portfolio outside North America. In the UK, it increased its majority stake in the offshore Schiehallion oilfield west of the Shetland Islands. Earlier this week, it was announced that Shell had beaten France's Total (NYSE:TOT) to a £10bn deal to develop the Bab gas field with the Abu Dhabi National Oil Company.
Tracking Financials
On the stock market, BP has taken big hits due to the oil spill and it has not been able to recover since. Over the course of 5 years, the graph below illustrates the performance of RDS.A and BP. The two companies are lagging behind the Dow Jones Industrial Average and the S&P 500. Shell, more recently, has been unable to keep up with the market averages due to its non-productive assets spread across the world in places like Iran, where the course of production and revenue rest entirely with the political atmosphere of the time. Over the course of one year, Shell has again suffered a torrid time, with the latest drop in price coming at the start of 2013. The reason behind Shell's dip was the company's drop in profits in the last two quarters of 2012. For the first quarter of 2013, the company has recorded an improvement.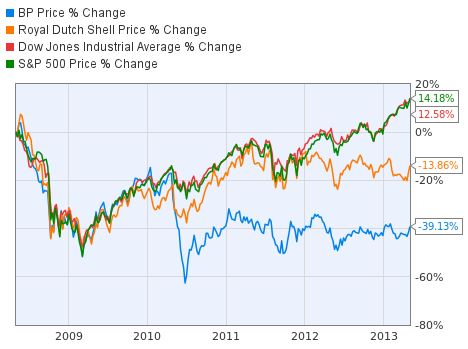 BP has a beta value of 1.19, and Shell's value for the metric is 0.94, making BP more receptive to changes in market for oil and gas. Shell currently offers an annual dividend of $2.91 per share, distributed on a quarterly basis, at a payout ratio of 34.3%. The low payout ratio suggests that the company can afford to return more cash to its shareholders, but is maintaining a conservative approach toward cash disbursement as it finances new projects across the globe. RDS.A has a yield of 4.23%, with a market cap of $220.4 billion. BP is a smaller company when valued in terms of market cap, which stands at $140.4 billion. After stifling the dividend amount due to the Gulf of Mexico oil spill in 2009, the company is slowly incrementing its dividend payment. It currently pays a dividend of $1.98 per share, at a payout ratio of 54.6%. With such a high payout ratio, the TNK-BP deal must indeed have relaxed the financial burden on the company.
| | | |
| --- | --- | --- |
| Indicator | | |
| Price/Earnings ttm | 6.2 | 8.1 |
| Price/Book | 1.1 | 1.2 |
| Net Income Growth (3 Yr Avg.) | -11.3 | 28.6 |
| Revenue Growth (3 Yr Avg.) | 16.8 | 19.1 |
| Dividend Yield, % | 4.64% | 4.23% |
| Debt/Equity | 0.3 | 0.2 |
| Return on Equity | 18.3 | 14.9 |
| Current Price | $43.97 | $68.75 |
Data taken from Morningstar and Financial Visualizations on May 6, 2013
BP has a 52-week range of $36.25 to $45.45, while Shell's 52-week range is from $60.62 to $73.96. Both companies are trading at the upper ends of their ranges, with BP looking most likely to breach the upper limit. The integrated oil and gas industry has an industry average of 10.7, which shows both companies to be undervalued. Even though BP has had phenomenal earnings in the last quarter, adjusted earnings with one-time items included were far from impressive. Shell has outperformed BP in revenue growth and net income growth over the past three years. BP, in particular, experienced negative income growth as it needed funds for the cleanup of the oil spill.
Make or Break for Investors
To make it straightforward, the two companies offer good, but differing prospects for investors. First off, BP's sale of TNK-BP allows investors an opportunity to cash in on the buyback program and a relaxation of the financial crunch that the company has been under. The $8 billion buyback will result in the stock price being higher than right now, but what about the organic growth prospects? Only organic growth can fuel consistent increases in revenue, share price and value. So, if you're only looking for a short-term benefit, perhaps BP could be a good bet.
Shell, on the other hand, understands that it has a global presence that it needs to use to its advantage. It has capital which is not being utilized the way it should be, and the geographic spread of operations allows its share price to be affected less by commodity market prices. For this reason, Shell competed with Total to get the Abu Dhabi gas contract. It cannot rest on its laurels.
Morningstar provides a negative 5-year forecast for BP, while Shell's 5-year forecast is at 1.5% growth. Shell might need a new CEO, but its operations and projects are just right to ensure a sustainable future.
Disclosure: I have no positions in any stocks mentioned, and no plans to initiate any positions within the next 72 hours. I wrote this article myself, and it expresses my own opinions. I am not receiving compensation for it (other than from Seeking Alpha). I have no business relationship with any company whose stock is mentioned in this article.