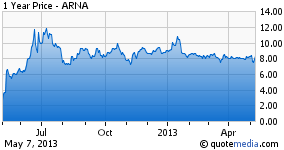 Arena (NASDAQ:ARNA) has cleared the DEA hurdle that was the only item holding back the anti-obesity drug, Belviq, from launching in the United States. With final DEA scheduling Arena will soon be available for doctors to prescribe and patients to take. Belviq will join Vivus' (NASDAQ:VVUS) Qsymia as the only prescription anti-obesity drugs on the market. Orexigen (NASDAQ:OREX) has a third anti-obesity drug, Contrave, but it is still in the FDA approval process and will not be on the market for quite some time.
The DEA news has shot Arena up to about $8.40, just below the $8.50 baseline that I had established as a target for the equity when DEA scheduling finally came in. While the DEA approval provides a small catalyst, it is sales figures that will determine how strongly or weakly the equity moves in the coming months. The longer term has promise as well, but combo drugs featuring Belviq are a bit further down the pipeline.
The DEA news comes just days after the company saw a setback in its European prospects and withdrew its application. It appears that Europe could be off of the table for at least several months. That factor will hamper long term value a bit, but as stated, it is the sales fi8gures that will deliver the next major moves for this equity.
I was my opinion that bad news on the European front created a great opportunity for active traders and long term investors alike. Bad news such as the temporary withdrawal from Europe have a tendency to be overblown. With DEA scheduling complete and a launch getting ready to happen in the very short term, the next item to pay attention to is early sales. Contrary to the thoughts of some readers, my stance has not been to wait on sales to invest. My stance has been that sales will be what outlines the short and mid term prospects of equity appreciation. I believe that $8.50 represents a decent baseline going into the sales period. Good sales can offer a good return, while great sales can offer a great return. The natural comparison on the sales front will be the performance Vivus has seen with Qsymia. Essentially Arena and Belviq need to do at least twice what Vivus has accomplished to be considered good. I would like to see, at a minimum, three month scripts in the neighborhood of 40,000 for Belviq.
Stay tuned. The Arena story is getting interesting. There could be some volatility in the short term as the battle between shorts and longs takes shape. Good sales can take this equity to beyond $9 while great sales can see this equity test well into the $10's. Outstanding sales could see this equity knocking on the door of 52 week highs.
Disclosure: I am long ARNA. I wrote this article myself, and it expresses my own opinions. I am not receiving compensation for it (other than from Seeking Alpha). I have no business relationship with any company whose stock is mentioned in this article. I have no position in Vivus or Orexigen